Culinary union pickets at Las Vegas Convention Center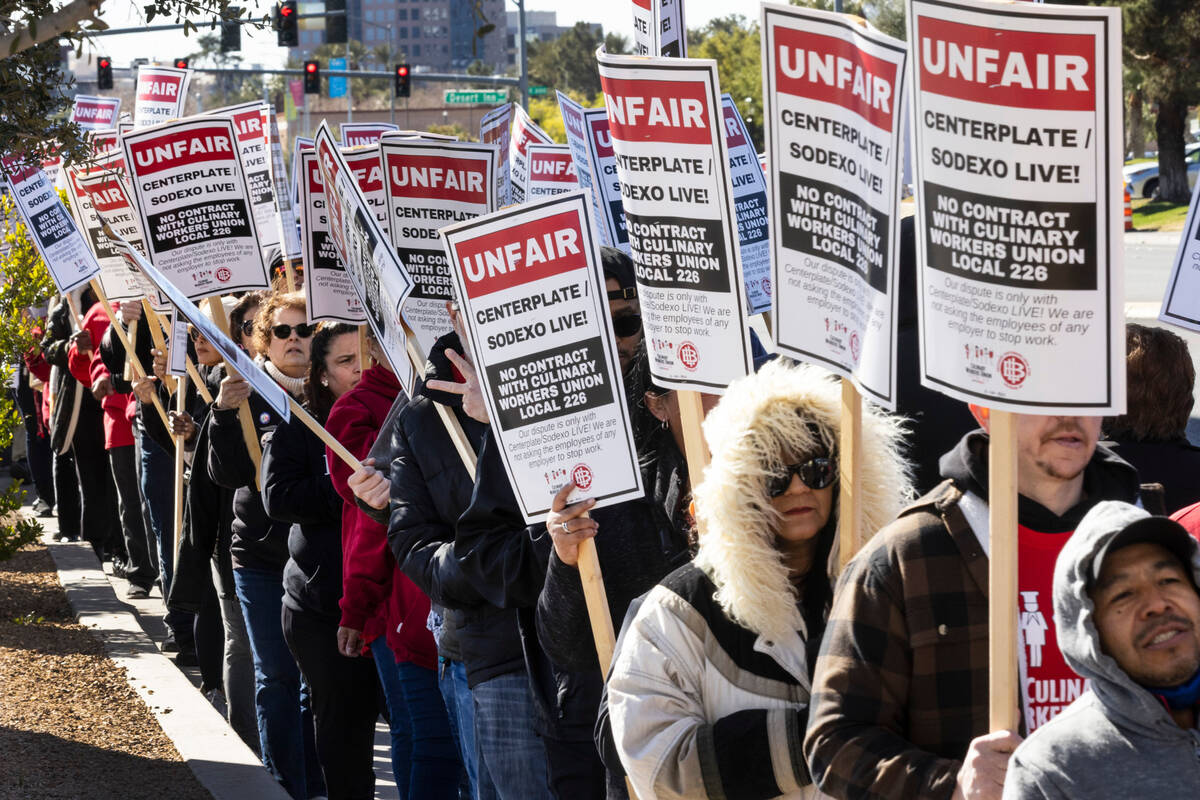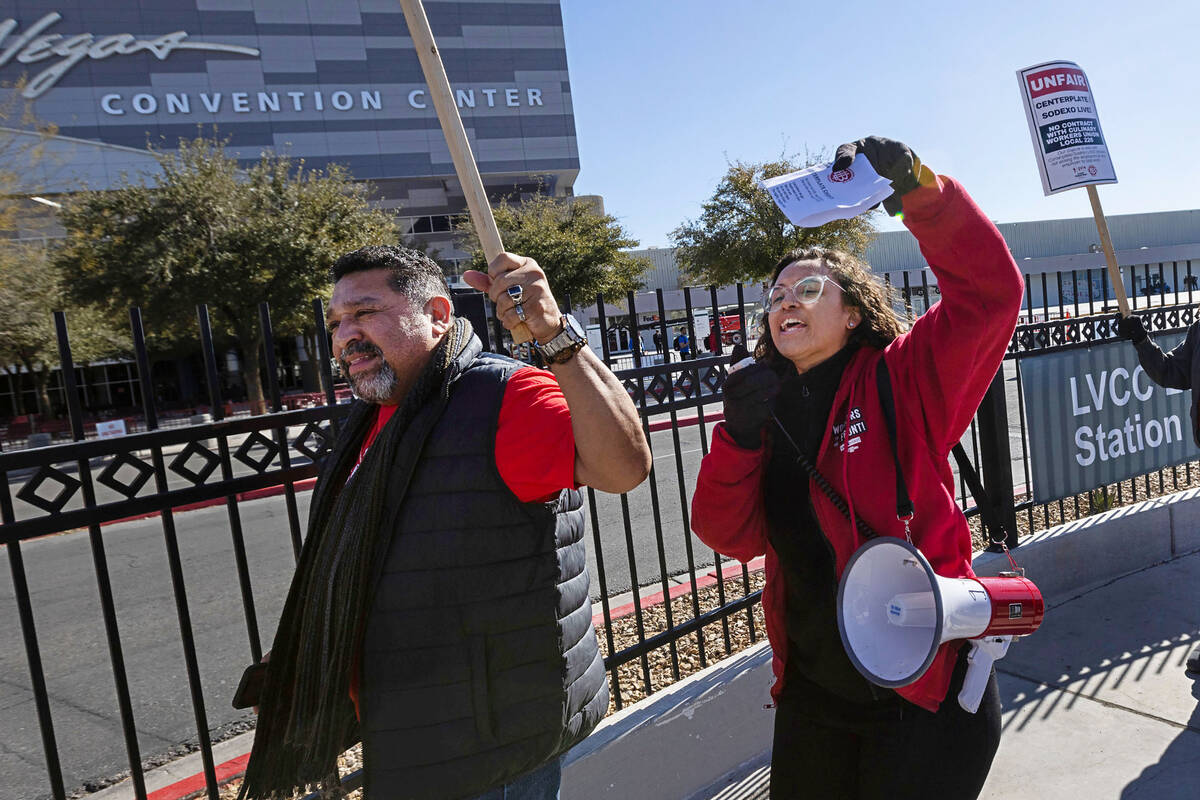 The Culinary union ramped up the pressure Thursday on the company that provides food services at the Las Vegas Convention Center with a pair of loud picket lines protesting the lack of a contract.
Hundreds of workers marched along Paradise Road near Convention Center Drive and in front of the center's North Hall for more than an hour, calling on Sodexo Live!, the multinational company that operates Sodexo Centerplate, the food-service provider at the Convention Center, to provide a better contract deal than offered.
Workers have been without a contract since late summer, and collective bargaining talks stalled in November.
Workers are demanding higher pay and benefits.
Non-tipped cooks, dishwashers, banquet servers, concessions cashiers and other Sodexo workers are paid an average of $16 to $19 an hour, union officials have said.
Signs and bullhorns
Most of the pickets held signs saying, "Unfair Centerplate Sodexo Live! No contract with Culinary Union Local 226, our dispute is only with Centerplate/Sodexo Live! We are not asking the employees of any employer to stop work."
Pickets, some with bullhorns, chanted union slogans while walking the line.
A representative of Sodexo said in an emailed statement that union leaders would be better served returning to the bargaining table.
"We are fully committed to reaching a new (collective bargaining agreement) with UNITE HERE Local 226, and have already agreed to a handful of the union's key requests, to ensure long-term vitality for the individuals who have careers with us," said a statement from Paul Pettas, vice president of brand and communications with Sodexo.
The Culinary union is affiliated with the umbrella organization UNITE HERE — the Union of Needletrades, Industrial, and Textile Employees and Hotel Employees and Restaurant Employees — which works with Sodexo at convention centers across the country.
"We have a proposal on the table, and have further dates for good-faith negotiations scheduled," the statement said. "Our latest iteration includes wage increases well above industry and statewide standards, increased health insurance coverage for union membership and increased access to a best-in-class pension fund.
"Despite our continued good faith efforts, UNITE HERE leadership is opting to organize picketing demonstrations, instead of continuing to engage us at the bargaining table to get this deal done. As the negotiations progress, we have assured our clients and all show planners that all contingency plans are in place to keep providing best-in-class food and beverage at the Las Vegas Convention Center without interruption."
Optimistic on settlement
But Pettas is optimistic about a settlement soon, noting that UNITE HERE workers reached a contract agreement with Sodexo at the Orange County, Florida, Convention Center in Orlando in late January.
Ted Pappageorge, secretary-treasurer for the Culinary union, was walking the picket line with workers and, in an interview, said Sodexo workers have fallen behind their peers with rising inflation and rent increases eating away at workers' take-home pay.
"These workers, at the end of the day, are part-time," Pappageorge said. "They work here, and they work all over town, and their wages are significantly less than the rest of the city. In the past, some of these jobs that were more part-time were considered maybe more peripheral jobs. That's not the case anymore."
He said around 1,000 Culinary union workers manned the Thursday morning picket lines, many of them bused in from the union's Las Vegas headquarters.
Pappageorge said because the Las Vegas Convention Center expects first-class food service, Sodexo also should pay first-class wages. Many workers, he said, are forced to take second jobs to keep up with spiraling costs.
With the COVID-19 pandemic in the rear-view mirror, Pappageorge said the convention business is returning to normal, but pay scales haven't.
Strike vote
The union also has an affirmative and unanimous strike vote in its back pocket, meaning workers could walk off the job at any time if called upon by union leadership.
The threat of a strike was hanging over three big Convention Center trade shows in January and February: CES, World of Concrete and this week's MAGIC fashion show.
More big events loom on the March and April calendars.
ConExpo-Con/Agg, a construction equipment event that meets every three years, is scheduled March 14-18. A cluster of shows — the Bar and Restaurant Expo, the International Pizza Expo, the Amusement International Expo and the International Wireless Communications Expo — enter the Convention Center simultaneously March 28-30. And, one of the city's largest shows, the National Association of Broadcasters, arrives April 15-19.
Pappageorge said collective bargaining talks are scheduled Monday and Tuesday and March 1.
Contact Richard N. Velotta at rvelotta@reviewjournal.com or 702-477-3893. Follow @RickVelotta on Twitter.