Downtown events center shows its versatility
September 2, 2015 - 3:00 pm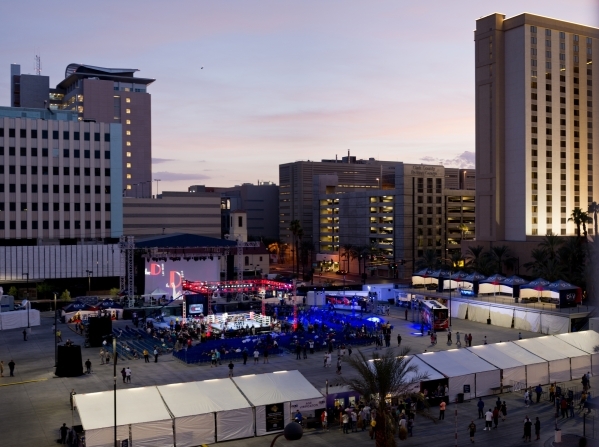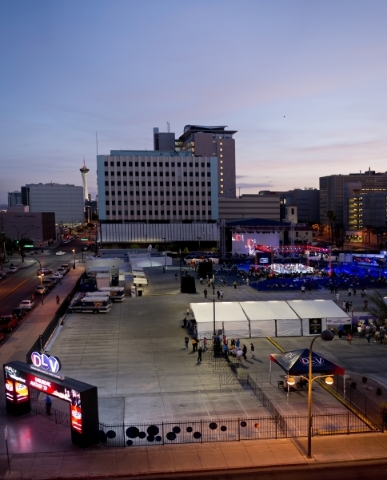 It's not exactly the downtown arena or stadium that Las Vegas Mayor Carolyn Goodman had in mind and it sometimes gets overshadowed by the Strip's new outdoor festival sites such as Rock in Rio.
But the Downtown Las Vegas Events Center at 200 S. Third St., the site of the old Clark County Courthouse, has proven to be a versatile outdoor venue capable of handling everything from boxing matches that attract crowds of 1,500 to concerts for 10,000 fans as the DLVEC completes its first year this month.
In its inaugural year, 19 events drew about 60,000 people, with the schedule expanding in 2016 to 50-100 events, said Paul Vella, general manager of the Downtown Las Vegas Events Center (DLVEC).
The focus is on affordable outdoor entertainment, which starts at $10 for boxing and MMA events and $15 for concerts, Vella said.
"With the revitalization of downtown going on, the one thing missing was an outdoor venue," Vella said. "It's complementing everything else that is going on."
Derek Stevens, owner of The D Las Vegas, which owns the events center, discounted talk that he would build a convention center on the site in the near future and said the land will continue to host the outdoor venue while serving as an overflow valet parking lot for The D. The square-block DLVEC sits in the heart of downtown, diagonally across an intersection from The D, and bordered by Third Street, Carson Street, Casino Center Boulevard and Bridger Street. The Golden Nugget and Four Queens casino hotels are neighbors.
"I like it. I fills a unique niche for downtown," said Pat Christenson, president of Las Vegas Events, which promotes the National Finals Rodeo and other events for the Las Vegas Convention and Visitors Authority. "He can take advantage of a full Vegas crowd."
Stevens acknowledged there was talk in the past about a convention center proposal with an entertainment venue on the roof. But for now, the site will be used as an outdoor venue for events such as the televised heavyweight boxing match last Friday and a concert last Saturday. The site has portable concession stands and bathrooms, with a stage anchoring the south side of the site.
More concerts are scheduled this year, such as country music artist Justin Moore on Sept. 12 and Daughtry on Oct. 17.
There's even going to be a University of Nevada, Las Vegas Midnight Madness basketball event on Oct. 22, Vella said.
Mixed martial arts fight shows will also be held. The Resurrection Fighting Alliance 31 is set for Oct. 9 — the first broadcast for the AXS-TV network from that venue.
"The DLVEC venue is unique in that it allows for large scale shows without some of the challenges of trying to do similar events at the Fremont Street Experience," said Andrew Simon, CEO of AXS TV Fights. AXS broadcasts more than 40 fights a year.
"We are looking forward to broadcasting from the DVLEC this time out and hope that the venue becomes a staple in our 40 plus fights per year," Simon said.
Vella estimated The D has invested $20 million to $30 million in building the outdoor venue, including $3.5 million in stage equipment and a 32-by-19-foot video wall that retails for $700,000. That's not counting the property acquisition and demolition costs.
The DLVEC works with Live Nation, the Beverly Hill, Calif.-based concert promoter, to book music acts. On the combat sports front, Vella is talking with ESPN, FOX and HBO on deals. He envisions 24 televised MMA and boxing events for 2016.
Vella said the venue's flexibility allows events of any scale to be staged there with visitors not digging too deep in their pockets for tickets.
"I'm building the venue differently for every televised event. That's important because we don't want it to get stagnant and it shows the flexibility of the site," Vella said. "We're trying to be affordable and not trying to compete with the Strip."
The economic impact of DVLEC events on The Fremont Street Experience is mixed. For example, sales representative Rashon Robinson, who works at a souvenir necklace kiosk called, "Big Balls," said there is more foot traffic on Fremont Street under the canopy when the DVLEC holds events.
But Leonard Saldana, a bartender at Four Queens on Fremont Street, said he did not notice any difference in business during DVLEC shows.
The Downtown Las Vegas Events Center joins a growing roster of outdoor venue sites that have been converted from parking lots and empty sites in Southern Nevada. MGM Resorts International has rebuilt lots into its Rock in Rio festival site at Las Vegas Boulevard and Sahara Avenue, which has hosted outdoor music shows, and an outdoor events site across from the Luxor that has been used for beerfests, bull riding competitions and country music concerts.
Even Laughlin has the Laughlin Event Center, which has multiple seating configurations depending on whether the event is a concert or a sports competition. It's a good comparison to the Downtown Las Vegas Events Center.
The D Las Vegas also cuts different deals with the various show producers and promoters. In some cases, the producer will rent the site, while in some cases The D buys the event and markets it.
"Every deal is a little different," Stevens said.
Contact reporter Alan Snel at asnel@reviewjournal.com. Find him on Twitter: @BicycleManSnel