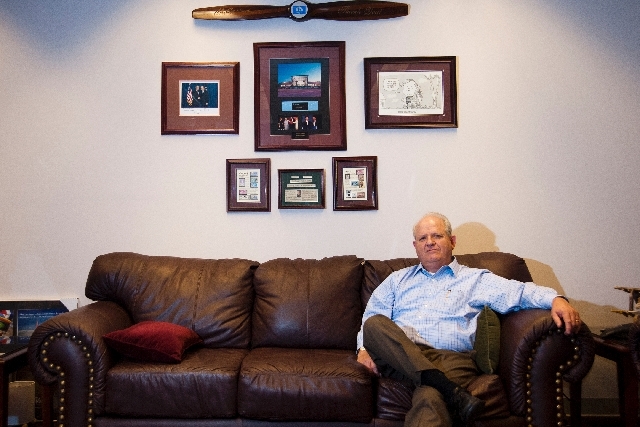 The Las Vegas Convention and Visitors Authority is adding another player to its roster of all-star independent contractors.
Joining former Las Vegas Mayor Oscar Goodman in that arena is Randy Walker, the former Clark County director of aviation, who retired June 3.
Walker's three-year contract for $72,000 per year was approved Tuesday by the authority's board of directors. He will be consulting on the Las Vegas Global Business District project by developing selection criteria of design and project management professionals, commenting on construction bids and creating a project timeline.
"I'll certainly try to bring whatever expertise and wisdom I gained over the number of years I was at the airport," he said.
Walker announced his plan to retire in February, and he said discussions with Rossi Ralenkotter, president and CEO of the authority, began around April. Walker's consulting company, RHWalker Consulting, was created May 2.
The two men have known each other for many years, and Ralenkotter wanted to take advantage of the opportunity to get Walker on board after his retirement.
"He just completed a tremendous career with the airport and oversaw the largest public construction project in the history of Nevada, which was Terminal 3. And he was very successful in that endeavor," Ralenkotter said.
Walker said he plans to sit down with Ralenkotter after his contract starts Aug. 1 to get up to speed before he selects the "right talent" to design and manage the project.
"Getting that team in place to have proper management oversight is the most important thing. … I'm here as a consultant just to provide expertise and hopefully provide the most efficient processes for the program," he said.
Walker already was being handed business cards after the meeting Tuesday.
Walker said he has no other local work lined up, but he does have out-of-state airport work in the pipeline.
Goodman, whose three-year independent contractor agreement was approved last month, receives $60,000 per year from the authority to chair the host committee.
Walker's fee was negotiated by the authority's general counsel, Luke Puschnig. The authority must pay a $6,000 monthly retainer for up to 32 hours of work per month. Additional work will cost the authority $175 per hour, and the authority is responsible for any travel expenses associated with the work.
Ralenkotter said it's possible the board will hire more consultants as establishment of the Las Vegas Global Business District proceeds.
The authority is preparing for initial financing of the project, which is projected to cost $2.5 billion. The project calls for aesthetic improvements, technological enhancements, a World Trade Center and overall Las Vegas branding in the areas leading up to and including the Las Vegas Convention Center at 3150 Paradise Road.
In August, the authority will go before the Clark County Debt Management Commission with a request for a general obligation bond of $218.5 million for conceptual site and building design, construction programs and potential land acquisitions. The bond would be repaid with travel board revenues.
Contact reporter Laura Carroll at lcarroll@reviewjournal.com or 702-380-4588. Follow @lscvegas on Twitter.