Experts see no long-term damage to Las Vegas tourism economy
October 2, 2017 - 3:35 pm
Updated October 2, 2017 - 7:32 pm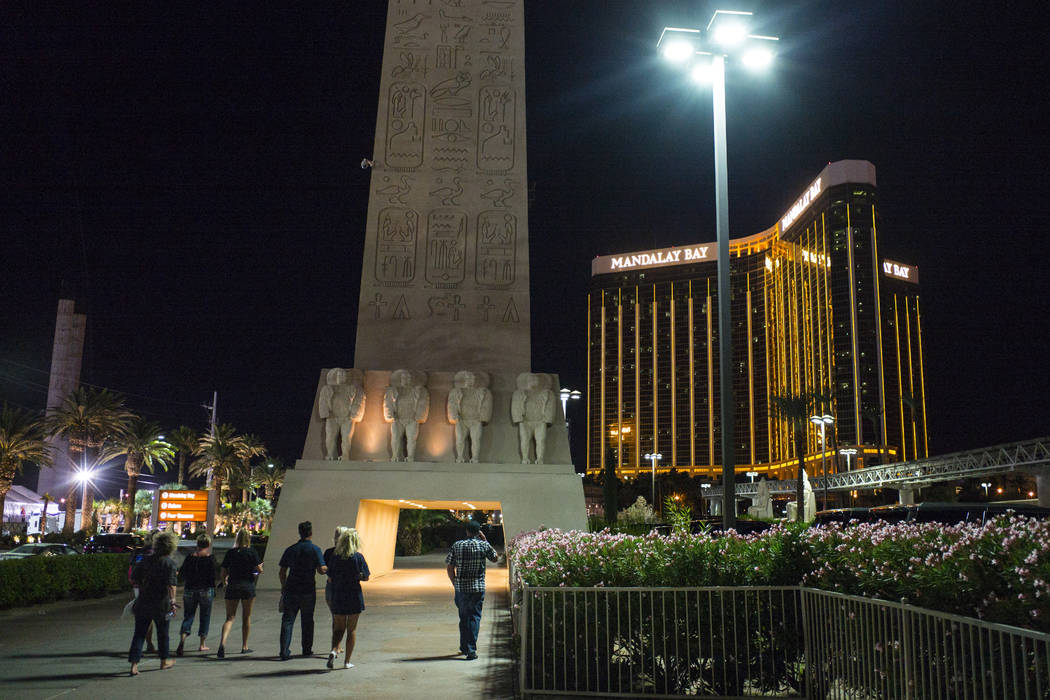 The horror of the murderous attack in Las Vegas on Sunday night was similar in many ways to the incident it supplanted as the worst mass shooting in modern U.S. history: the June 12, 2016, incident in the family tourism mecca of Orlando, Florida.
Unlike Omar Mateen's rampage that killed 49 people and wounded 58 others in Florida at the Pulse nightclub, well away from Orlando's primary theme-park attractions, the Sunday night massacre was on Las Vegas' most prized tourism real estate — the Strip.
While industry experts believe the incident could be a detriment to the future of vulnerable outdoor concerts and festivals, they say it isn't likely to damage Southern Nevada's tourism economy the way 9/11 temporarily demolished visitation and terrorist attacks initially decimated travel to Paris.
"One slight difference is that the Pulse tragedy was away from the heart of Orlando's tourism district, while this mass murder was right in the heart of Vegas'," said University of Central Florida economics professor Sean Snaith.
More carnage
"It seems like the scope of carnage is greater," Snaith said. "But I think the impacts of this thing are going to be more long-lasting for the people of Las Vegas than they will be for the tourism industry."
Industry watchers like Snaith agree that any short-term damage to Las Vegas will be short-lived.
"In the short run, the shock and the horror of it could affect behavior, but I don't think this goes on to define Vegas as a tourism destination," Snaith said. "This is a horrific tragedy, but this is not a regular occurrence that would come to define the destination."
Short-term effect
Bjorn Hanson, a clinical professor at New York University's Jonathan M. Tisch Center for Hospitality and Tourism, concurs.
"There is likely to be some short-term effect on tourism, not as much because of concerns about safety, but because the sadness is in conflict with the desire of many leisure travelers for pleasure and relaxation, although some of that effect will be offset by travelers showing their courage and their support for the community," Hanson said.
"Based on the profile of this tragedy, a single perpetrator from the area, and the image of Las Vegas as safe and with especially effective law enforcement and venue security, there may be some lingering effects of visitor behavior while in Las Vegas, but there should be no long-term effects on overall tourism," he said.
Professor Michael McCall of Michigan State University's School of Hospitality Business said the scenario is different from that of France, which has endured a series of attacks against tourists and locals. Besides, he said, gamblers are a resilient demographic, and most tourists recognize that Las Vegas is one of the most surveilled places in the country.
"Short-term there will be a blip on the screen because it is something that you don't see happening everyday," McCall said. "People may think of the shooting for a while when they think of Vegas. The average customer may be a bit fearful, but like London, things can continue on."
Paris down 6.1 percent in '16
The regional tourism committee serving Paris and the surrounding area says that while 2017 tourism is rebounding slightly, the economy was crushed in 2016, with visitor spending down 6.1 percent, or 1.3 billion euros ($1.5 million). Most of the downturn was attributed to terrorism fears from safety-conscious Japanese and Chinese travelers.
"The real issue is safety," McCall said. "If you can convince people that they are going to be safe, they will come back. Vegas, though, is the most surveilled place in the country. They are going to figure out how (shooter Stephen Paddock) got there. The security teams are going to learn a lot from this, such as how did he create his own gun store in the hotel room. I don't think we are going to go to metal detectors.
"In the larger scheme, organizers will have to look at outdoor concerts," he said. "They have always been vulnerable."
Rossi Ralenkotter, president and CEO of the Las Vegas Convention and Visitors Authority, said he's confident Las Vegas will work through the tragedy.
"This was a horrific yet isolated incident," said Ralenkotter, whose team opened the Las Vegas Convention Center's south hall as a family reunification center. "At this time, it is important to allow the Las Vegas Metropolitan Police to conclude their investigation into the incident and to attend to the needs of the victims and their families. Las Vegas is a strong community that will work through this tragic incident."
Nimble R&R
The CEO and principal of the LVCVA's advertising consultant, R&R Partners, said his first order of business is to correct misinformation appearing in some media outlets and to reinforce the message that Las Vegas is a safe community. Billy Vassiliadis said it's unclear how long it will be before a more fun-loving marketing message returns, but R&R's turn-on-a-dime process is engineered to be nimble.
"Over time, we begin to communicate the message that Las Vegas is truly one of the safest resort areas in the world, that deranged people live and act in many communities and many parts of the world," Vassiliadis said.
"The other important thing we've been doing for the last seven or eight hours is dealing with a lot of the fake stuff that's out there," he said. "You know, the Daily Mail running everything as if it were fact. I'd love to see some sense of accountability from TV on how often will they continue to run that video (showing Jason Aldean's interrupted Route 91 country music festival performance). They have to consider the ramifications of inciting other deranged people, not necessarily in Las Vegas, but all over the world."
In the meantime, Vassiliadis and R&R will await the right time to switch gears.
"The time to build context isn't right now, but at some point I think there are some very clear facts about the safety and security of the Las Vegas Strip, last night's horrible incident notwithstanding, and between our amazing police department and the security we have on Strip properties. We invest a lot in protecting our visitors," he said.
"When the time is appropriate for that discussion and the context is right, we'll be prepared to have it. But right now, the only thing a sensitive and caring community and industry can do is to take care of the folks that are suffering, that have had loved ones hurt or killed and accommodate people that are left behind here is to help get out correct and factual information."
Contact Richard N. Velotta at rvelotta@reviewjournal.com or 702-477-3893. Follow @RickVelotta on Twitter. Contact Todd Prince at tprince@reviewjournal.com or 702-383-0386. Follow @toddprincetv on Twitter.