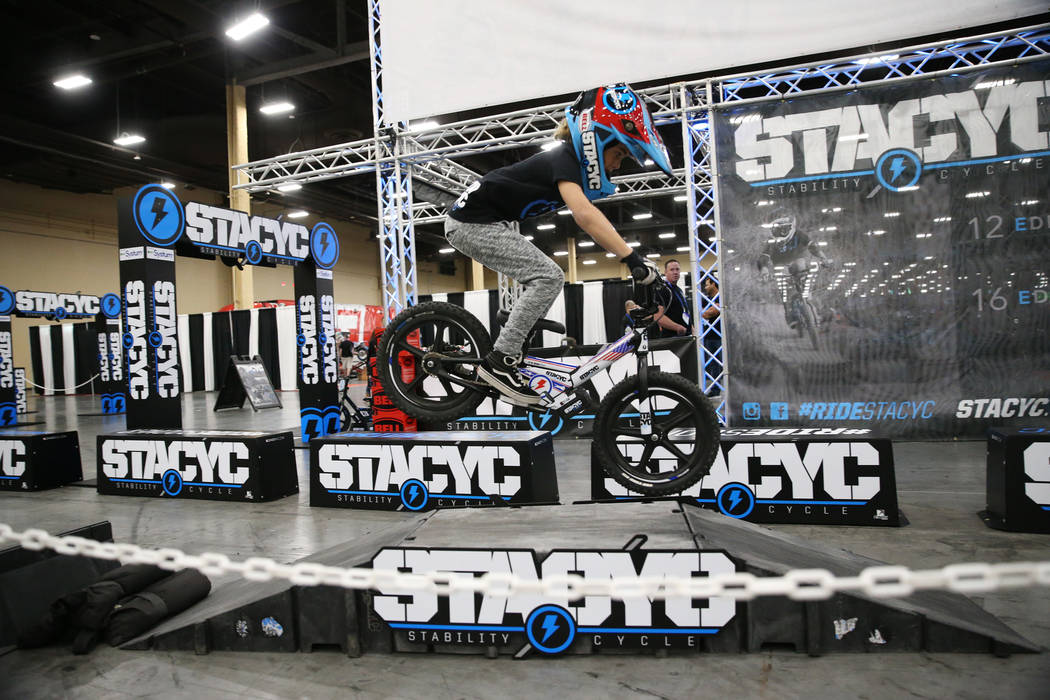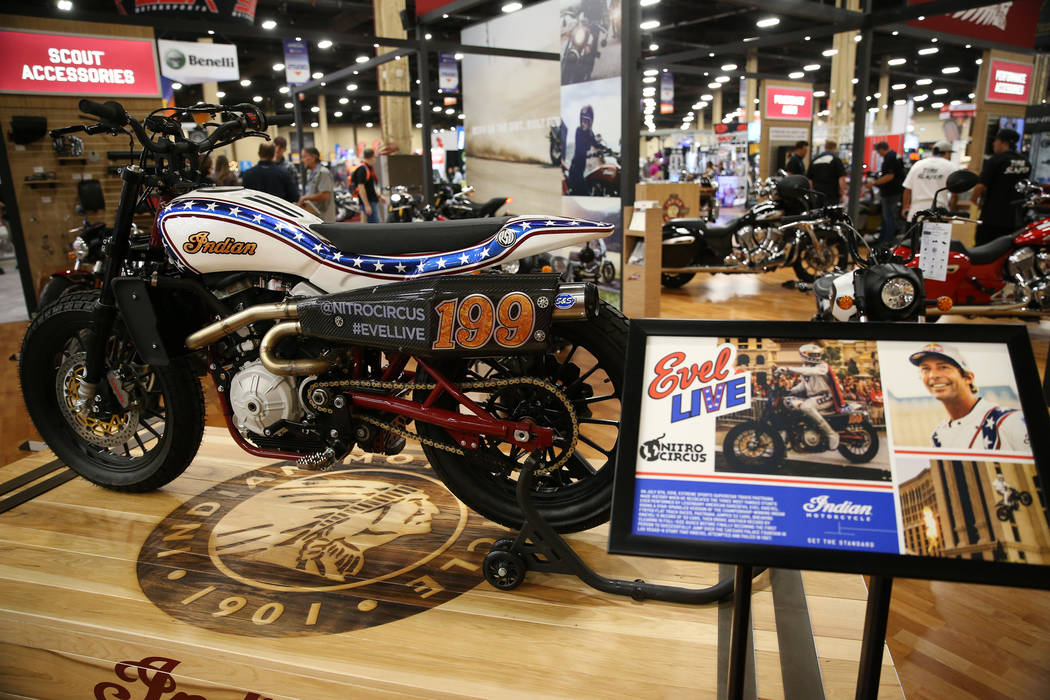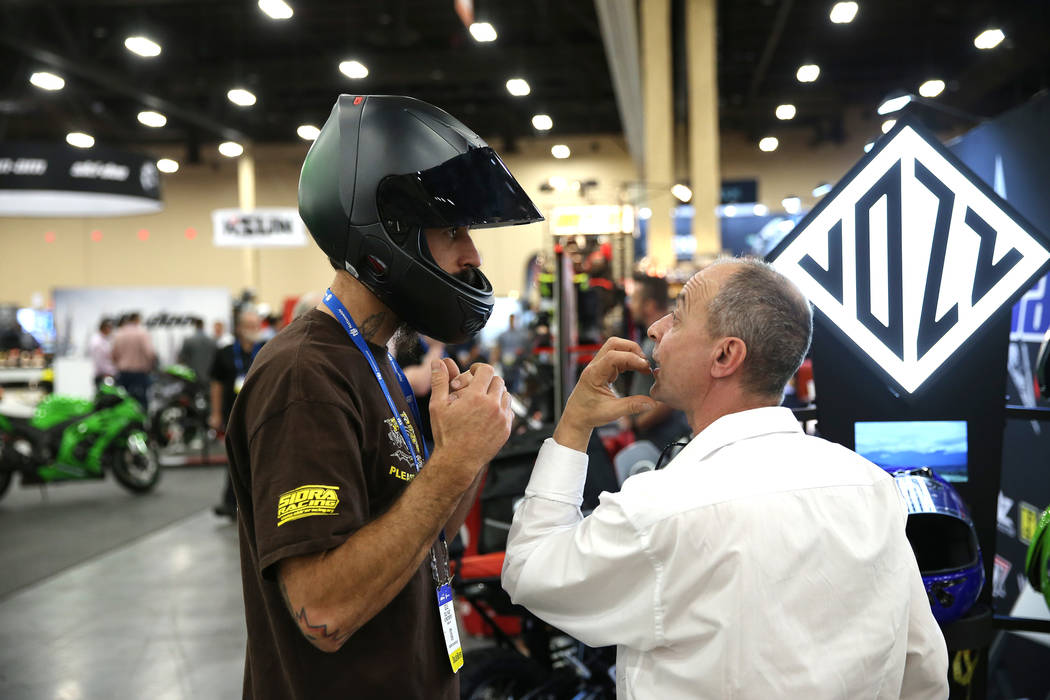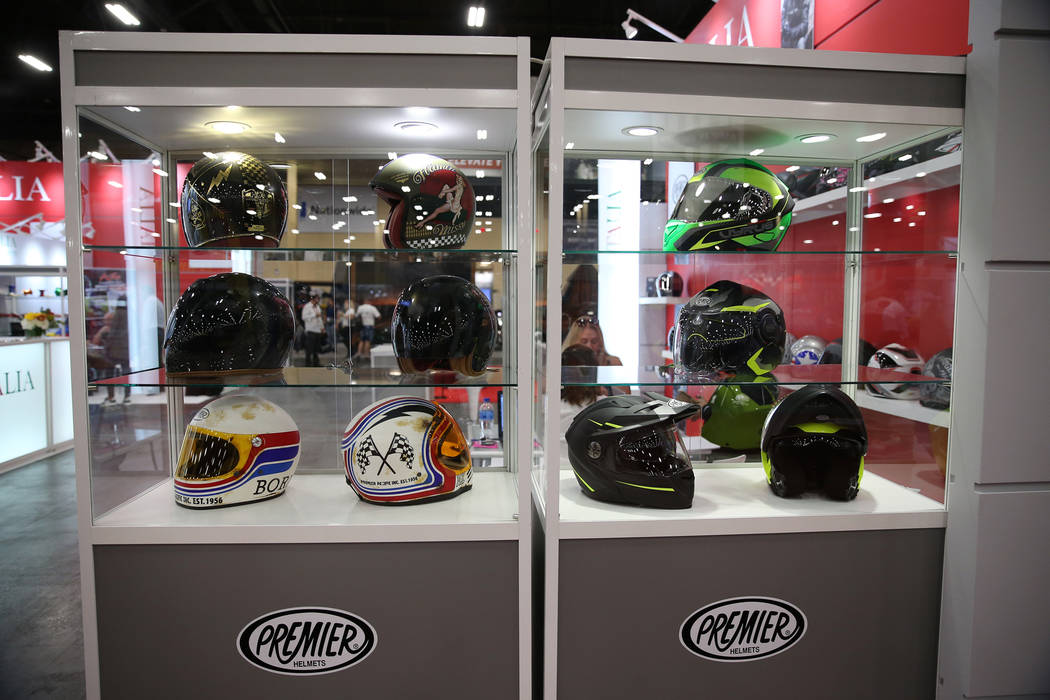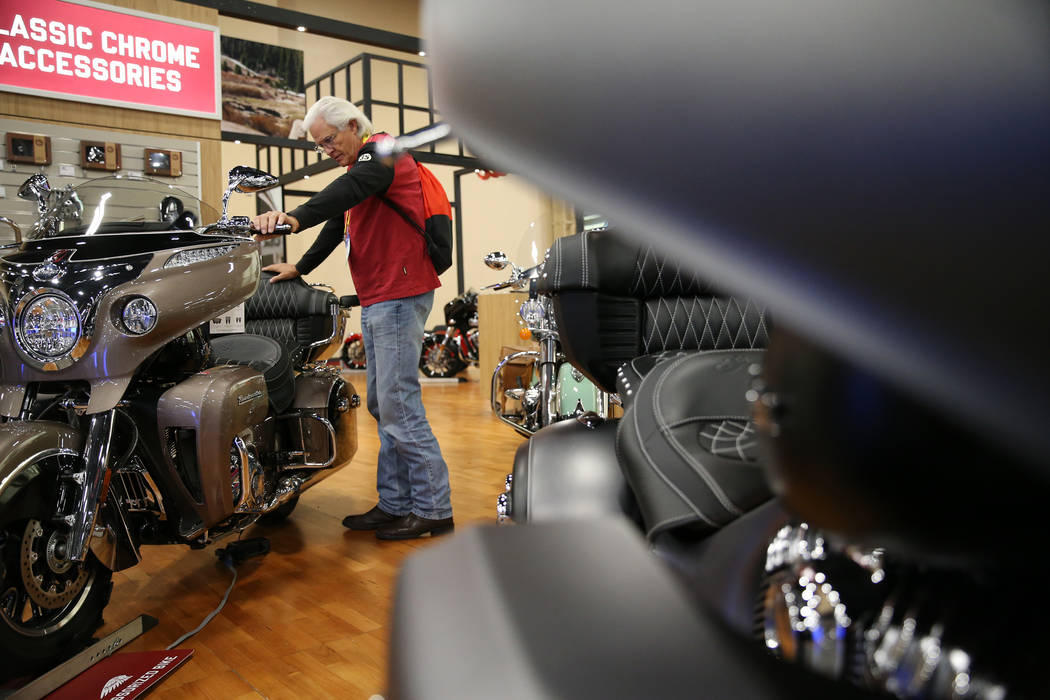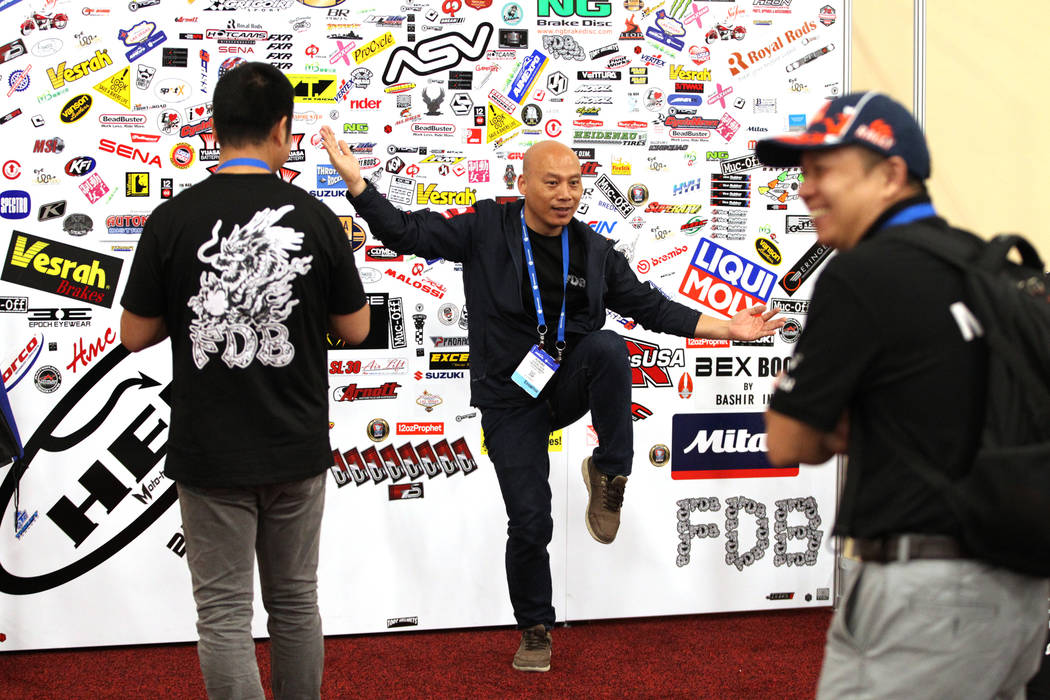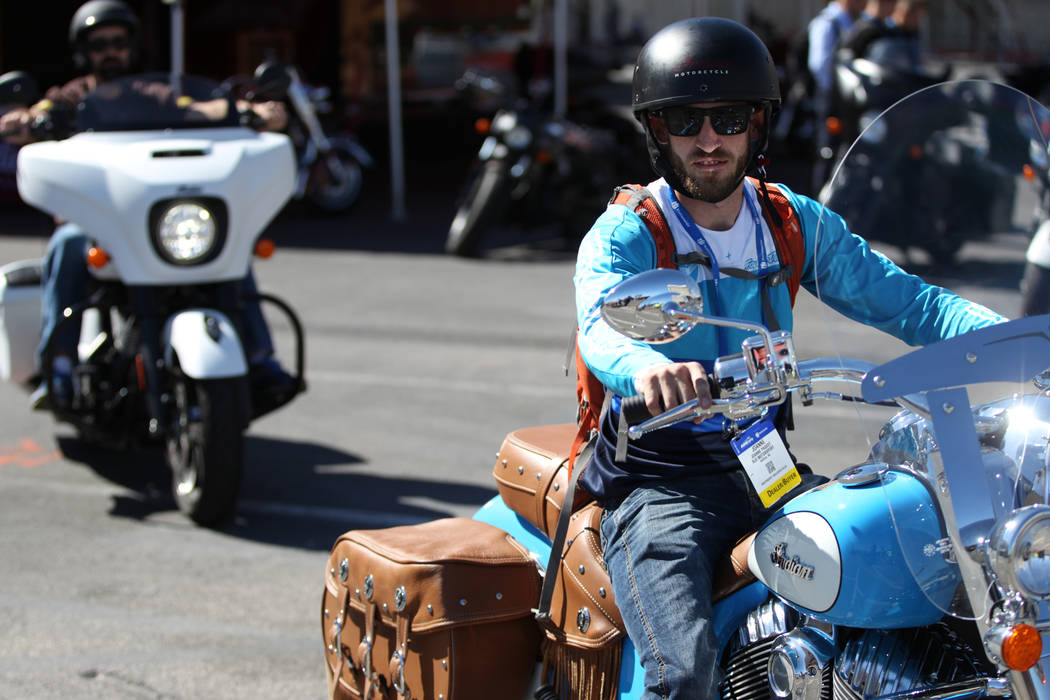 American International Motorcycle Expo zoomed into Las Vegas on Thursday, making its first-ever stop on the Strip.
The sixth annual expo is expected to attract as many as 35,000 industry retailers and enthusiasts over the four-day event.
The expo coincides with the annual Las Vegas BikeFest rally held in downtown and the Monster Energy Cup supercross championship at Sam Boyd Stadium, events organizers hope will bring more people to the trade show floor.
The expo, taking place at the Mandalay Bay Convention Center, features 500 exhibitors including well-known brands such as Harley-Davidson, Honda, Indian, Kawasaki and Yamaha. The first two days were just for industry professionals, including manufacturers and shop owners, and feature educational lectures on boosting sales.
The show will be open to the public Saturday and Sunday, and attendees with valid licenses can take select vehicles for a test spin in an area just outside the convention center doors. Attendees can ride shotgun with instructors in the three-wheeled Polaris Slingshot.
The expo launched in 2013 in Orlando, Florida, to bring together producers, retailers and consumers of a wide selection of "powersport" vehicles, including motorcycles, off-road buggies and amphibious machines. The show took place in Columbus, Ohio, last year to cater to the thousands of powersport retail shops in the Midwest.
"It's a good opportunity for us to come out West simply because there's a lot of a lot of dealers in California, Arizona and throughout the western part of the U.S. that could not make the trek out East," said Larry Little, general manager of the show.
The expo this year has attracted a greater international crowd compared with the Columbus show, he said.
ATV sales grow
The show features about 30 producers of vehicles, including motorcycles, all-terrain vehicles and side-by-side machines. The remaining exhibitors offer accessories including helmets and gloves; services such as insurance and financing; and after-market products including tires, lights and audio.
All-terrain vehicles are used for recreation in the desert outside Las Vegas and generally seat just one person. Side-by-side vehicles, which come in utility and sport models, can seat from two to four and have greater safety features, including a roll cage, seat belts, headlights and taillights.
Sales of all-terrain and side-by-side vehicles have grown faster than motorcycles over the past decade as the product offering improves, said Larry Little, the show's general manager. ATVs and side-by-side vehicles can range from $5,000 to $30,000.
''You can now take your family in a four-seat vehicle and go just about anywhere you want to off-road. The vehicles are that good these days from a suspension, comfort and durability perspective. It's really pretty amazing,'' Little said.
New motorcycle sales total about 550,000 units a year, in line with the 20-year average but down by nearly half from the boom years of 2006 and 2007, Little said. Entry-level motorcycles priced under $5,000 are experiencing growth as people take up the hobby, he said.
But the secondary market has seen growth in recent years with about 1.5 million used bikes changing hands annually, he said. The trend is being driven by people buying a motorcycle for the first time and millennials, who like retro models and fixing up bikes.
That is pushing some manufacturers, such as Honda and Kawasaki, to produce new lines of retro-style machines, expo spokesman Brandon Short said.
Experiential shops
The expo featured a keynote speech Thursday by Rick May, the U.S. Department of Interior's senior adviser for recreation, about the administration's efforts to expand outdoor recreation areas.
Retailers could attend 16 presentations on marketing techniques, improving profitability and leadership. A common theme at the show is the need for dealers to make stores more engaging.
Motorcycle retailers could offer hangout areas with coffee bars open to the public and host presentations by bikers who have traveled the world or by artists who focus on the industry, said Kevin Dunworth, an industry consultant who owns a custom bike shop.
Dunworth and show director Cinnamon Kernes created a space on the expo floor to inspire retailers to re-envision their shops. The space includes a bar, a motorcycle-themed photo exhibit, a tattoo parlor, bar-top tables, an espresso bar and custom-made products such as helmet stands. The area included retro and custom-made bikes.
''The shop becomes a destination, a cultural center,'' Dunworth said. ''It should have features that increase people's propensity to hang out or educate them.''
Baby bikes, 3-wheeled cars
The expo also showcased eye-grabbing vehicles included three-wheeled autocycles, a side-by-side that resembles an Army jeep, fully amphibious vehicles and electric stability bikes for children as young as 3.
Vanderhall's autocycles can reach 60 miles per hour in under five seconds and can reach speeds as high as 130 miles per hour. The Provo, Utah-based manufacturer produces one- and two-passenger models that range from about $26,000 to $49,000.
On the opposite end of the speed and power scale are the electric stability bikes produced by California-based Stacyc. The 12-inch and 16-inch models are designed for children as young as 3 and 5 respectively and cost from $650 to $700.
Contact Todd Prince at 702-383-0386 or tprince@reviewjournal.com. Follow @toddprincetv on Twitter.
AIMExpo Times and Prices
The AIMExpo is open to the public on Saturday from 9 a.m. to 4 p.m. and Sunday from 10 a.m. to 5 p.m.
The expo is held inside the Mandalay Bay Convention Center while the test drives are outside.
An adult one-day ticket is $14 online and $16 if purchased at the show.
A two-day ticket is $22. Children 12 and under are free.
Tickets can be purchased at https://ingoexintel.lpages.co/2018-aimexpo-advocate-start/#/select
Only individuals with a motorcycle license will be allowed to test drive a bike.
Individuals with a valid driver's license can test the Vanderhall autocycle.
Attendees can only be passengers in the Polaris Slingshot.