Firearms attractions called key part of Las Vegas economy
October 9, 2017 - 5:44 pm
Updated October 9, 2017 - 7:34 pm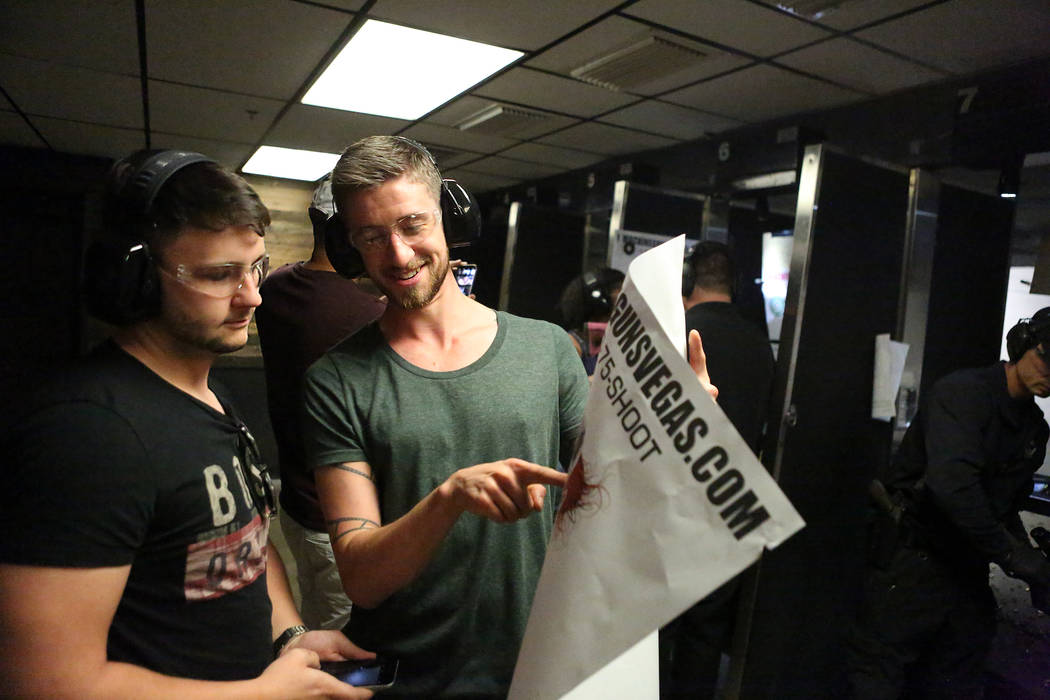 In June, actress Michelle Rodriguez, dressed in a black tank top, jeans and sunglasses, boarded a helicopter in Nevada to promote a new, exotic tourism experience to Las Vegas visitors.
Seated inside a Eurocopter without a door, the star of "Girlfight" fired a belt-fed M-249 machine gun over the quiet, barren Mojave Desert, playing the role of a military door gunner for a few minutes.
Machine Gun Helicopters is just the latest shooting business to have popped up in Las Vegas since the start of the decade, enticing thrill-seeking visitors with the type of experience they have seen only in movies or video games.
But even after a 64-year-old man used a cache of semiautomatic weapons to send gunfire into a country music concert in Las Vegas, killing 58 in the worst massacre in modern U.S. history, the city's gun tourism industry might take only a short-term loss.
Shoot Las Vegas, an outdoor range located in Goodsprings, has received about 50 cancellations since the Oct. 1 shooting, said owner Eric Brashear. The company hosts as many as 6,000 people a year.
"We have seen an impact from what happened. It is a little frustrating because this isn't that. What happened Oct. 1 has nothing to do with what we do here,'' said Brashear, adding he expected things to return to normal in a few months.
Machine Gun Vegas, a shooting range owned by Genghis Cohen, hasn't seen any effect, said spokeswoman Megan Fazio. Machine Gun Vegas, though, did close Oct. 2 and Oct. 3 in light of the shooting. Cohen is also an owner of Machine Guns Helicopter.
Exploding targets, SWAT training
The city's gun tourism industry now generates at least $20 million in revenue, according to business owners. Four of the top six ranked items on TripAdvisor's Las Vegas Fun and Games section are gun experiences.
"The firearms industry is one of the top three tourist draws for Las Vegas," said Nephi Oliva, the owner of Las Vegas Gunfights. "People come from all over the world to get that picture (of themselves firing guns). It is a huge part of our tourism."
Visitors can shoot Uzis and machine guns indoors or outdoors, engage in simulated gunfights, blow up cars, fire sniper rifles at exploding targets, train like a SWAT team member and, now, pour down a hail of fire from a helicopter.
The companies target corporations seeking unique team-building events, guys seeking to host a memorable bachelor party as well as families and individuals looking to get that Facebook photo clutching a big gun or two. Children as young as 10 are accepted at many of the events.
Shoot Las Vegas clients can choose from at least seven shooting packages ranging from $135 for three guns up to $750 for 21 guns. The majority of Shoot Las Vegas clients are foreigners.
Attracting executives
Las Vegas Gunfights has also seen a drop in tourism bookings, but more people are seeking self-defense training, according to Oliva. He said tourists previously accounted for about 60 percent of the business, but that may now reverse.
After the Oct. 1 massacre, eight casino executives came in for a four-hour training session, Oliva said. The training involves shooting simulations from a real gun at a real-life adversary moving and ducking behind barrels.
The number of trainees enrolled at Las Vegas Gunfights has increased to 600 and includes the eight executives, two people who were at the Route 91 Harvest festival and a woman who lost her uncle at the event. Training costs $150 per hour.
Las Vegas was bound to become the nation's gun tourism capital. A city that thrives on new and unusual experiences, it has lax gun laws and plenty of empty space nearby for shooting practice.
Unlike other Southwestern cities with similar attributes, Las Vegas also has the power of 43 million annual tourists.
"It seems to be a part of the general diversification of tourist offerings — instead of just gambling and seeing a show, there have been more attractions on and off the tourist corridor that appeal to tourists,'' said David Schwartz, author and professor of history at UNLV.
"The gun experiences are one, and museums are another. It fits into the category of semi-unique experiences to be had in Las Vegas,'' he said.
'Tainted memories'
The shooting experiences often draw rave reviews on sites dedicated to travel.
But tourists, like "Douglas" from the UK, may feel uneasy shooting machine guns with images of the massacre still fresh in their minds.
Douglas posted on TripAdvisor that he had a "great time'' shooting a gun for the first time at Battlefield Vegas during his visit to the city last week. However, he won't be picking one up anytime soon.
The Oct. 1 shooting "has tainted our memories of our trip to Vegas, I would probably not visit a gun range again but that is nothing against Battlefield. It is purely because of what can happen when weapons are in an uncontrolled environment.''
Clark County Commission Chairman Steve Sisolak said he's not ready to talk about the future of gun tourism and gun-focused attractions in the county.
"Right now, we're still in the grieving process and healing and moving forward," he said.
Contact Todd Prince at tprince@reviewjournal.com or 702-383-0386. Follow @toddprincetv on Twitter.