Flight attendants for 2 airlines stage protests at Reid Airport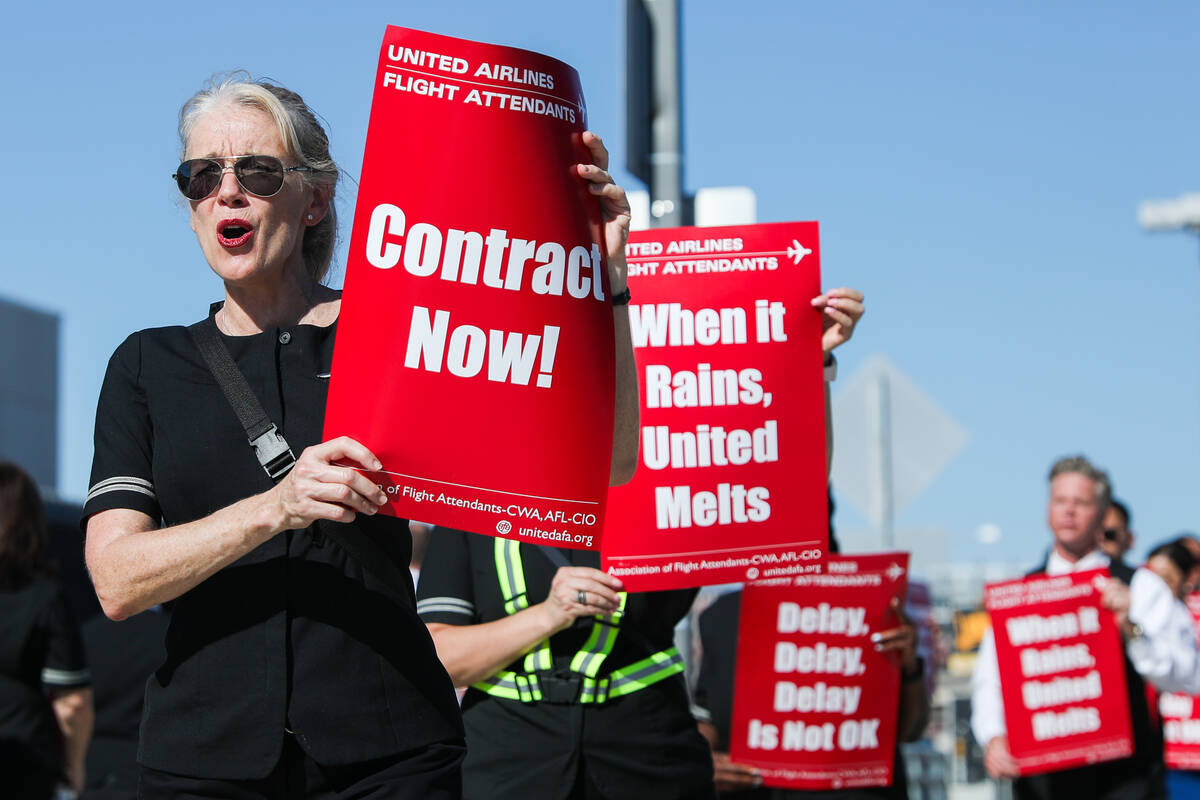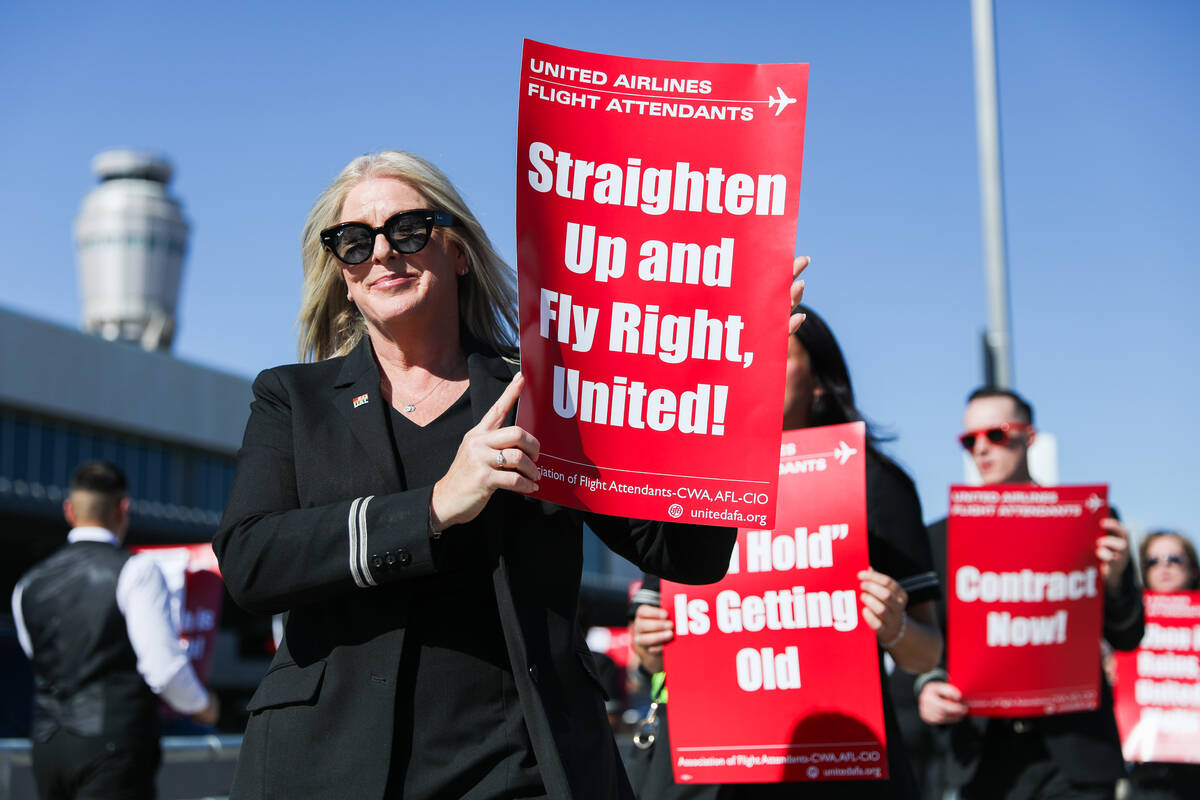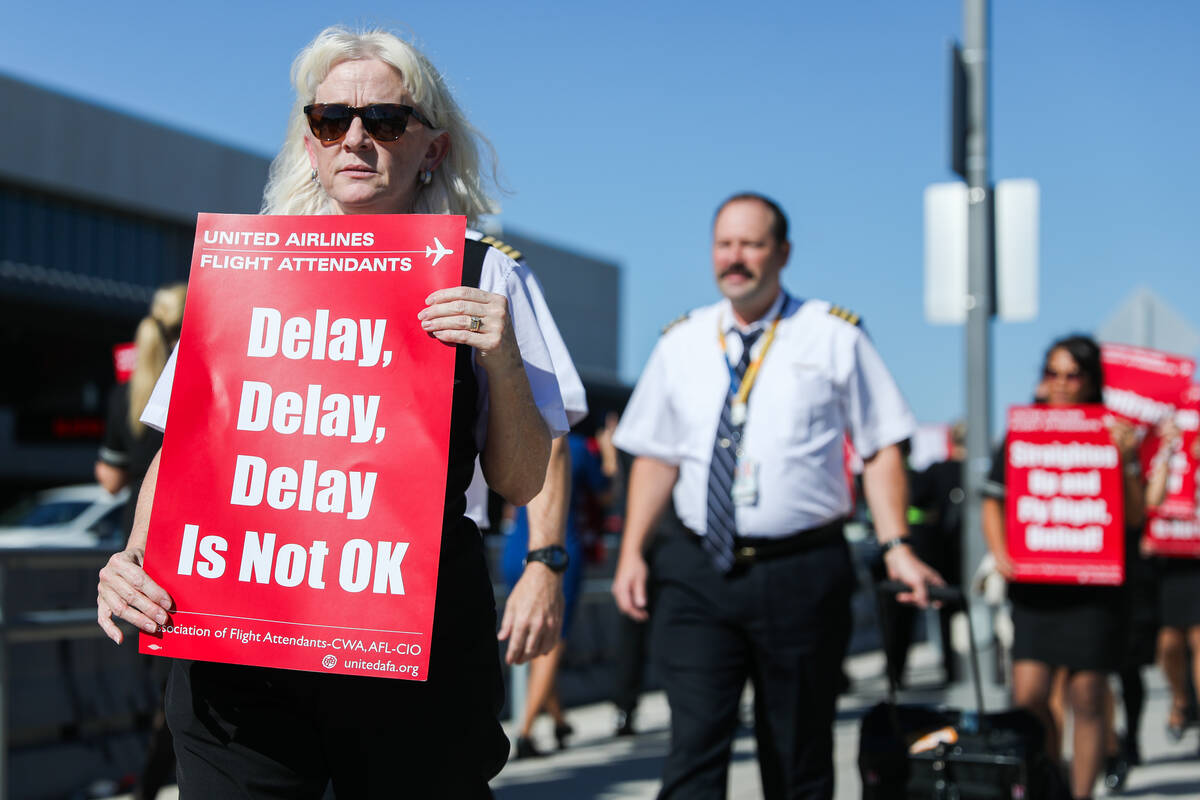 Flight attendants for two legacy airlines that have flights to Las Vegas called attention to their demands for new contracts this week with picket lines at Harry Reid International Airport.
Flight attendants for American Airlines announced the results of a strike vote Wednesday at Reid's Terminal 1, while crews for United Airlines demanded higher pay and modifications to the airline's operations in a demonstration Thursday at Terminal 3.
Both demonstrations were part of protests that took place at several airports across the country both days.
Ellen Eherts, a Las Vegas representative of American's Association of Professional Flight Attendants, said 99.5 percent of the approximately 26,000 flight attendants represented by the union voted in favor of walking off the job to pressure management to negotiate a new contract.
Eherts said flight attendants have worked four years without a pay raise as negotiations have slowed.
American is Reid's fourth busiest commercial air carrier with 38 daily flights. In the first seven months of 2023, the airline has carried 2.4 million passengers to and from Las Vegas.
While results of the strike vote were overwhelming, aviation experts say it's difficult to legally strike because of labor restrictions and the ability of the president and Congress to demand workers return to transportation-related jobs.
Flight attendants staged protests in 11 cities in addition to Las Vegas. The airline, in a statement, said, "We're proud of the progress we've made in negotiations with the APFA, and we look forward to reaching an agreement that provides our flight attendants with real and meaningful value. We understand that a strike authorization vote is one of the important ways flight attendants express their desire to get a deal done."
The United protest was about pay in addition to pressing the company to "fix their operational problems," said Bill Carico, local president of United's Association of Flight Attendants.
Carico said management has disregarded flight attendants' suggestions to hire more people in the airline's scheduling department.
"Every time there's been a storm, the company melts down," Carico said.
He said when that happens, there aren't enough personnel to call flight attendants to tell them their next flight resulting in them spending nights at airports or on planes before learning where they must be next.
"We've given them a list of solutions, but they disregard our comments," he said.
United, the sixth-busiest carrier at Reid, has 36 daily flights and has served 2.3 million passengers to and from Las Vegas in 2023.
United flight attendants also want a new contract.
In response to the protests, which took place in cities where United has crew bases, the airline released a statement: "We're continuing to work with the Association of Flight Attendants toward an industry-leading agreement. All United flights will operate as planned while our flight attendants exercise their right to distribute information and picket while off-duty."
The flight monitoring website FlightAware showed no operational problems in Las Vegas Wednesday or Thursday as a result of the protests.
Contact Richard N. Velotta at rvelotta@reviewjournal.com or 702-477-3893. Follow @RickVelotta on X.