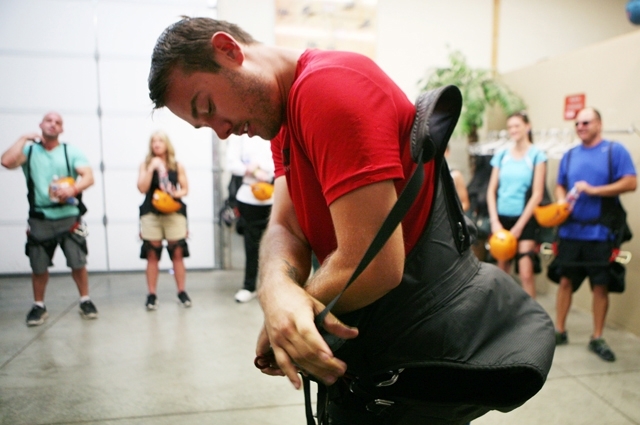 Long before the idea to place a zip line ride underneath the Fremont Street canopy and long before Strip casinos began looking into rooftop zip lines to connect resorts, there was Flightlinez Boulder City.
The zip line attraction that takes riders more than a mile-and-a-half over four zip lines above and through Bootleg Canyon has been operating since August 2008 and has accommodated some 50,000 rides year-round.
Flightlinez has a "Frequent Flightliners" program for riders making return visits.
"We have 1,800 'Frequent Flightliners,' " said Brina Marcus, Flightlinez' director of public relations, sales and marketing. "We actually have multiple guests that visit us every time they come to Las Vegas. There is a man from Maryland who has been on our zip lines seven times."
Meanwhile, the operators of Flightlinez are not worried about what seems to be an incoming glut of under-development and proposed zip lines in the tourist sector.
The Rio plans to open a zip linelike ride this summer in which rider can zoom between the properties two towers while MGM Resorts International has discussed a zip line attraction connecting Excalibur and Luxor.
On Fremont Street, Flightlinez' zip line underneath the Fremont Street Experience canopy is being replaced by Slotzilla, which will shoot zip line riders out of giant replica slot machine.
They welcome the competition.
"It's exciting to know that we brought something to the market that so many people enjoy," Marcus said. "Zip lines are popping up everywhere, so we're not surprised to see more added."
One difference. Flightlinez Boulder City offers what many would consider a true zip line experience.
The ride begins following a 15-minute hike to the top of Red Mountain. The first run covers more than 1,800 feet and drops rider some 400 feet from the starting point 3,800 feet above sea level.
Riders can reach speeds up to 60 miles an hour on runs above the Mohave Desert and through Bootleg Canyon, with scenic views of Boulder City and possible glimpses of desert big horn sheep, lizards, hawks and other wildlife.
The final run along the zip line is just 8 feet short of half mile.
The experience lasts about two-and-a-half hours. Rides cost $159 per person but there are discounts for local residents and children. Flightlinez employs 120 employees, which expands to 150 during the busy summer months.
"The best part of the experience is the staff," Marcus said. "Our guides offer any group of riders a great time. They make the adventure what it is."
Flightlinez is owned by Greenheart out of Canada, which has created aerial trails and suspension bridges in outdoor areas throughout the world. The company built the Greenheart Canada Walkway in Vancouver, British Columbia, and similar attraction in South America and Africa. The company built an above-ground trail system at the San Diego Wild Animal Park and is creating a zip line along Venice Beach in Southern California.
In 2010, the company built a temporary zip line along Fremont Street as part of a fundraiser for the Susan G. Komen for the Cure Foundation. The zip line was so successful after three months that Greenheart made the ride a permanent feature, creating Flightlinez Fremont Street.
The Fremont Street Experience is taking back the ride this summer.
"We're happy to have introduced zip lines to Las Vegas," Marcus said.
Contact reporter Howard Stutz at hstutz@reviewjournal.com or 702-477-3871. Follow @howardstutz on Twitter.