Frontier offering unlimited summer flights pass for $399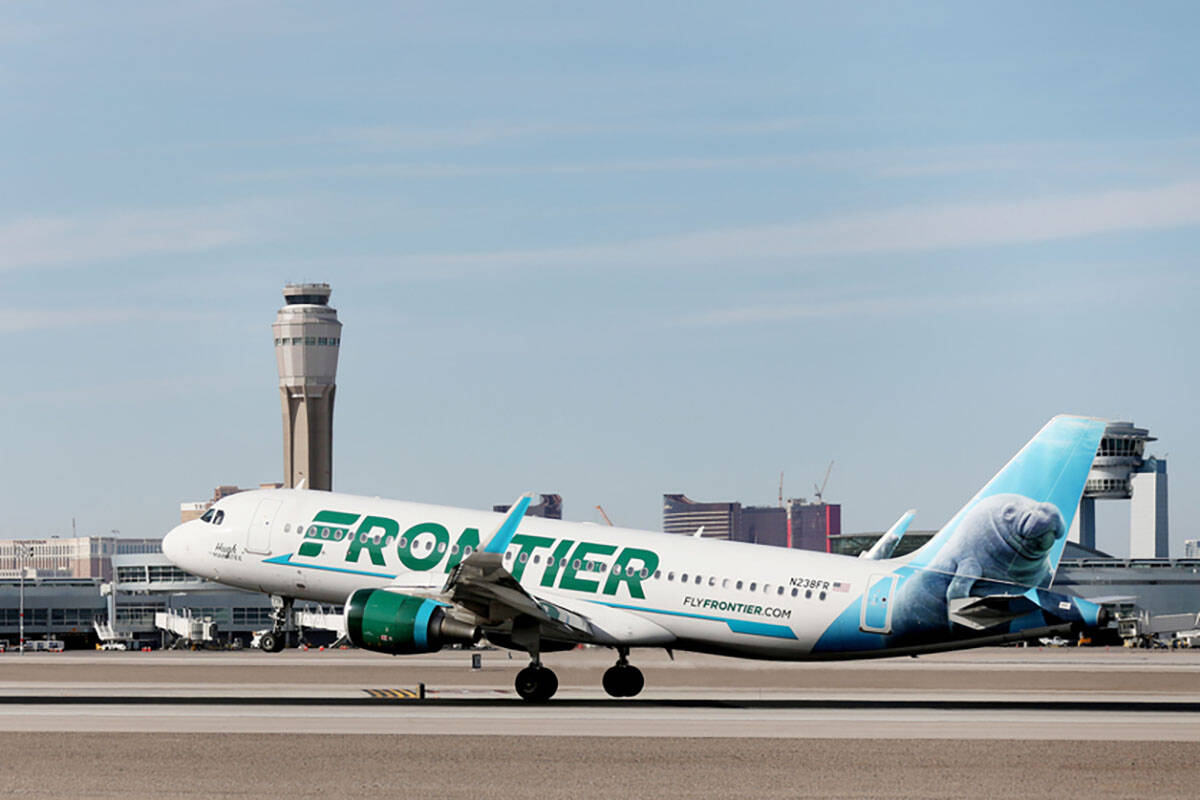 Denver-based discount air carrier Frontier Airlines is offering an all-you-can-fly pass over a five-month period that will enable customers to book flights for 1 cent plus taxes and fees.
The airline, now the third-busiest commercial air carrier at Harry Reid International Airport, announced Tuesday that it would sell a "limited number" of its Go Wild! Summer Passes for $399 per person that lets pass holders purchase an unlimited number of flights. The airline hasn't specified how many passes would be sold.
Trips can be booked from May 2 through Sept. 30, but there are 15 blackout dates.
"Everyone loves summer vacation and with the new GoWild! Summer Pass, you can enjoy even more of what you love," Daniel Shurz, senior vice president of commercial at Frontier Airlines, said in a news release. "For people with flexible schedules, this is a terrific opportunity to have a truly epic summer and then some, soaking up rays on the beach, exploring national parks and visiting new cities."
The airline explained that the pass can be used for all Frontier destinations throughout the U.S., Mexico, Caribbean and Latin America.
Flights must be booked the day before flight departure for domestic travel or starting 10 days before departure for international travel. Each flight costs 1 cent, plus applicable taxes, fees, and charges at the time of booking.
When booking, passengers can also purchase options like bags, seat selection and other ancillary products for each flight to customize travel.
Blackout dates for using the pass are May 25-26 and May 29; June 29-30; July 1-5, 8-9; Aug. 31; and Sept. 1 and Sept. 4.
Travelers must be at least 18 years old and a U.S. resident to purchase the pass. The pass holder may be under the age of 18 but must be a U.S. resident. Pass holders under the age of 13 must be enrolled by their parent or legal guardian, and children under the age of 15 must travel accompanied by a passenger who is at least 15 years old.
Frontier has a fleet of 120 twin-engine Airbus A320 jets that include the largest A320neo fleet in the country.
The company flew 3.6 million passengers in and out of Las Vegas in the first 11 months of 2022.
Contact Richard N. Velotta at rvelotta@reviewjournal.com or 702-477-3893. Follow @RickVelotta on Twitter.