Frontier to launch 7 new routes out of Las Vegas
Updated June 26, 2019 - 4:38 pm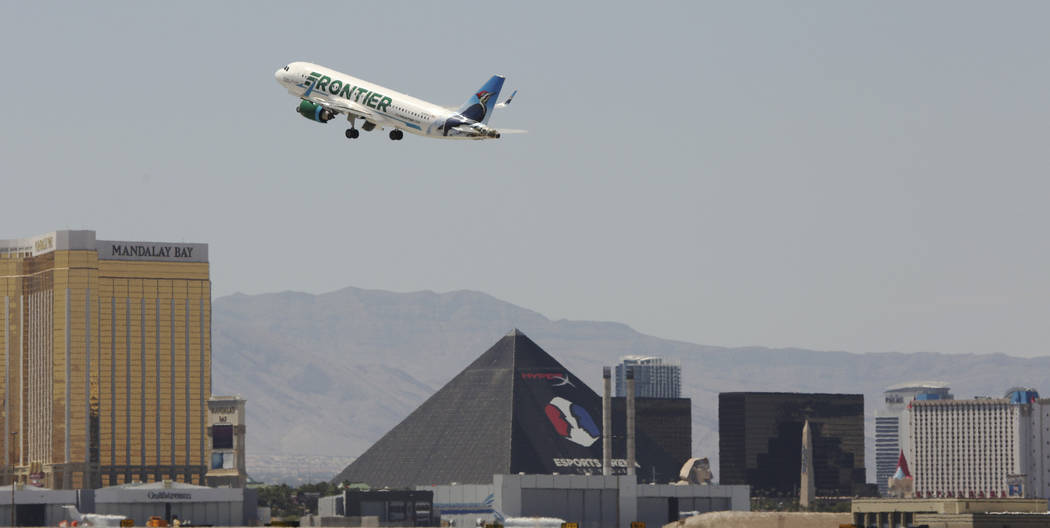 Denver-based Frontier Airlines, continuing an expansion of service at McCarran International Airport, announced seven new routes Tuesday and indicated it would dip its toe into the popular Las Vegas-Reno market.
The low-fare carrier that offers 167 flights a week to 33 destinations from Las Vegas, the third most among commercial carriers, will add flights to Los Angeles; Phoenix; Seattle; Portland, Oregon; Miami; Orange County, California; and Reno between Sept. 6 and Nov. 14.
All the new routes are competitive with other carriers, but the route to Reno-Tahoe International Airport, beginning Nov. 14, is significant because it is dominated by Las Vegas market leader Southwest Airlines and is popular with government leaders and students attending UNR and UNLV.
The only competitor to Southwest on the Reno route is Las Vegas-based Allegiant Air, which has one daily flight. Southwest offers 64 round trips a week on the route. In its initial rollout, Frontier plans flights Mondays, Thursdays, Fridays and Sundays to Seattle, Portland and Reno, with daily service to the other destinations.
Frontier, which has one of the youngest fleets in the industry, flies twin-engine Airbus jets on its routes and is introducing many of the new routes with $29 fares on some flights.
Aviation expert Mike Boyd of Colorado-based Boyd Group International, said Frontier's entrance into the Las Vegas-Reno market would be good for consumers — if the airline bumps up the number of flights it offers.
"Three or four flights a week isn't going to change much," Boyd said. "But three or four flights a day could do something."
He said that Frontier seeks out niche markets where it can make money and the Reno route could represent an opportunity.
Boyd said Southwest operates the route with an average 80 percent load factor, meaning about 80 percent of the seats are filled with revenue customers. They pay an average fare of $154 one way, he said.
Boyd estimated that the average fare on Frontier would be around $70 one way.
Representatives of McCarran International Airport and the Las Vegas Convention and Visitors Authority said the Frontier expansion is expected to increase passenger and visitation numbers.
"Frontier Airlines' recent growth in Las Vegas has been a tremendous driver for business here at McCarran, whether that's measured in additional visitors coming into town or through greater point-to-point options for Southern Nevada residents to consider whenever they travel," said Chris Jones, the airport's chief marketing officer. "We're pleased to see even more growth is on the horizon, further improving connectivity to Las Vegas from several great destinations spanning coast to coast."
Chris Meyer, vice president of global sales for the Las Vegas Convention and Visitors Authority, added, "Direct service from these seven new markets will conveniently and affordably connect both business and leisure travelers to our destination."
Contact Richard N. Velotta at rvelotta@reviewjournal.com or 702-477-3893. Follow @RickVelotta on Twitter.