Golden Knights' title run helps fuel Las Vegas visitation in June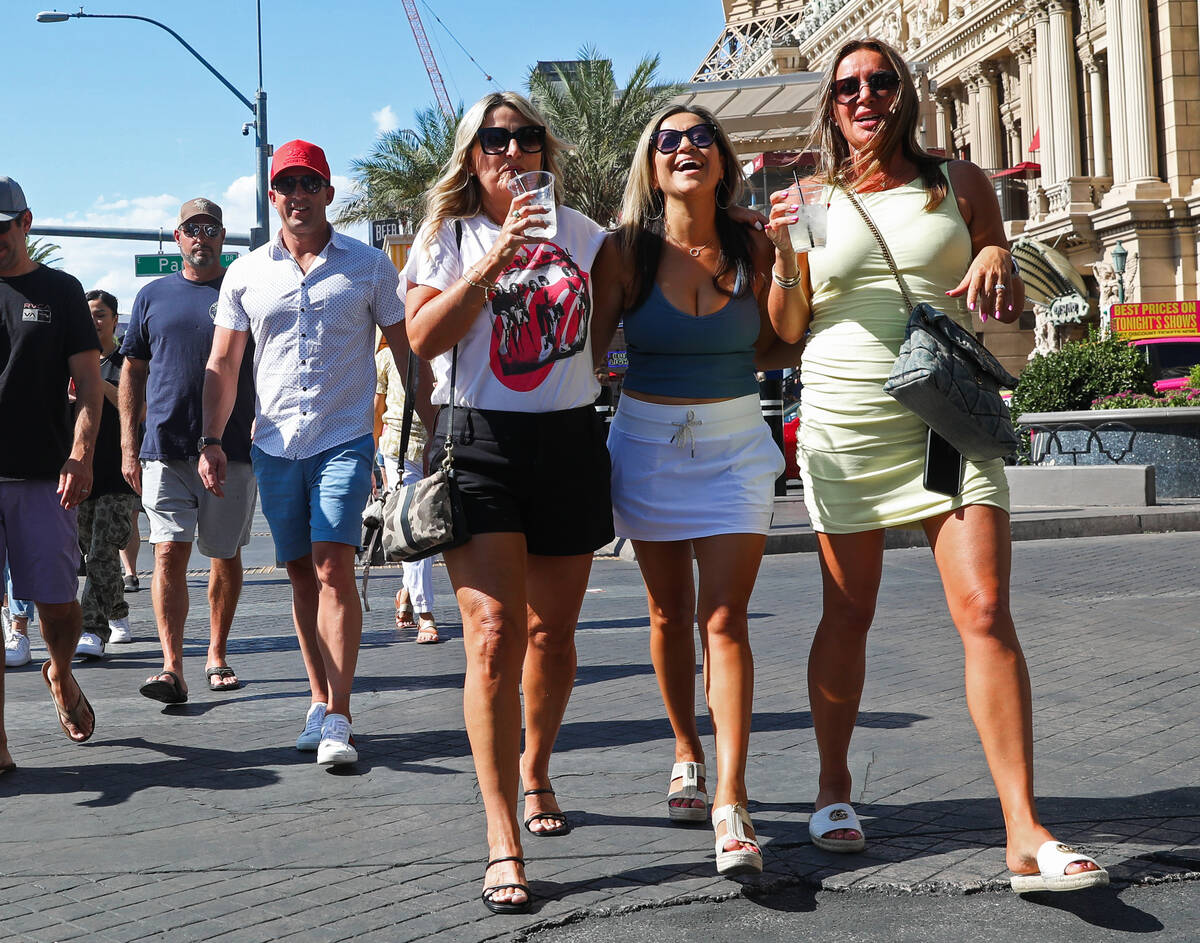 Southern Nevada welcomed 3.4 million visitors in June, beating the number posted a year ago and putting Las Vegas well on track for having more tourists this year than in 2022, the Las Vegas Convention and Visitors Authority reported Friday.
And, despite there being 2.9 percent fewer conventioneers arriving during the month, the city should handily surpass 2022's total of 5 million convention arrivals based on what has occurred in the first half of 2023.
At the halfway point of 2023, Southern Nevada has had 20.3 million visitors, a 9.4 percent increase from the first six months of 2022. The number of convention guests is at 3.2 million, a 30.7 percent increase from last year.
Las Vegas had 38.8 million visitors in 2022. The all-time record is 42.9 million in 2016.
Only two of the city's tourism indicators were lower in June than in June 2022. In addition to fewer convention attendees, the LVCVA said Clark County's June gaming win was off 3.5 percent to $1.07 billion.
The Nevada Gaming Control Board earlier Friday reported win statistics for June. Gaming win declined in June as the industry tried to keep pace with extraordinarily high numbers in previous years.
Kevin Bagger, vice president of the LVCVA Research Center, said the decline in convention attendance was likely because of a major trade show rotating out of Las Vegas.
InfoComm, the nation's largest audiovisual trade show, was staged in Las Vegas in June 2022, but the nearly 30,000 attendees had their show in Orlando, Florida, this year. InfoComm 2024 is scheduled to rotate back to Las Vegas next year.
Bagger said the Golden Knights' Stanley Cup championship run contributed to higher visitation numbers in June.
"Overall hotel occupancy reached 85.5 percent for the month, up 2.8 percentage points year over year, while weekend occupancy matched last June, reaching 90.2 percent," Bagger said. "Midweek occupancy reached 83.5 percent, surpassing last June by 3.5 points."
While the average daily room rate was at its lowest monthly rate of the year in June at $165.21 a night, it was still 5.3 percent ahead of June 2022's $156.92.
Transportation indices remained strong.
Arrivals at Harry Reid International Airport for the month hit 4.9 million passengers, a 4.1 percent increase over June 2022, while the traffic count on the major highways leading to Las Vegas was up 3.3 percent to 138,061 vehicles, according to the Nevada Department of Transportation. NDOT acknowledges that not all the cars on highways carry tourist traffic.
One highway indicator that was down from a year ago was the average daily auto counts on Interstate 15 at the California-Nevada border. NDOT reported there were 47,135 vehicles, down 2.8 percent from a year ago.
While visitor volume was flat in Mesquite at 79,000 in June, volume in Laughlin perked up 13.6 percent to 124,600 for the month.
Hotel occupancy in Mesquite dropped 0.5 percentage points to 81.4 percent, while the average daily room rate fell 0.6 percent to $65.61 a night.
In Laughlin, occupancy was up 7.5 points to 60.5 percent from last year, while the average daily room rate dropped 14.4 percent to $62.15 a night.
Contact Richard N. Velotta at rvelotta@reviewjournal.com or 702-477-3893. Follow @RickVelotta on Twitter.
JUNE TOURISM INDICATORS
June 2023, June 2022, Change
Visitor volume: 3.428 million, 3.324 million, +3.1%
Citywide occupancy: 85.5%, 82.7%, +2.8 points
Room nights occupied: 3.896 million, 3.76 million, +3.6%
Convention attendance: 455,500, 469,100, -2.9%
Average daily room rate: $165.21, $156.92, +5.3%
Air passengers: 4.882 million, 4.689 million, +4.1%
Average daily highway auto traffic: 138,061, 133,711, +3.3%
Clark County gaming revenue: $1.07 billion, $1.109 billion, -3.5%