Governor Sandoval praised for pursuing Las Vegas stadium for Raiders
October 11, 2016 - 9:02 pm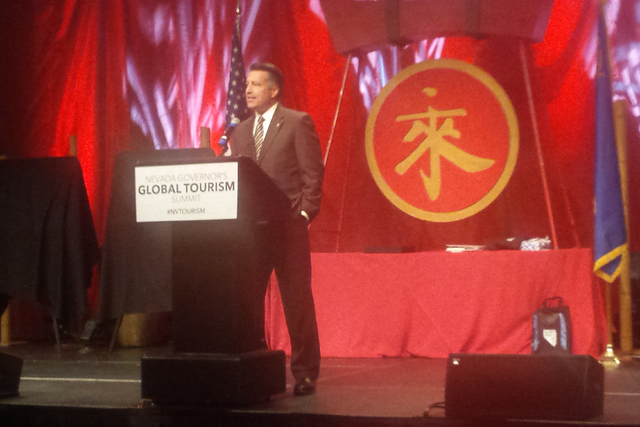 RENO — Gov. Brian Sandoval opened the Nevada Governor's Global Tourism Summit on Tuesday, taking a break from Carson City politics and receiving applause for supporting a new stadium in Las Vegas.
"How many of you would like to see an event in that stadium?" Sandoval asked after showing a short video that included renderings of the proposed $1.9 billion project just off the Strip. The crowd of about 200 applauded.
The 65,000-seat stadium proposal has been presented as a public-private partnership involving the family of Las Vegas Sands Corp. Chairman and CEO Sheldon Adelson and the Oakland Raiders.
"Our tourism industry has to maintain its edge," Sandoval said.
"We have to continue to evolve. We have to continue to expand. And we most definitely have to pursue the opportunities that are in front of us."
Sandoval said he believed Las Vegas needed to take advantage of a "once-in-a-lifetime opportunity" to be among 32 cities that are home to NFL franchises.
"If you haven't gotten it by now, I'm not satisfied with the status quo," he told the crowd. "I'm not content with being one of the best. I want to be the best.
"In order to lead, we have to be bold. We have to be thoughtful, and we have to be visionary. That's what Nevada is, and that's what we've always been. It's in our DNA. It's what makes us compelling. It's what makes us exciting. And it's, frankly, what makes us different."
On Tuesday and Wednesday, more than 250 Nevada tourism leaders will hear presentations and panel discussions about the state's evolving tourism economy and how leaders will work to attract more visitors from foreign countries.
Tourism is now a $62 billion industry for the state.
While Las Vegas often is a focal point for international travel, Sandoval said he wants to market the entire state to foreign tourists.
He listed several Nevada attractions: Lake Tahoe, U.S. Highway 50 — the "loneliest road in America" and a former Pony Express route, cowboy poetry readings in Elko and Great Basin National Park near Ely, one of the governor's personal favorites.
Most attention is being placed on the U.S.-China Year of Tourism, an initiative to attract 100 million Chinese tourists to the United States by 2021.
Several presentations are planned during the conference by China NiHao, a company that specializes in marketing the United States to Chinese travelers.
Sandoval applauded new three-times-a-week nonstop flights by Hainan Airlines between Beijing and Las Vegas' McCarran International Airport that begin in December.
Sandoval sees an opportunity for rural Nevada to be an attractive destination to the Chinese.
"For the most part, a large part of their population lives in large urban areas and they've read and seen about the Western United States and Nevada, and they want to have those authentic Western experiences which they can have here," he said.
Sandoval led a tourism trade mission to China last year.
The Nevada Commission on Tourism, which coordinates the state's marketing efforts, has brought its tourism marketing representatives from several companies to the conference for one-on-one sessions with the state's tourism professionals. Representatives have come from Germany, Great Britain, Mexico, South Korea, France and India as well as China.
The Review-Journal is owned by the family of Las Vegas Sands Corp. Chairman and CEO Sheldon Adelson.
Contact Richard N. Velotta at rvelotta@reviewjournal.com or 702-477-3893. Follow @RickVelotta on Twitter.
RELATED
Governor welcomes debate over Las Vegas stadium plan, touts project's benefits
Steve Wynn, MGM's Jim Murren believe stadium would spur sports growth
Casino chiefs urge Nevada lawmakers to fund proposed Raiders stadium in Las Vegas