Grounding of MAX jets leads Southwest to exit Newark airport
Updated July 25, 2019 - 6:27 pm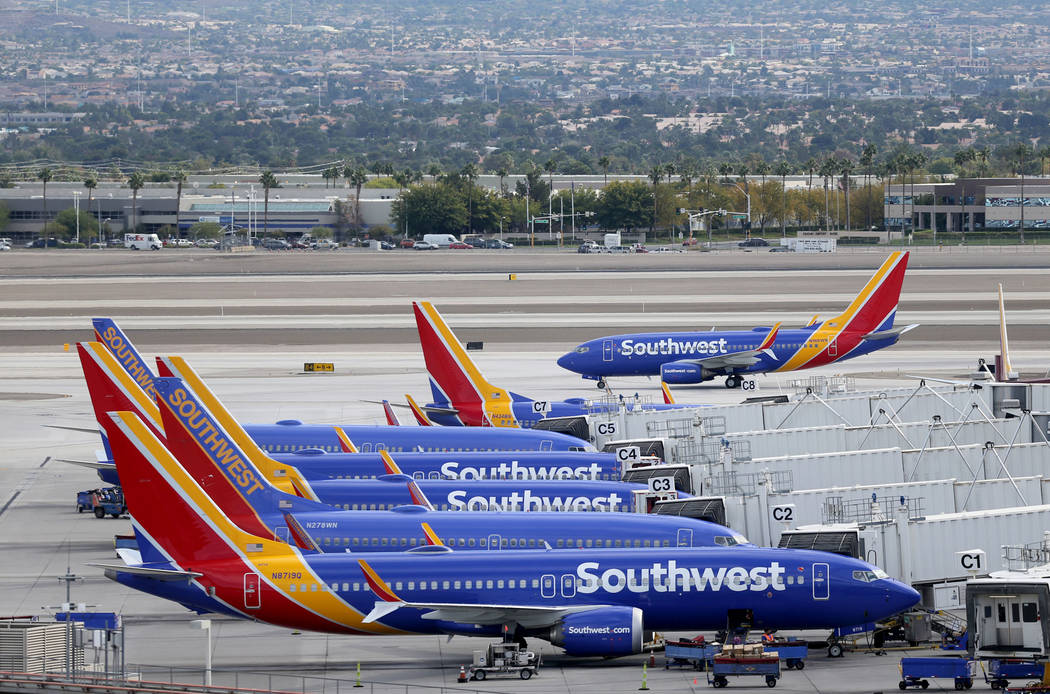 Southwest Airlines will withdraw from Newark, N.J.'s Liberty International Airport in November and consolidate its New York operations at LaGuardia Airport, the company announced Thursday.
The move is a part of the airline's response to the continued grounding of Boeing's 737 MAX 8 jets, the next-generation version of the only aircraft type Southwest uses.
The Federal Aviation Administration grounded the twin-engine jet weeks after MAX jet crashes in Indonesia and Ethiopia that killed a total of 346 people.
Southwest, the busiest commercial air carrier operating at McCarran International Airport, flies no nonstop routes from Las Vegas to Newark on its current schedule. Operational restrictions at LaGuardia prevent Southwest from offering nonstop service there from Las Vegas.
Southwest CEO Gary Kelly also said in a release announcing second-quarter earnings that passenger counts at Newark were not meeting the company's expectations.
United Airlines dominates the Las Vegas-Newark route with six round trips a day and Spirit Airlines offers one daily round trip.
The grounding of the MAX jets and high summer demand indirectly resulted in a profitable quarter for the Dallas-based airline.
"Strong customer demand, combined with the MAX-related flight schedule adjustments, drove our load factor to an all-time quarterly high 86.4 percent," Kelly said. "Our revenue management capabilities implemented in 2018 also continue to deliver year-over-year benefits. Looking ahead to third quarter 2019, we are expecting another strong year-over-year unit revenue performance."
The company reported record second-quarter earnings per share of $1.37, beating Wall Street analyst estimates by 2 cents.
For the quarter that ended June 30, Southwest reported net income of $741 million on revenue of $5.909 billion, compared with $733 million on revenue of $5.742 billion in the second quarter of 2018.
Southwest, Boeing's largest MAX jet customer, also confirmed that it will continue schedule adjustments as a result of the grounding through January.
Shares of Southwest Airlines Co. closed up 0.37 percent Thursday to $54.91.
Contact Richard N. Velotta at rvelotta@reviewjournal.com or 702-477-3893. Follow @RickVelotta on Twitter.
Southwest Airlines Co.
Second-quarter revenue and earnings for Dallas-based Southwest Airlines Co., the busiest commercial air carrier at McCarran International Airport. (NYSE: LUV)
Revenue
2Q 2019: $5.909 billion
2Q 2018: $5.742 billion
Change: +2.9%
Net income
2Q 2019: $741 million
2Q 2018: $733 million
Change: +1.1%
Earnings per share
2Q 2019: $1.37
2Q 2018: $1.27
Change: +7.9%