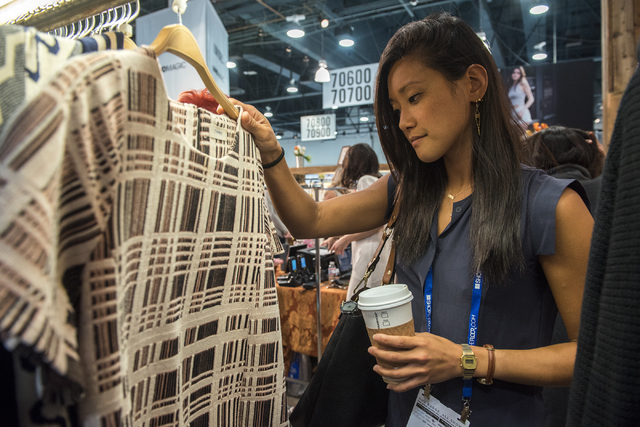 MAGIC has nothing to do with sleight of hand or illusion, but how the massive fashion convention got to Las Vegas was a pretty good trick.
The event, whose name is an acronym for Men's Apparel Guild in California, was, not surprisingly, a California-based show that met regularly at the Los Angeles Convention Center beginning in 1933.
"In L.A., we had these big pavilions up at the Los Angeles Convention Center, and we left them up for years," said Tony Calanca, executive vice president of exhibitions for UBM Advanstar, producers of the trade show. "Everybody even called them the MAGIC tents."
LEAVING L.A.
A decision was reached in 1989 to modify the space where the tents were placed, and a temporary move to Las Vegas was agreed upon.
When MAGIC officials discovered what Las Vegas had to offer, a decision was made to move the show permanently.
"We love Las Vegas. I think most of our people enjoy coming here," Calanca said.
As a result of MAGIC leaving Los Angeles behind, the show has become the poster child for building a strategy that keeps the city's convention calendar intact while the LVCVA builds a new exhibit hall on the Las Vegas Convention Center campus.
The LVCVA staff is working to accommodate the city's major shows during the $1.4 billion construction of the new hall, 100,000 square feet of new meeting rooms and the refurbishment of existing facilities.
ONE OF THE PLANNERS
Calanca was one of the major show clients who worked with the LVCVA on developing plans for several years of upcoming construction.
He has said that the biggest issue MAGIC attendees have had over the years is the necessity of spreading the show over multiple convention venues. The new 600,000-square-foot hall that will be built should help fix that, but it's not expected to be ready until 2021.
"Las Vegas does it better than pretty much anybody we work with in the states, but still, this has become an issue," Calanca said last year when planning began. "The biggest complaint I get is 'Can't you get us into one building?'"
Fixing that complaint is a challenge because, as the fashion industry has grown, so has the show.
TWICE A YEAR
MAGIC is one of the rare trade shows that occurs twice a year, in February and August, enabling the $1-trillion-a-year industry to focus on seasonal fashions at the different events.
Over the years, MAGIC has diversified with a variety of lines. It's no longer all about men's fashions. Now, the show includes subcategories for women's fashions, children's clothing, shoes and other specialty products.
There are 13 separate categories within MAGIC, including FN Platform, an international showcase for shoes; WWDMAGIC, for women's apparel and accessories; The Tents, a platform for luxury and designer clothing for men and dual-gender labels; and Curve Las Vegas, for lingerie and swimwear and several other forums.
The Las Vegas Convention and Visitors Authority estimates that, based on the anticipated 85,000 attendance this week, the show should generate $79.3 million in direct visitor spending during the three-day event that begins Tuesday.
"The fact that we're twice a year, that puts us up with the big guys, like CES" and the National Association of Broadcasters, Calanca said. "And we've heard that our industry is the type of guest the resort industry likes."
Calanca said the people who attend MAGIC are entrepreneurs who are good casino customers.
While most of the convention's action will be centered at the Mandalay Bay Convention Center, parties and special events occur all over the city for MAGIC.
LOVED BY CABBIES
And, because those special events occur in clubs and restaurants in various locations, the city's transportation industry likes MAGIC, too. Anecdotally, taxi drivers say they look forward to MAGIC's twice-annual arrivals.
"They're all professionals, and they're always bouncing around from place to place," said Joe Gottlieb, a former cab driver who recently turned in his taxi for a truck-driving gig. "They're from L.A. and New York, so they need to get around town and usually don't have their own cars."
Calanca said preregistration for the show is up slightly, but he acknowledged that the industry is experiencing some turmoil as "bricks and mortar is being taken over by clicks and mortar."
Still, he remains bullish on the direction of the industry, the show and its place in Las Vegas.
That MAGIC is an international event bodes well for Las Vegas, Calanca said, and there's been little fallout resulting from the announced travel ban involving seven predominantly Muslim countries.
"Las Vegas is good for our business, and I expect we'll be in Las Vegas because of that," Calanca said.
"Las Vegas has lots of airlift, fabulous hotel rooms, great visitor infrastructure and more master sommeliers than just about anywhere.
"The wheels of commerce will be turning."
Contact Richard N. Velotta at rvelotta@reviewjournal.com or 702-477-3893. Follow @RickVelotta on Twitter.