Industry adjusts to changing trends at Las Vegas Pawn Expo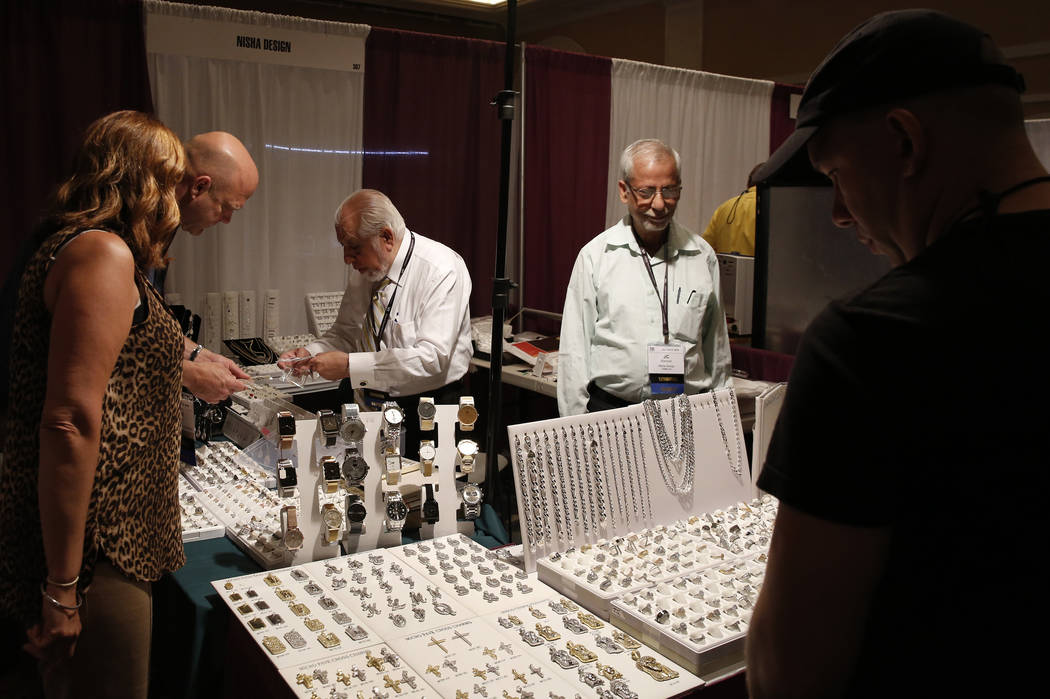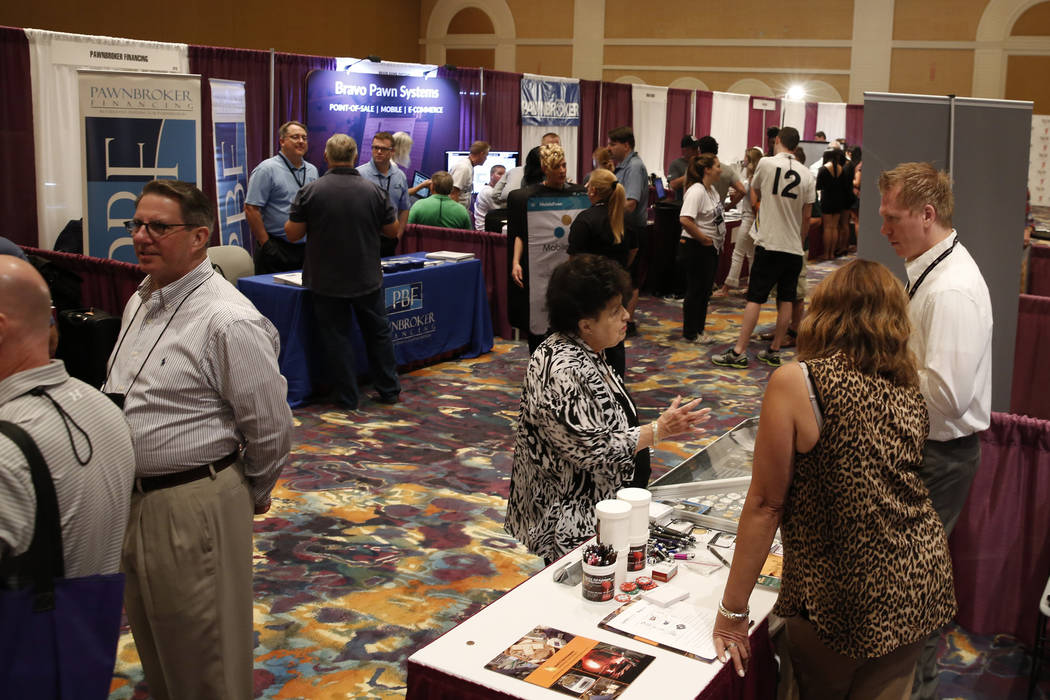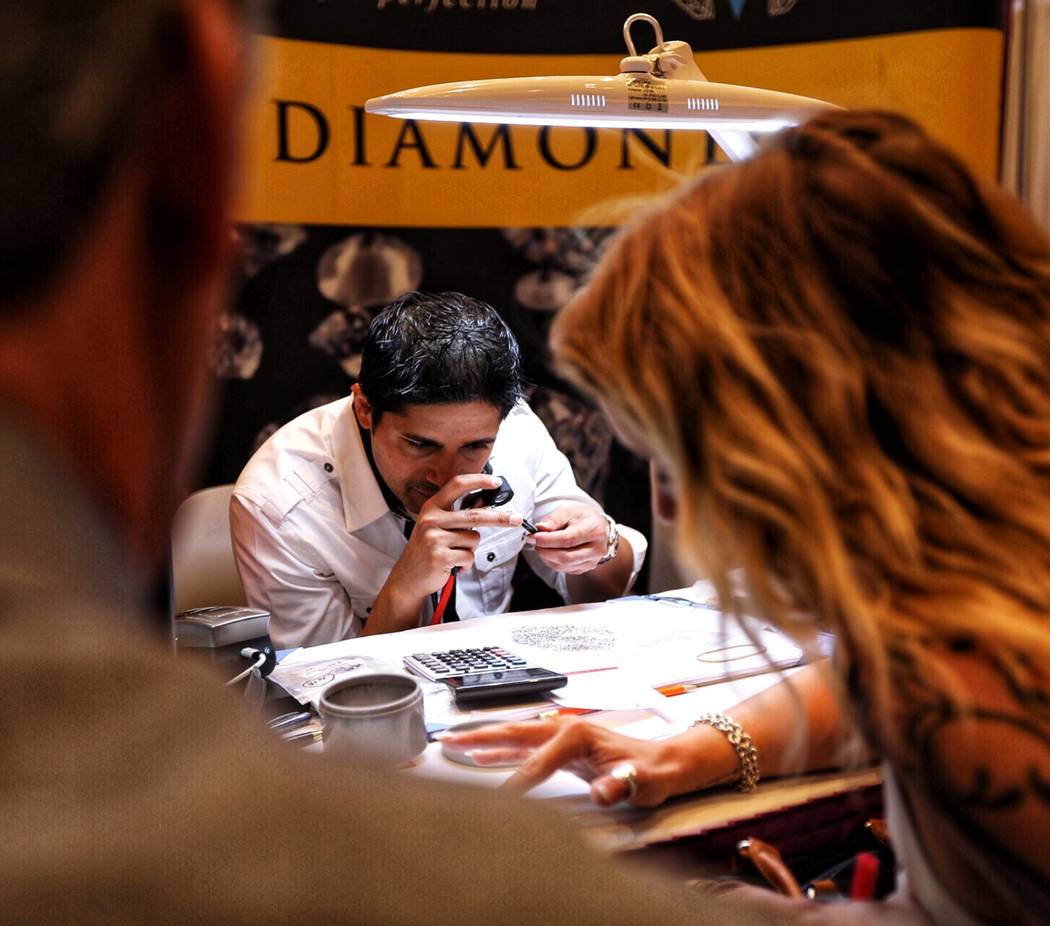 Devin Battersby attaches a black-colored device to the back of her iPhone and snaps several photos of the inside and outside of a Louis Vuitton wallet.
The device, installed with artificial intelligence capabilities, analyzes the images using a patented microscopic technology. Within a few minutes, Battersby receives an answer on her app: The wallet is authentic.
Battersby showed off the device by New York-based Entrupy at the annual Pawn Expo, which ran Tuesday through Thursday at The Mirage and attracted hundreds of pawn shop owners from around the U.S.
Pawn shops have been hesitant to lend on designer goods because of the plethora of fake products on the market.
Understanding how to authenticate designer goods could improve the industry's future, as more people are bringing in items like leather bags and sneakers — as opposed to jewels — and as the business model shifts away from short-term lending to more traditional retail.
Most pawn shop owners have seen a rise in retail sales over the past five years amid an improving economy, according to the National Pawnbrokers Association, which organizes the show. But nearly half saw a decline in loans as they face greater competition from online lenders and banks, the association said.
Game changer
Quentin Caruana, director of Marque Supply Co., which supplies authentic, used designer goods to stores, said he sees opportunity in the industry's transformation.
"We recognized that the demographic that comes to the pawn shop to buy watches, also buys designer leather goods and bags. So it is a complementary item for pawn shops," Caruana said, adding that Entrupy has been an important tool in selling leather items.
Michael Mack, who spoke at the show and owns Max Pawn on Sahara Avenue in Las Vegas, says designer handbags now account for about half his business. He started using Entrupy about five years ago to verify bags.
"To me, it's a game changer," said Mach. "I can't always rely on my eye."
Mack, a fourth-generation pawn dealer, said the pawn industry hasn't paid enough attention to other kinds of merchandise as televisions — once an industry staple — rapidly lose their value.
"We are always looking at assets to lend on. If it holds its value, we are interested," Mack said.
Online sales
As retail sales become more important to their bottom line, pawn shop owners are trying to expand into online sales, the preferred means of shopping for younger generations.
About 80 percent of the 10,000 pawn shops around the country are small family-owned operations, according to the industry association. But more than a quarter of those family-owned operations do not operate a website.
"Retail is not the same thing anymore," Mach said. "You have to be a great pawn shop and an e-commerce retailer at the same time."
Samuel Shocket, president of King's Jewelry & Loan in Los Angeles, said he is adapting to some of the industry changes.
He said he will soon launch an online sales service — but he is staying away from handbags.
"You have to be an expert on what you lend. My wife can tell you the value of these bags, but I can't," he said.
Contact Todd Prince at 702-383-0386 or tprince@reviewjournal.com. Follow @toddprincetv on Twitter.
Less gold, fewer diamonds
Gold and diamond sales at the Pawn Expo has had an inverse relationship with the economy since the Great Recession.
Pawn shops saw a boom in business as consumers were shut off from traditional credit sources.
People pawned jewelry and gold to raise cash during the tough economic times. Pawn brokers unloaded their gold and diamonds to wholesale buyers exhibiting at the show.
Rushit Bhimani of ABC Diamond Buyer said he was scooping up more than $1 million worth of the stone at the expo during the crisis years. This year he picked up less than $200,000.
"Cash for diamonds and gold has gone down while retail sales are going up," said Ankur Savani, president of Los Angeles-based Palak Diam, another show exhibitor.
Diam said the expo is still an important event for his company.
He buys about 5 percent of his yearly supply of diamonds at the expo and then sells them to companies such as Costco.