It's official: 2022 was record year for traffic at Reid Airport
Updated February 7, 2023 - 3:05 pm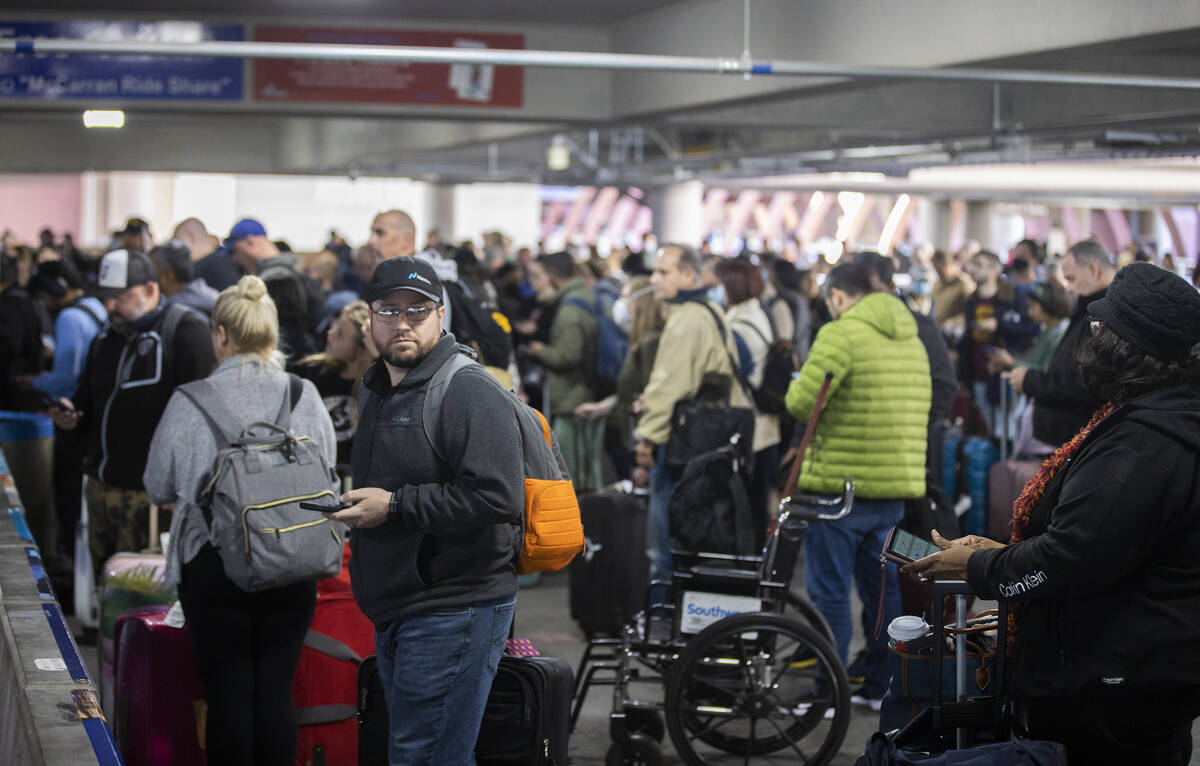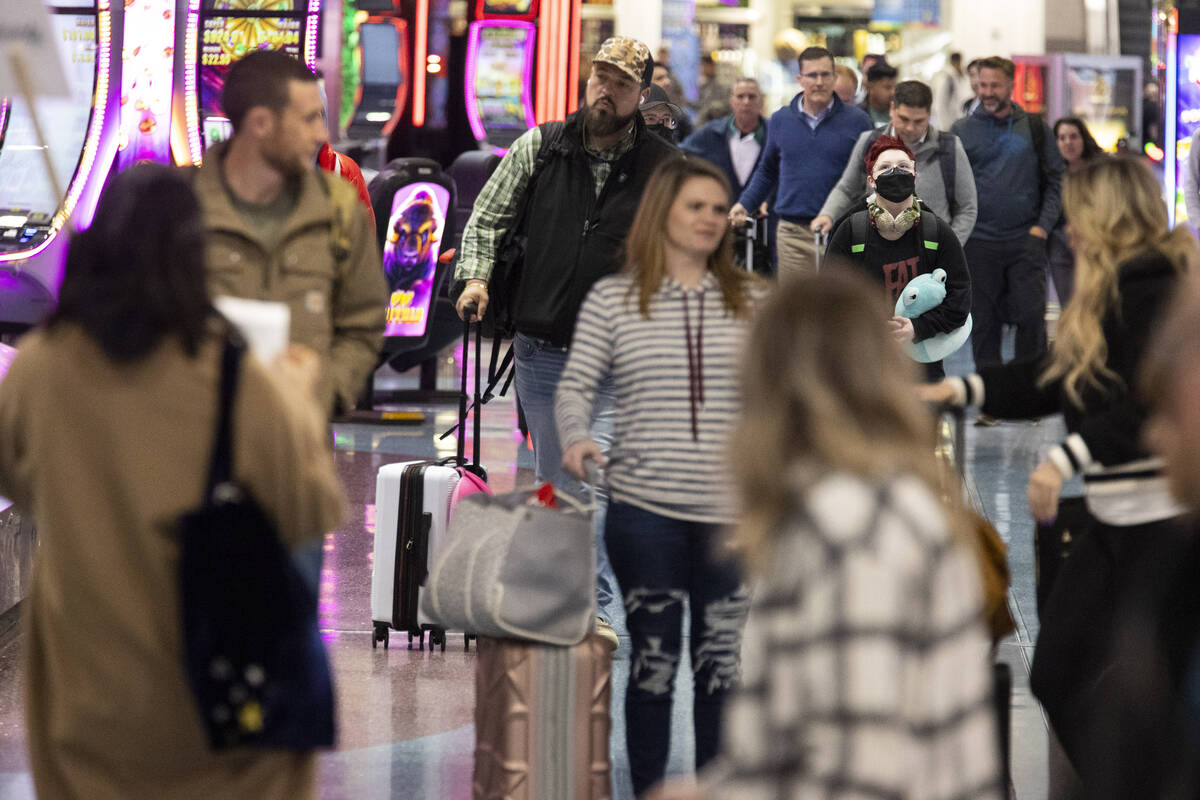 Now, it's official.
Harry Reid International Airport had more passengers in 2022 than any year in history, the Clark County Department of Aviation reported late Monday.
Ever since November's statistics were released in late December, it was expected that passenger counts would surpass 2019's record. Airport officials said December's 4.4 million passengers boosted the 2022 total to 52.7 million, beating 2019's 51.5 million and 28.7 percent ahead of the previous year's total.
"The trajectory of Las Vegas air travel throughout 2022 was nothing short of remarkable and could not have been achieved without the entire Clark County Aviation System," Clark County Aviation Director Rosemary Vassiliadis said in an emailed release.
"We are no longer talking about an air travel recovery at Harry Reid International Airport; this is undeniably a period of growth that we expect will continue in 2023," she said. "From sporting events to concerts, dining to gaming, there truly is something for everyone in Las Vegas."
Monthly passenger records fell three times last year, with October recording 5.2 million — the first time totals eclipsed the 5 million mark in Las Vegas.
Every domestic airline serving Reid had more passengers in 2022 than in 2021, and three new carriers began serving the airport last year.
All categories up
The airport recorded 49.1 million passengers on domestic routes, a 28.7 percent increase from 2021. International flying was up 234.9 percent to 2.5 million passengers and the airport's west side general aviation flying, including scenic helicopter flights, was up 29.5 percent to nearly 1 million.
Vassiliadis indicated the records may continue to fall in 2023 with more large-scale events on the horizon. The NCAA Tournament West Regional is scheduled at T-Mobile Arena in March; the first-ever Formula One Las Vegas Grand Prix is planned in November; and the MSG Sphere at The Venetian is scheduled to open its doors in the second half of the year. Las Vegas also will be preparing to host Super Bowl LVIII a year from now.
The increase in air traffic is expected to produce new challenges for the Department of Aviation.
Airport officials already are addressing a problem that began a year ago and got progressively worse in 2022 — parking.
The Terminal 1 long-term parking garage reached capacity nearly three times more in 2022 compared with 2019. To address the parking problem, airport officials ordered employees to park farther away from the terminal at its overflow economy lot instead of at the lowest levels of the parking garage and at a lot just north of the garage.
The plan, expected to be implemented in the spring, is expected to free up 1,500 parking spaces and crews are installing parking ticket distribution machines and gates.
But employees have pushed back on the plan, saying there's ample parking available at Terminal 3 garages and forcing them to park farther away is a dangerous walk and employee shuttle buses are unreliable.
Airport officials also acknowledge that airport capacity could reach the maximum of 63 million to 65 million passengers faster than expected, by 2030, which would require new remedies, including the possible construction of a reliever airport south of Las Vegas. A reliever airport in the Ivanpah Valley, off Interstate 15 between Jean and Primm, isn't projected to be completed until 2037.
Consultants for the airport and the Las Vegas Convention and Visitors Authority are continuing to recruit more airlines and larger planes to Reid.
Southwest leads
Among the carriers with a growing presence is market leader Southwest Airlines, which is expected to have the most flights to Las Vegas in its history by March.
Dallas-based Southwest brought 18 million passengers to Las Vegas in 2022, a 29.4 percent year-over-year increase.
Discount air carrier Spirit Airlines, the second-busiest operator, had an even larger percentage increase in 2022, 54.2 percent, to 7.3 million passengers. Spirit is in the process of being acquired by JetBlue Airways.
Two of the new airlines still operating in Las Vegas — Breeze Airways and Advanced Air — brought more than 74,000 passengers to Las Vegas in 2022.
On the international side, Canadian discount carrier WestJet and its rival, Air Canada, brought the most passengers from foreign countries to Las Vegas in 2022 —527,257 and 514,422, respectively.
Mexican discounter Volaris had the most passengers from Mexico, 240,380, while British Airways and Virgin Atlantic paced the overseas market with 199,361 and 144,157, respectively.
Korean Airlines, the dominant air carrier from Asia, brought 30,610 passengers from Seoul.
Maverick Helicopters paced the general aviation carriers with 285,404 passengers, a 9.4 percent increase from 2021.
Contact Richard N. Velotta at rvelotta@reviewjournal.com or 702-477-3893. Follow @RickVelotta on Twitter.
Airlines by the numbers
Number of passengers and percentage increase of domestic airlines at Harry Reid International Airport in 2022:
Southwest 18M +29.4%
Spirit 7.3M +54.2%
Frontier 5M +25.5%
Delta 4.7M +22.4%
American 4.3M +6.5%
United 3.6M +29.7%
Allegiant 2.4M +24.8%
Alaska 1.7M +29.8%
JetBlue 915,188 +7.3%
Hawaiian 618,610 +51.8%
Sun Country 373,670 +12.6%
Avelo 81,776 336.1%
Breeze 71,870 New
Southern Express1,264 New
Advanced Air 2,147 New