Las Vegas in prime position for kickoff of summer vacation season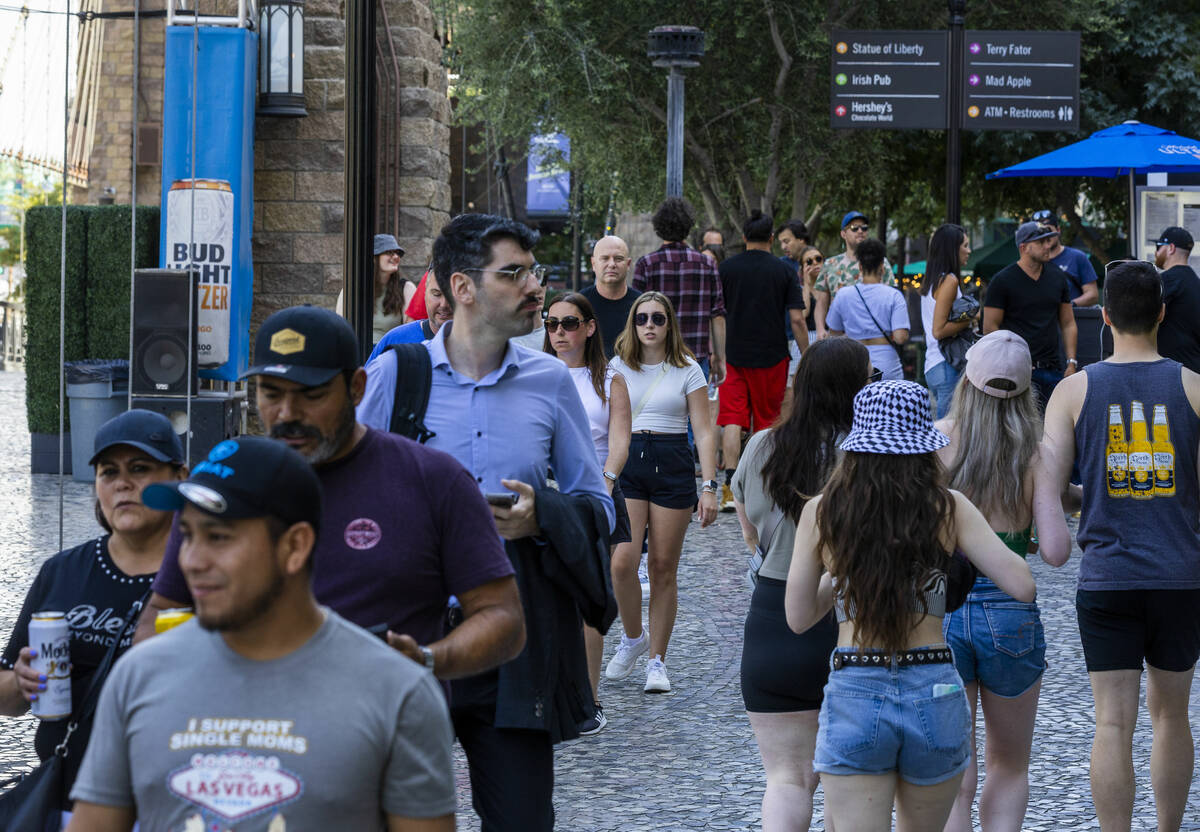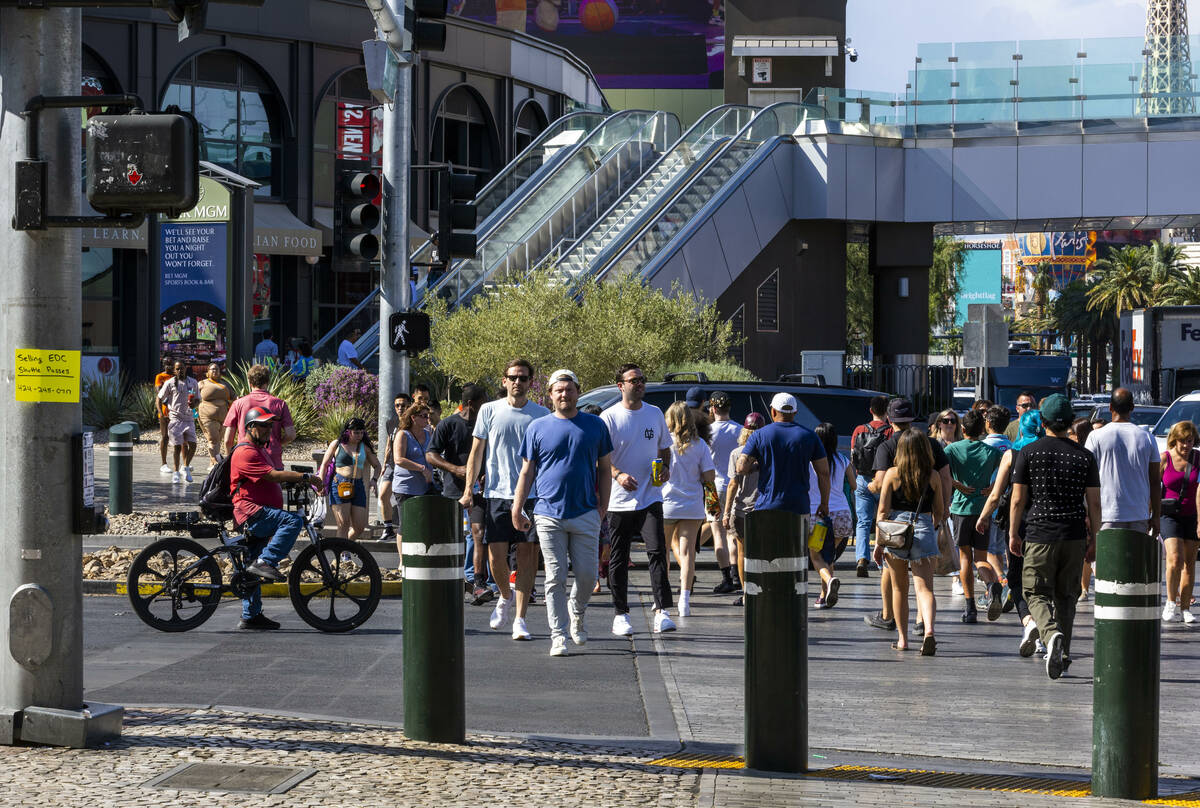 Las Vegas is peaking as a must-see travel destination just as the start of the summer vacation season nears.
Las Vegas is expected to be the third-most popular destination in the country during the upcoming Memorial Day weekend, according to AAA. That's great news for hospitality industry executives fretting over the possibility of a downturn in visitation as a result of inflation, soaring interest rates and high gasoline prices.
When the three-day Memorial Day weekend that kicks off the traditional start of summer vacations arrives Friday, thousands of visitors will pack Las Vegas resorts as they break away from their homes.
AAA projects that 42.3 million Americans will travel 50 miles or more from home during the Memorial Day weekend, a 7 percent increase over 2022.
The highways between Southern California and Southern Nevada will be among those impacted the most since nearly one-third of visitors come to Las Vegas from California (27 percent from Southern California, 4 percent from Northern California), according to the Las Vegas Convention and Visitors Authority's 2022 Visitor Profile.
"I expect us to start the summer off with a strong Memorial Day weekend," said Amanda Belarmino, an assistant professor at UNLV's William F. Harrah College of Hospitality.
"Vegas has been more popular than ever in large part thanks to continued exposure from professional sports," she said. "I think a lot of people will be getting a start on summer by visiting Vegas before taking longer trips during the summer. I would expect gaming to continue to be strong and the pool season to continue with a bang."
While sports isn't playing a major role on Memorial Day weekend, the pool scene always gets a boost when temperatures climb toward the century mark, as they're expected to do over the weekend.
"Three-day weekends are always a big draw for Las Vegas, which is always good news for our local economy," said Virginia Valentine, president of the Nevada Resort Association.
"We're expecting this Memorial Day to be another strong kickoff to the summer," she said. "Given the beautiful weather, day clubs and pool parties will be popular. There is strong attraction to the investments the tourism industry is making to keep Las Vegas a top destination for travelers. With all this taking place, the resorts are seeing continued demand and interest for the long weekend. The robust demand overall continues to speak."
Airport to be busy
Not all travel to Las Vegas will be by car.
The LVCVA said 2022 was the first year that more people arrived in Las Vegas by plane than by car, with 51 percent of visitor arrivals flying.
For that reason, officials at Harry Reid International Airport are anticipating the gates, concourses and parking lots to be packed for the weekend.
"We expect that it is going to be a busy weekend," Reid spokesman Joe Rajchel said. "Las Vegas continues to be a top destination for visitors, and locals will be looking to get away for that weekend, too."
Rajchel said airport officials are anticipating 600,000 passengers will arrive and depart Reid between Friday and Monday.
"Travelers will need to be prepared for a busier airport," he said. "It is always good practice to arrive at least two hours before a scheduled departure time. If travelers are planning to park at the airport or need to do something such as return a rental car or arrange a last-minute accommodation, they will want to allow themselves additional time."
Room rates to be high
How strong will the weekend be?
The LVCVA hasn't projected any estimated volume just yet, but pricing on hotel rooms speaks to the demand seen for Memorial Day weekend.
A survey of 63 Las Vegas hotels priced on hotels.com on Wednesday indicated the average rate for a room Friday through Sunday at $280.48 a night, well above the average daily rate calculated by the LVCVA for May last year.
Only one property was booking rooms for under $100 a night — Arizona Charlies on Boulder Highway. Rooms at Wynn and Encore Las Vegas were going for $549 a night, with Bellagio at $466 and MGM's Signature Suites at $485.
The average daily room rate for the month of May in 2022 was $175.76, according to LVCVA archived statistics. The Strip's occupancy rate was 91.9 percent on weekends in May.
Room rates gradually retreated through the summer of 2022, but occupancy hovered around 90 percent on weekends through June, July and August. In June 2022, when 3.32 million visitors came to Las Vegas, the room rate averaged $156.92. In July, 3.49 million people arrived — the busiest of the summer months — with room rates at $160.43. In August, as the summer came to a close, 3.19 million people visited Las Vegas and room rates on the Strip averaged $148.09 on weekends.
Home for the holiday?
John Treanor, a spokesman for AAA Nevada, said jitters over inflation and higher prices have the potential of scaring some would-be Las Vegas visitors into staying home for the holiday.
"The biggest question we had was what impact inflation was going to have on travelers," Treanor said in an interview. "What we have seen is that not only are Americans going to travel this year, but they've been booking early. We've seen early booking happening this year, people are really anticipating a busy Memorial Day. People still have a real hunger for travel that we saw built up during the pandemic and the restrictions. Last year, we saw record-high gas prices and we still saw really high numbers for Memorial Day."
Treanor said the accelerated desire to travel can be traced to a backlash against the way Americans lived their lives during the COVID-19 pandemic.
"Americans have really made changes to their daily life — the way they work, the way they commute, the way they buy things on a daily basis," he said. "But when it comes to travel and those road trips of more than 50 miles to see family and friends, that is proving to be inflation-proof, so to speak. Americans are really getting out and seeking the trips they haven't been able to take."
AAA's advice for travel on Memorial Day weekend is to aim for driving when the roads are the least busy. Lightest traffic days will be Saturday and Sunday and motorists should shoot for driving in the morning or in the evening after 6 p.m.
Friday is expected to be the busiest day on the roads.
Contact Richard N. Velotta at rvelotta@reviewjournal.com or 702-477-3893. Follow @RickVelotta on Twitter.