Las Vegas sports teams to add $636M to the local economy
Updated November 29, 2018 - 5:11 pm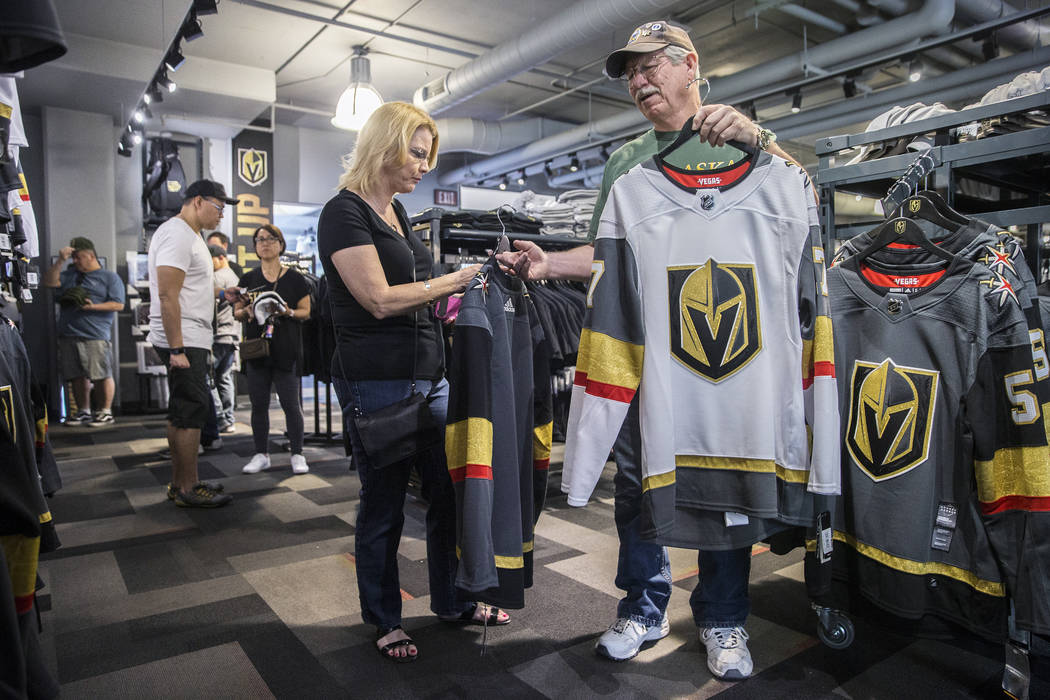 Las Vegas may no longer be just the entertainment capital of the world.
Jeremy Aguero, principal analyst for Las Vegas-based Applied Analysis, said the city is well on its way to becoming the sports and entertainment capital of the world, with the introduction of professional sports teams like the Vegas Golden Knights and, eventually, the Raiders.
"We are well on our way to being the sports and entertainment capital of the world if we're not there already," he said.
Aguero discussed Las Vegas sports' influence on the local economy at Outlook '19, the second annual economic forecasting event hosted by the Las Vegas Global Economic Alliance and UNLV. All three speakers at Thursday morning's event were highly optimistic for the future of Nevada's economic standing.
About 6 percent of all tourists come to Las Vegas for a special event, according to data from the Las Vegas Convention and Visitors Authority.
"Just imagine any other major market or small market that hosts as many events as we do here," Aguero said. "There's no way you can do it."
Whether it's a music festival like the Electric Daisy Carnival or the Wrangler National Finals Rodeo, Aguero said events like these are a major economic driver in Las Vegas.
Special events — which include sporting events like the NBA Summer League, the United States Bowling Congress Open Championships and the NASCAR Spring Race — brought in about $2.1 billion in direct spending from visitors in 2017 and supported more than 14,700 jobs in Southern Nevada, according to data from Applied Analysis.
"Those visitors are everything to our quality of life and the sustainability of our economy," Aguero said. "Our welcoming of them in making sure that they have the best experience they can so they come back again is critical."
These special events can be big money makers; the 2017 Ultimate Fighting Championship matchup between Floyd Mayweather and Conor McGregor generated about $150.9 million in incremental economic output and supported about 467 jobs in Southern Nevada, according to data from Applied Analysis.
Overall, the research firm expects existing and future sports teams to add $636 million to the local economy.
"That's 4,300 jobs for an industry we almost didn't recognize as existing five years ago," Aguero said.
Aguero said this impact could lead to growth in other industries, including medicine, construction, retail sales, marketing and transportation.
"We need to leverage the sports industry like we have leveraged our leisure and hospitality industry to open up doors relative to this," Aguero said.
Infrastructure
Aguero said Las Vegas' infrastructure — from event spaces to hotels — has helped attract various sports teams to the city.
"It's not always about building bigger and better hotel rooms. It's also about building reasons to fill them," he said. "The infrastructure that we have already makes us better to host almost any event."
For example, T-Mobile Arena is the top-grossing arena in the world, with a concert capacity of 20,000 and an annual gross of $164.4 million.
But that doesn't mean there's not work to be done, Aguero said. Continued infrastructure growth on projects like the Raiders stadium have brought back thousands of construction jobs, and billions of dollars in investment to the city.
Las Vegas's venues currently have a seating capacity of 260,000. After the Raiders stadium, the Las Vegas Ballpark and the MSG Sphere are complete, the city will have 352,000 seats online by 2021.
"We are now going to have more seats in venues in Southern Nevada than we have hotel rooms and people that can occupy those hotel rooms in Southern Nevada," Aguero said. "There is a point of saturation. … We're not there yet, but we have to be mindful of the balance."
Contact Bailey Schulz at bschulz@reviewjournal.com or 702-383-0233. Follow @bailey_schulz on Twitter.
GDP growth
Stephen Miller, director of UNLV's Center for Business and Economic Research, and Sean Snaith, director for the University of Central Florida's Institute for Economic Competitiveness, also discussed their general economic forecasts at Outlook '19.
Both were optimistic for the economy's near future, predicting more than 3 percent GDP growth in 2018.
Miller said risks include trade wars and fiscal policy blunders. Snaith said the policies President Donald Trump's administration has put in place so far— including trade negotiations and tax reforms — have been positive moves for the economy.
"We're finally seeing wage and salary growth accelerate," Snaith said. "That's going to feed into consumer spending. We're going to see a really strong holiday shopping season this year."
Miller also believes Nevada's economy is on "solid ground," and pointed to the state's population growth, rising income levels, a low unemployment rate and business confidence.
But that doesn't make the state recession proof, Snaith said.
While his overall outlook for the next one-and-a-half to two years is "pretty solid," Snaith is certain the U.S. will see another recession.
"No expansion continues forever," Snaith said. "But the policies we've seen put in place over the last two years — the regulatory relief, the tax cuts — have provided an adrenaline injection for this recovery that is extending its life."