Las Vegas tourism agency head expected to get 5 percent raise plus bonus
Updated June 10, 2019 - 6:26 pm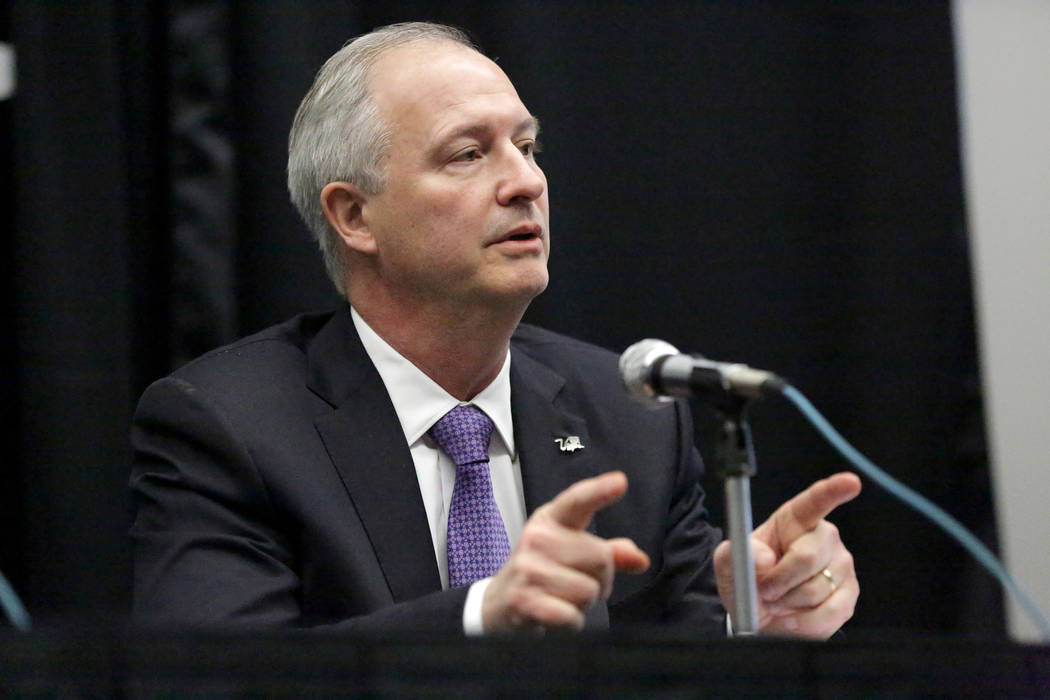 Las Vegas Convention and Visitors Authority President and CEO Steve Hill will get a 5 percent raise and a $150,000 bonus for the work he did in the past year if a Monday Compensation Committee recommendation is approved.
The eight-member committee unanimously recommended the raise and bonus, scheduled to be considered Tuesday morning by the full LVCVA board.
With seven committee members voting in approval — one member was absent — final passage from the full board is likely. If approved, Hill's annual salary would increase by $18,750 to $393,750 a year.
It was Hill's first evaluation from the committee. Hill joined the LVCVA Jan. 22, 2018, as president and chief operating officer, and took the title of CEO Sept. 1 when former CEO Rossi Ralenkotter retired. The 14-member LVCVA board annually evaluates its CEO and its legal counsel, which is based on the CEO's recommendation.
Big bonuses
The LVCVA board has a track record of delivering high levels of compensation to its CEO.
In 2017, Ralenkotter received a 50 percent bonus — the maximum amount permitted — of $208,000.
Last year, Ralenkotter received a roughly 30 percent bonus, or $132,000. But that was on top of a $53,000 separation agreement and a $270,000 post-retirement consulting contract, a total package worth $455,000.
Hill was told when he became CEO that he'd get $375,000 a year in base salary and be eligible for a 40 percent bonus.
Hill said at the beginning of his evaluation Monday that Las Vegas is an easy product to sell, given the multitude of amenities and assets the city has. But he also is in the unique position of leading one of the largest destination marketing organizations in the world as well as overseeing management of the Las Vegas Convention Center.
Hill spent close to an hour listing the accomplishments by him and his executive team.
Compensation committee member Chuck Bowling, an MGM Resorts International executive, noted that over the past year Hill needed to manage the executive transition from Ralenkotter in addition to keeping the organization running.
"It was a passing of the baton and you hit the ground running, and running fast," Bowling said. "This organization is on better footing as a result."
Committee member Bill Noonan, an executive with Boyd Gaming Corp., said he felt Hill "performed at the 40 percent level" and as a result, he felt the 40 percent bonus was justified.
CES secured through '39
Among the accomplishments Hill noted were securing CES in Las Vegas through 2039, as well as securing the ConExpo-Con/Agg construction equipment trade show for 2020, 2023, 2026, and 2029.
Hill also said his team leased 12 new shows for the Las Vegas Convention Center representing 425,000 new room nights, including the new-to-Las Vegas LightFair International every two years from 2020 to 2028.
Under his oversight, Las Vegas was named North America's top trade show destination for the 25th straight year, according to the Trade Show News Network. Las Vegas was home to 48 of the top 200 shows. Two competitors, Chicago and Orlando, were far behind with 21 shows apiece.
Hill also was part of the team that secured hosting the NFL Draft next year and helped modify the Las Vegas Bowl to become a matchup of a Pac-12 school against either a Big Ten or Southeastern Conference team.
Hill also said he has helped keep the $1.4 billion expansion and renovation of the Las Vegas Convention Center on budget and on time and he helped secure the contract of an innovative people-mover design with Elon Musk's The Boring Company.
He also was part of the team that expanded air service at McCarran International Airport from three new domestic markets and two international markets, including Amsterdam and Tel Aviv.
The committee recommended an 18 percent bonus to departing legal counsel Luke Puschnig. The 20-year attorney for the LVCVA would get a bonus of $37,208 if approved by the full board on Tuesday, his last day with the organization.
Contact Richard N. Velotta at rvelotta@reviewjournal.com or 702-477-3893. Follow @RickVelotta on Twitter.
Steve Hill's goals
Las Vegas Convention and Visitors Authority President and CEO Steve Hill will present his 2019-20 goals Tuesday when the full LVCVA board meets. Those goals:
*To achieve record visitation in 2020. The record for visitation — 42.9 million — occurred in 2016. Hill hopes to surpass 11 million website visits and increase digital engagements by 10 percent.
*To improve traveler mobility to and within the destination. Hill hopes to lead formation of a four-state I-15 coalition to improve mobility and reduce congestion and deploy local improvements through the Resort Corridor Mobility Association.
*Improve the Las Vegas Convention Center customer and guest experience. Hill advocates best-in-class technology features for wayfinding, connectivity and advertising.
*The complete the Las Vegas Convention Center District on time and on budget. The new west hall under construction is due for completion in December 2020, in time for CES 2021.
*To live the organization's corporate governance strategies.