Las Vegas tourism notches second-busiest month of 2015
August 28, 2015 - 3:16 pm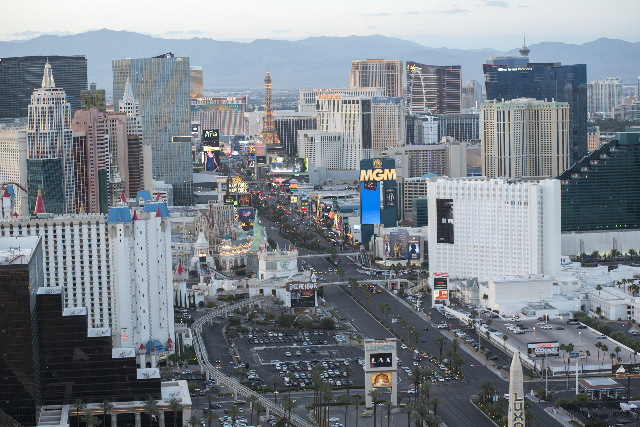 Southern Nevada visitation continues to roll as Las Vegas recorded its second-busiest month of 2015, tallying 3.7 million tourists to the destination, the Las Vegas Convention and Visitors Authority reported Friday.
Visitation figures were 5.3 percent ahead of last year's July total partly because of an extra weekend date compared with last year.
The July performance was strong despite a 9.4 percent decline in convention attendance that resulted from negative show rotation. Last year, the Las Vegas Market Show, a furniture exposition that draws 50,000 people, occurred in August this year instead of July in 2014.
Convention attendance was off 9.4 percent for the month to 301,988 with the number of shows down 9.6 percent to 1,305.
Except for convention attendance, all other tourism indicators showed gains compared to last year.
Occupancy rates, the average daily room rate, revenue per available room, enplanements and average daily auto traffic were up.
The strongest occupancy indicator was in motel occupancy, which climbed 10.4 percentage points to 74.9 percent in July. Citywide, occupancy was at 91.5 percent, 2.8 points ahead of last year.
The average daily room rate is continuing its lazy rise with a 1.9 percent increase to $120.22 for the first seven months of the year. July's 1.2 percent increase to $105.68 aided in the increase.
McCarran International Airport had a dramatic rise in passenger totals reported Friday with an 8.8 percent increase to 4.1 million people. The amount of traffic on Southern Nevada highways also had a dramatic increase, 8.1 percent to 126,907 vehicles a day on major highways. The vehicle count on Interstate 15 at the California border had an increase of 5.5 percent to 53,496 a day. Highway traffic includes locals that use the roads.
While visitor volume in Laughlin continued to slump, it climbed in Mesquite.
Volume was down 3.7 percent to 188,537 in Laughlin while it was up 5.8 percent to 99,166 in Mesquite.
The average daily room rate was up marginally in both locations, 2.2 percent to $47.53 in Laughlin and 2.1 percent to $51.02 in Mesquite. Occupancy was up 1.8 percentage points to 73.4 percent in Laughlin and 3.6 points to 72.4 percent in Mesquite.
Contact reporter Richard N. Velotta at rvelotta@reviewjournal.com or 702-477-3893. Follow @RickVelotta on Twitter.