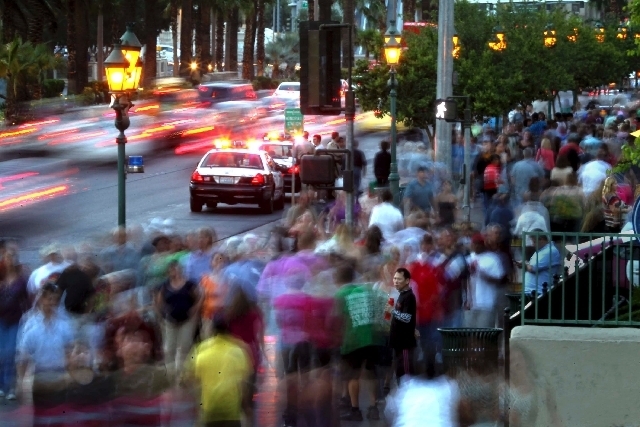 Las Vegas tourism numbers rose half a percent in April.
April visitation rose to 3.34 million visitors this year from April 2012's 3.32 million, the Las Vegas Convention and Visitors Authority reported Monday.
Year-to-date, Las Vegas visitation is down a slight 0.3 percent, to 13.04 million visitors from last year's 13.08 million.
Citywide occupancy year-over-year ticked up 0.6 points to 84.3 percent over 2012's 83.7 percent at this time. Month-over-month, there's only a slight uptick this year, with 87 percent occupancy compared with 86.5 percent last year.
Hotel occupancy in April was 89.6 percent, flat compared to April 2012. April's motel occupancy was up to 63.7 percent this year, compared with last year's 59.7 percent.
Weekend occupancy was up to 95.3 percent this April compared with April 2012's 92.7 percent, and weekday stays were down month-over-month to 83.9 percent from last year's 84.2 percent.
The average daily room rate in April was $115.90, up from April 2012's $108.42. Year-to-date, the average daily room rate is up to $112.65 from last year's $109.48.
In stark contrast with last month's numbers, overall convention attendance this year is edging up.
April's convention attendance rose a healthy 15.1 percent to 477,275 people compared with April 2012's attendance of 414,510. Year-over-year, convention attendance is up 3.8 percent to 2.12 million people from 2012's total of 2.04 million people.
The convention authority cited conventions rotating in to Las Vegas as the reason for the increase. They include the International Sign Association with 19,500 attendees, the International Security Conference with 17,000 attendees and the International Carwash Association with 6,000 attendees.
As such, the number of conventions held in April increased 15.2 percent to 2,233 shows from April 2012's 1,938 shows.
Year-to-date, the number of shows is up 7.7 percent, to 8,313 from 7,716 last year.
The average daily number of vehicles coming into Las Vegas dropped 2.7 percent in April, from an estimate of 105,916 a year ago to 103,046 in 2013. The number coming from Southern California on Interstate 15 was down 7.3 percent to 41,350 vehicles from 44,610. Vehicle counts include visitor, resident and commercial traffic.
Elsewhere in Clark County, the number of Laughlin visitors was up 0.8 percent in April, while Mesquite visitation was up 6.1 percent in the month-over-month comparisons. Year-to-date, Laughlin's visitor count was down 3.2 percent and Mesquite's was up 0.1 percent.
Contact reporter Laura Carroll at lcarroll@reviewjournal.com or 702-380-4588. Follow @lscvegas on Twitter.