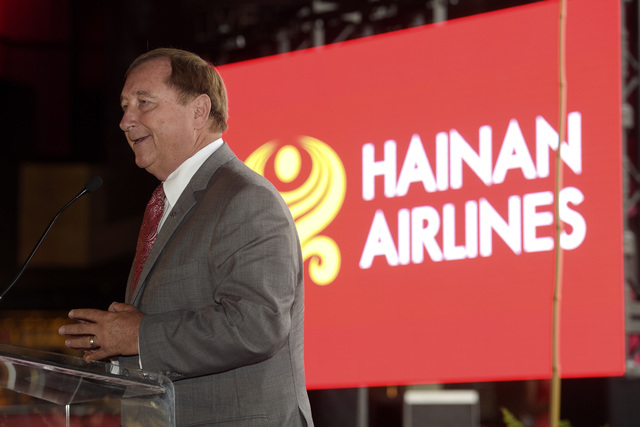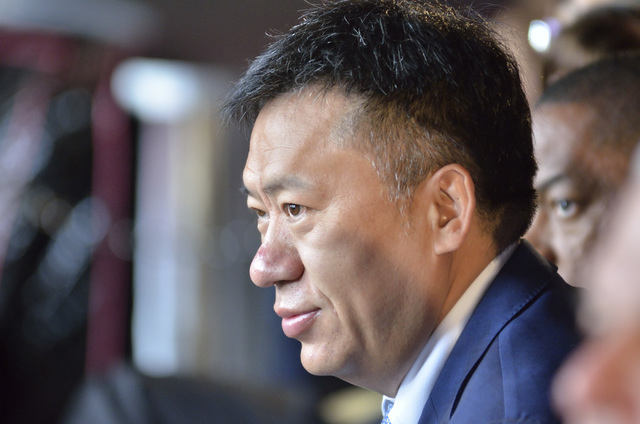 EN ROUTE TO BEIJING — Las Vegas tourism officials are hoping for a wave of nonstop flights from China to Las Vegas to capture a rapidly growing market of high-spending Chinese travelers, starting with Hainan Airlines.
On Friday, Hainan Airlines, the largest privately owned airline in China, begins nonstop service between Beijing and Las Vegas. It's the first airline to offer nonstop service from mainland China to Las Vegas. The new service dangles dollar signs in front of officials managing Las Vegas attractions.
"There were 363,000 Chinese travelers that arrived in Las Vegas last year, based on federal statistics," said Chris Jones, chief marketing officer for McCarran International Airport. "That's without a single direct flight from China."
The U.S. Commercial Service, part of the Department of Commerce, estimates that Chinese travelers spend $6,000 to $7,000 per person per trip, ranking Chinese travelers as the highest-spending international visitor group. China's rising middle class has led to an increase in Chinese consumer spending of 9 to 10 percent year over year, according to the China National Bureau of Statistics. The U.S. Commercial Service estimates that China's middle- and upper-income classes spend an average of 19 percent of their annual earnings on international travel.
Las Vegas wants in, and it is well-positioned to take advantage of such an opportunity.
"Everyone who comes to the United States, they want to come to Las Vegas," said Sonny Vinuya, president of the Las Vegas Asian American Chamber of Commerce. "Las Vegas is famous in China, not just Beijing. I'm from Shanghai, but it's famous everywhere. It's a very good brand name."
Las Vegas was the fourth-most-visited city by Chinese travelers in 2015, with 14 percent of Chinese travelers making the trip, after San Francisco (19 percent), New York (29 percent) and Los Angeles (30 percent), according to the Department of Commerce.
Michael Goldsmith, vice president of international marketing at the Las Vegas Convention and Visitors Authority, said international visitation as a whole to Las Vegas currently stands at 16 percent. The goal, he added, is to be at 30 percent, although he wouldn't specify a time frame to reach that mark. Chinese travelers will be a significant part of that equation, he said.
That means more money for Las Vegas. The authority is expecting about $33.5 million in increased revenue from the new Hainan nonstop service alone.
Jones said the airport is expecting increased revenue from duty-free sales.
"The Chinese are notorious spenders in terms of duty-free," Jones said. "But that's really the small piece of what this whole puzzle is about."
If every single Hainan Airlines nonstop flight from Beijing to Las Vegas were to be sold out during one year of service, that would translate to 33,228 people.
"That, in and of itself, is not really going to move the needle. It's about what stands behind this," Jones said.
If Hainan Airlines proves that enough demand for nonstop service to Las Vegas exists, additional airlines will follow, he said. McCarran has been in discussions with several airlines for years.
The new nonstop route from Beijing to Las Vegas could open "all sorts of doors" for nonstop service to Las Vegas, he said.
Peter Phang, managing director of the convention authority's China office, said the opportunity lies in second- and third-tier Chinese cities.
Beijing is one of 3,000 cities in China. There are at least 100 cities that have at 1 million people or more.
"Last year, China saw 120 million outbound trips," Phang said. "If everybody flying on that plane was a single-person trip, that's less than 10 percent of the entire population."
The Department of Commerce expects the number of Chinese travelers visiting the U.S. to grow 16 percent per year, with an estimated 5 million visitors from China in 2020. There were about 2.6 million Chinese travelers to the United States in 2015, and they spent over $30 billion during their stay.
Contact Nicole Raz at nraz@reviewjournal.com or 702-380-4512. Follow @JournalistNikki on Twitter.