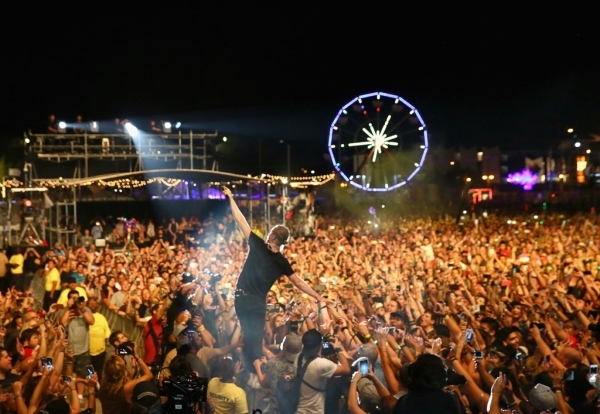 A calendar anomaly and the change in dates for the Life Is Beautiful festival boosted Southern Nevada visitation in September by 6 percent over a year ago, the Las Vegas Convention and Visitors Authority reported Thursday.
The organization that markets Las Vegas tourism reported that 3.5 million people visited the area in September.
It was the highest percentage increase of 2015 and the largest bump since January 2014 when visitor volume was up 8.2 percent.
With Life Is Beautiful shifting from October last year to September this year and most of the three-day Labor Day weekend falling entirely in September this year instead of mostly in August last year, numbers climbed in occupancy and average daily room rates as well.
Citywide occupancy soared 4 percentage points to 89.9 percent for the month, thanks largely to a 9-point spike in motel occupancy to 71.5 percent.
Weekend occupancy was at 95.5 percent for the month, up 2 points, and Strip occupancy was at 91.9 percent, up 3.9 points, while downtown occupancy climbed 5.8 points to 83.7 percent.
The average daily room rate was up 8.8 percent to $125.85 with Strip rates up 8.4 percent to $135.72 and downtown rates up 19.4 percent to $64.10, a direct correlation to the music, food and lecture festival that occurred Sept. 25-27.
Convention attendance also soared in September. Although there were 11.5 percent fewer shows — 1,722 for the month — attendance was up 23.9 percent to 470,624. Most of that growth was the result of two shows, the Packaging Machinery Manufacturers Institute show with 45,000 in attendance and the National Recreation and Park Association, with 8,500 attendees rotating into Las Vegas this year after meeting elsewhere in 2014.
After three quarters, visitation volume is trending at 2.4 percent above 2014 figures to 31.9 million, which bodes well for a record total for the year.
If the city can maintain an average of just more than 3 million visitors in the last three months of 2015 it will surpass 2014's record 41.1 million. Monthly figures haven't hit below 3 million since December 2013.
After three quarters, occupancy is slightly above 2014 levels, 88.4 percent, which is 0.4 percentage points above 2014's third quarter.
The average daily room rate is up 1.9 percent for three quarters to $119.17. And, while convention attendance is up 5.3 percent to 4.4 million so far, the number of shows stated is off 5.8 percent to 15,149 over nine months.
Highway traffic was up significantly for the month. Travel on Interstate 15 at the California-Nevada border was up 9.6 percent to 42,841 vehicles a day, while traffic on all highways into Las Vegas climbed 9.1 percent to 105,415 vehicles daily. It was the seventh straight month that vehicle traffic surpassed 100,000 vehicles in a month.
September was also good to Laughlin and Mesquite. Laughlin visitation was up 2.8 percent to 151,320 visitors while Mesquite was up 10.5 percent to 86,689.
The average daily room rate was up was up 15.6 percent to $47.25 in Laughlin and up 3.1 percent to $54.26 in Mesquite.
Contact reporter Richard N. Velotta at rvelotta@reviewjournal.com or 702-477-3893. Find @RickVelotta on Twitter.