Las Vegas visitation cools in April; conventions, room rates down
Updated May 31, 2023 - 7:29 pm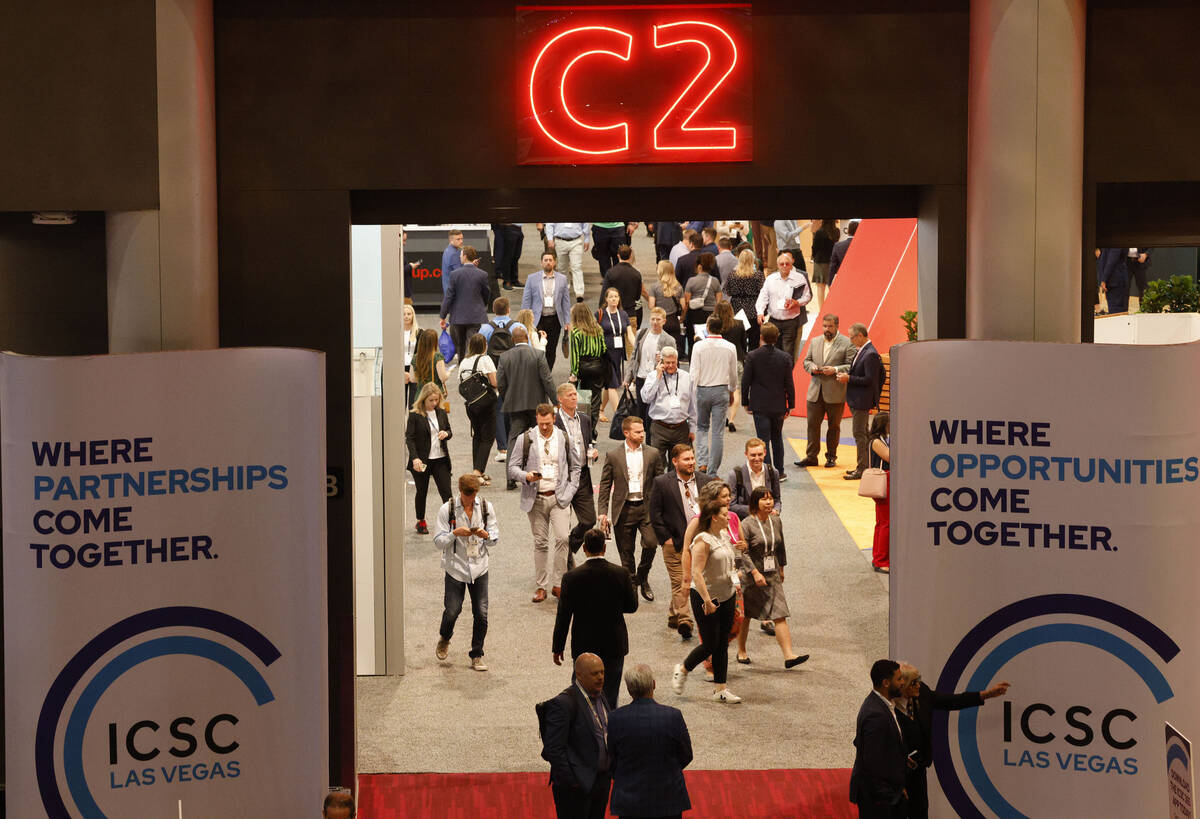 Visitation to Southern Nevada cooled in April with visitor volume and occupancy rates flat and convention attendance and room rates down slightly, the Las Vegas Convention and Visitors Authority announced Wednesday.
The LVCVA said 3.386 million visitors traveled to Southern Nevada, a 0.1 percent increase over April 2022, but there were 369,400 convention attendees, a 2.1 percent decline from last year.
Convention traffic declined, despite the presence of the massive National Association of Broadcasters trade show, one of the city's five largest conventions of the year. An analyst blamed the relatively late timing of the Easter holiday as one of the reasons convention traffic was off.
"Given the relatively low convention attendance, we see no reason for concern with the temporary step down in average daily room rates on a year-over-year basis," gaming analyst John DeCree of Las Vegas-based CBRE Equity Research said in a report to investors Wednesday. "We would expect greater ADR lift in peak months and as occupancy continues to recover, particularly midweek occupancy."
Occupancy rates were flat in April, rising just 0.3 percentage points overall, with midweek occupancy up, but weekends down.
"Overall hotel occupancy reached 84.3 percent for the month, similar to last April (+0.3 points year over year)," said Kevin Bagger, vice president of the LVCVA Research Center. "As weekend occupancy (92.4 percent) saw a 0.8 point year-over-year decline, midweek occupancy approached 81 percent, surpassing last year by 1.5 points."
The average daily room rate fell 3.3 percent to $171.05 a night, in part because of the high bar set in April 2022 when Las Vegas hosted the National Football League Draft and four sold-out performances of South Korean boy band BTS at Allegiant Stadium.
Despite the lackluster April performance, 2023 visitor volume is pacing ahead of 2022 by 13.5 percent for the first four months of the year. In fact, nearly every tourism indicator is outperforming 2022 figures for the first four months, including convention attendance (up 44 percent), occupancy rates (up 10.2 percentage points) and average daily room rate (up 17.8 percent).
Transportation indicators were robust in April with air passenger deplanements and enplanements up 12.8 percent to 4.8 million passengers at Harry Reid International Airport.
Reid, which announced its passenger statistics last week, is up 21.9 percent to 18.3 million passengers ahead of last year's pace for the first four months of 2023.
Traffic also was greater on the major highways leading into Las Vegas in April.
The Nevada Department of Transportation, which doesn't differentiate between visitors and local traffic on highways, reported average daily traffic counts of 136,553 vehicles a day, up 1.2 percent over April 2022. But at the same time, traffic counts on Interstate 15 at the California-Nevada border were off 6.8 percent to 45,294 daily vehicles.
Visitor volume in Laughlin and Mesquite were also flat for the month.
Laughlin reported 111,900 visitors in April, up 0.8 percent from a year ago. The Colorado River community reported 54 percent occupancy rates, up 0.4 percentage points, and average daily room rates of $63.04 a night, down 8.5 percent from April 2022.
In Mesquite, visitor volume was estimated at 87,000 in April, the same as a year ago. The reported 89.4 percent occupancy rate was 0.2 points lower than a year ago, and the average daily room rate was $88.29, an increase of 12.5 percent over last year.
Contact Richard N. Velotta at rvelotta@reviewjournal.com or 702-477-3893. Follow @RickVelotta on Twitter.
April tourism indicators
April 2023, April 2022, Change
Visitor volume: 3.385 million, 3.382 million, +0.1%
Citywide occupancy: 84.3%, 84%, +0.3 points
Room nights occupied: 3.841 million, 3.791 million, +1.3%
Convention attendance: 369,400, 377,400, -2.1%
Average daily room rate: $171.05, $176.97, -3.3%
Air passengers: 4.801 million, 4.256 million, +12.8%
Average daily highway auto traffic: 136,533, 134,931, +1.2%
Clark County gaming revenue: $995 million, $960.5 million, +3.6%