Las Vegas visitation still growing; California car traffic drops
Updated August 31, 2023 - 8:37 pm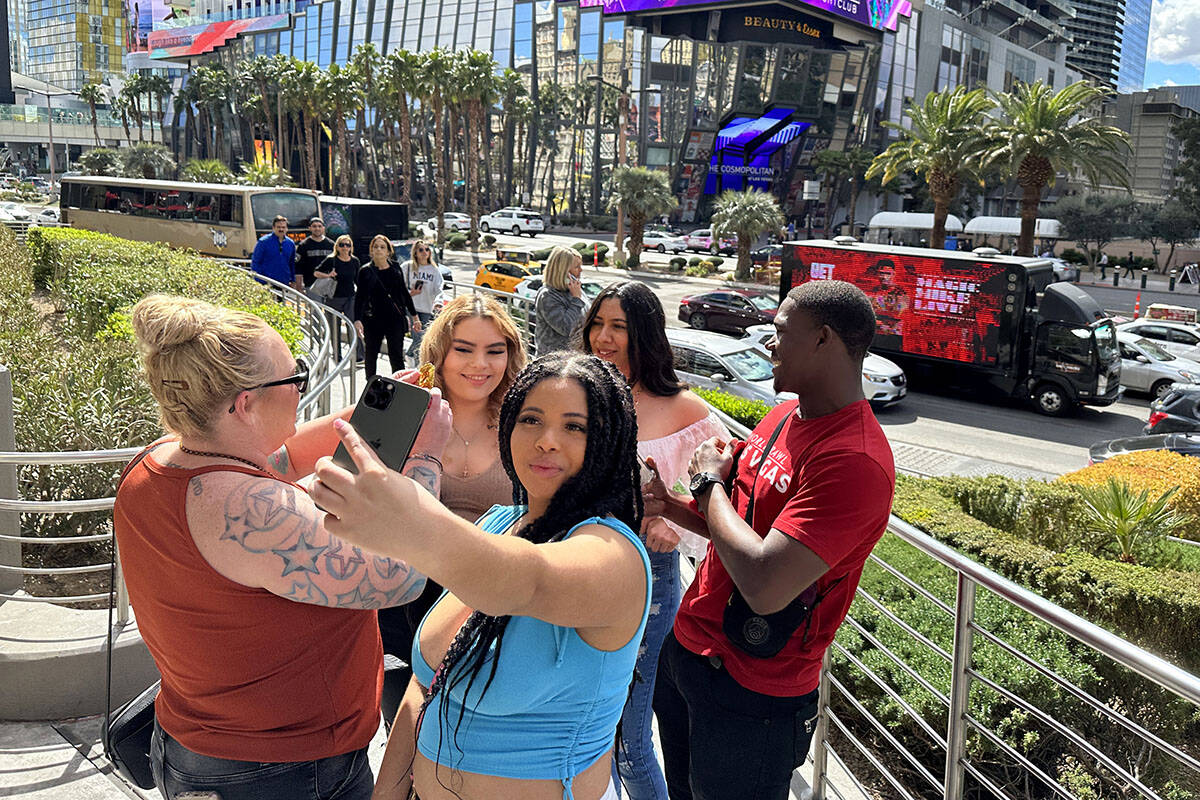 Visitation to Southern Nevada continued its steady climb, but convention traffic in July was down by double-digit percentages, the Las Vegas Convention and Visitors Authority reported Wednesday.
The LVCVA reported 3.5 million visitors in July, a 1 percent increase over last year, but convention attendance fell 16.8 percent to 270,300, which was down 46 percent from July 2019. There were 17 conventions in Las Vegas in July compared with 23 in July 2022, according to analyst Joe Greff of New York-based J.P. Morgan.
For the seven months of 2023, convention attendance is well ahead of last year's pace with 3.5 million, a 25.1 percent increase over 2022.
"Overall hotel occupancy reached 85.2 percent for the month (up 1.8 percentage points year over year) as weekend occupancy reached 92.6 percent (up 1.5 points year over year), and midweek occupancy reaching 82.2 percent, surpassing last July by 3.1 points," said Kevin Bagger, vice president of the LVCVA Research Center.
"With year-over-year growth stabilizing after the dramatic post-pandemic surges last year, ADR (average daily room rate) reached $163, up 1.7 percent year over year, while RevPAR (revenue per available room) reached $139, up 3.9 percent year over year," he said.
The steady climb occurred despite a drop in car traffic from Southern California in July. While traffic on major highways into Las Vegas was up 0.8 percent to 139,408 vehicles on a daily average — the highest total since July 2021 — the amount of daily traffic on Interstate 15 at the Nevada-California border was down 5.4 percent to 49,727.
The Nevada Department of Transportation monitors highway traffic and acknowledges that not all vehicles carry tourists.
Industry analyst Brendan Bussmann of Las Vegas-based B Global said the numbers show Las Vegas needs to continue to reinvest in infrastructure to meet future challenges.
"July's gaming and visitation numbers continue to show that our product gets better and has resiliency, but we need to continue to reinvest in that product for the short and long term," Bussmann said. "If we fail to do that, especially as it comes to infrastructure, we may have some challenges in the future."
Some of that infrastructure investment is evident around the city with the soon-to-open Sphere entertainment venue, the new 3,644-room Fontainebleau resort opening on the Strip by the end of the year, the 211-room Durango opening in southwest Las Vegas in November and street projects aplenty across the entire city.
Two of Southern Nevada's other resort cities had mixed results in July.
The Colorado River city of Laughlin reported a 10.2 percent increase in visitation to 142,200 with an occupancy rate of 66.8 percent (up 6.5 percentage points from a year ago) and an average daily room rate of $69.48, down 19.5 percent from July 2022.
Meanwhile, Mesquite, northwest of Las Vegas on the Nevada-Arizona border, saw visitation fall 2.8 percent to 69,000. Occupancy rates were down 1.9 percentage points to 69.1 percent, but the average daily room rate was up 10.7 percent to $69.62 a night.
Contact Richard N. Velotta at rvelotta@reviewjournal.com or 702-477-3893. Follow @RickVelotta on X.
JULY TOURISM INDICATORS
July 2023, July 2022, Change
Visitor volume: 3.528 million, 3.492 million, +1%
Citywide occupancy: 85.2%, 83.4%, +1.8 points
Room nights occupied: 4.008 million, 3.913 million, +2.4%
Convention attendance: 270,300, 325,000, -16.8%
Average daily room rate: $163.14, $160.43 +1.7%
Air passengers: 4.946 million, 4.865 million, +1.7%
Average daily highway auto traffic: 139,408, 138,275, +0.8%
Clark County gaming revenue: $1.208 billion, $1.123 billion, +7.5%