Las Vegas will be getting a new slogan
Updated January 17, 2020 - 5:25 pm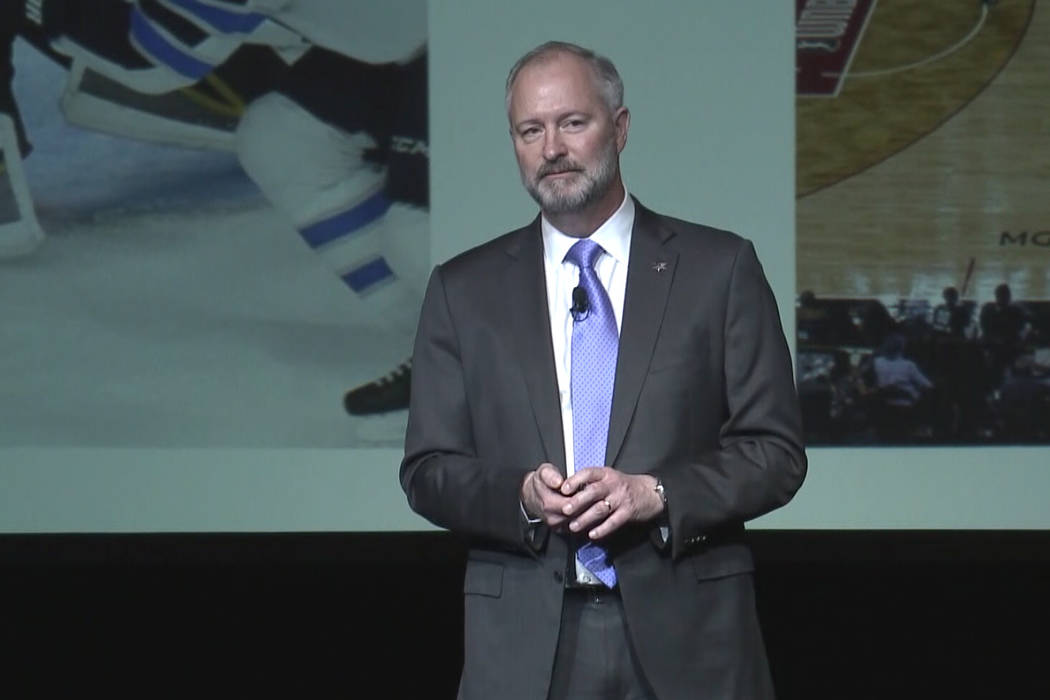 What happens here …
Go ahead, fill in the blank.
But if you said, "Stays here," you would be wrong about Las Vegas' newest tourism slogan, which will be unveiled during the Grammy Awards broadcast Jan. 26.
Steve Hill, president and CEO of the Las Vegas Convention and Visitors Authority, hinted about the organization's new branding and how celebrities will fit in during a presentation Friday at the Vegas Chamber's Preview Las Vegas event at Wynn Las Vegas.
The slogan, it seems, will ride the coattails of 2003's award-winning "What happens here, stays here" campaign that experts have said was one of the most successful in advertising history.
Hill talked about the city's past two decades as the "Entertainment Capital of the World" and how Las Vegas is transitioning into the sports and entertainment capital with a new catchphrase.
But he wouldn't go into specific detail about the new slogan or the 60-second television ad that is expected to be a part of the Grammy show broadcast.
"We think it'll have literal resonance as well as emotional resonance as 'What happens here, stays here,' and that's why we did the testing because we wanted to know what authentic was," Hill said in an interview after his presentation.
He explained that the slogan and new ads were tested before groups to gauge reaction.
"We don't want our brand promise to be aspirational. We want it to be real. We want it to be authentic. We want people to think, 'Yep, that is exactly how we feel about that,' and we think it captures that," Hill said. "When we showed it to a number of different people, including celebrities, it catches with them right away."
The Review-Journal reported in November that Aerosmith frontman Steven Tyler asked the crowd at one of his shows at Park Theater to shout a reply of "… only happens here" after he said, "What happens here …" leading to speculation that was the new slogan.
The LVCVA and R&R Partners, the Las Vegas advertising company that developed "What happens here, stays here," wouldn't confirm the speculation.
Hill also noted that "there's a theme around the Grammys that makes sense," but he didn't elaborate on whether Tyler and Aerosmith are a part of the campaign.
In an interview last month with the Review-Journal, Billy Vassiliadis, CEO of R&R Partners, said "What happens here" is "the more important part of this (current) slogan."
"What happens here is a unique experience," he said. "This is the only place that … allows you to fully be yourself, where there aren't obligations or expectations."
Contact Richard N. Velotta at rvelotta@reviewjournal.com or 702-477-3893. Follow @RickVelotta on Twitter.