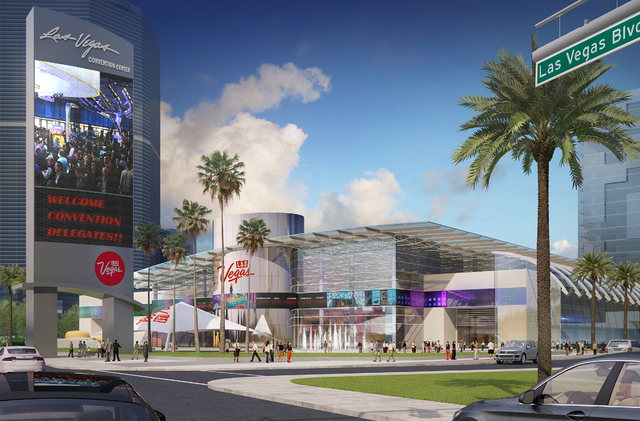 The Las Vegas Convention and Visitors Authority is expected to be able to proceed with its $1.4 billion expansion and renovation of the Las Vegas Convention Center using the "construction manager at risk" development method, thanks to an 11th-hour action by the Legislature.
Minutes before the 79th legislative session ended early Tuesday, lawmakers approved Senate Bill 246, which extends the life of the use of the CMAR development method on public building projects. It was due to expire June 30.
For the construction project, due to start with the selection of a construction manager later this year, the LVCVA staff had recommended using CMAR — a process that generally costs more but provides greater assurance of meeting tight deadlines. Under that method, the LVCVA, through its contracted building representative, Terry Miller of Cordell Corp., would contract with a construction manager for a set price and that manager would be obligated to deliver the project by a set deadline.
The LVCVA's construction plan, endorsed by the seven-member Las Vegas Convention Center District Committee and the seven-member Oversight Panel for Convention Facilities in Clark County, will be considered Tuesday by the full LVCVA board of directors.
The recommendations from the two boards justified the use of CMAR because the LVCVA wants to have its new 600,000-square-foot, $860 million exhibit hall completed in time for CES in January 2021. The recommendations were for the CMAR approach with a design-build construction method as a backup in case the Legislature did not approve Senate Bill 246.
The convention center project was also the subject of another piece of legislation that gives the LVCVA greater flexibility in its ability to hire small business contractors.
Under previous law, public bodies were prohibited from requiring or prohibiting a bidder, contractor or subcontractor from entering into any union agreement on a public project.
A section of Senate Bill 464 creates an exception to the prohibition by authorizing the LVCVA to require a bidder, contractor or subcontractor to enter into an agreement with labor organizations on the expansion and renovation project.
Contact Richard N. Velotta at rvelotta@reviewjournal.com or 702-477-3893. Follow @RickVelotta on Twitter.