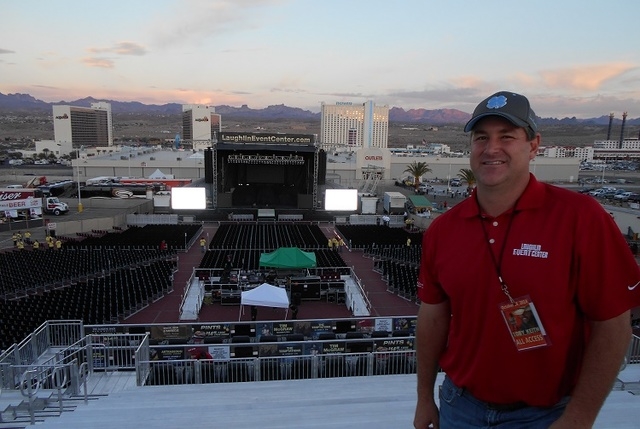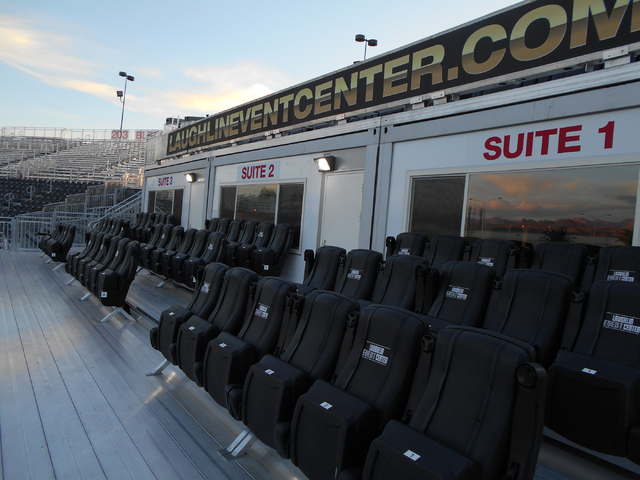 The crowds in Laughlin don't get much bigger than this — 9,500 Toby Keith fans packed into a modular outdoor entertainment center only a football field or two from the main drag in town.
On this warm October Saturday evening, the Laughlin Event Center is the latest big thing for this Southern Nevada town across the Colorado River from Bullhead City, Ariz.
Anthony Marnell III, who owns the side-by-side riverfront Edgewater and Colorado Belle hotel-casinos, spent $4 million for the events venue. Marnell is also president of the M Resort and is a member of the Nevada Athletic Commission.
"The facility made financial sense for the town. That's why we we did it. Everybody would benefit from it," Marnell said. "We called it the Laughlin Event Center. We didn't call it the Marnell Event Center or Edgewater Event Center or the Colorado Belle Event Center."
The Laughlin Event Center is so flexible in design that it can be configured into 12-15 layouts depending on the type of event and size of the crowd, said Mark Sterbens, assistant general manager and vice president of Edgewater and Colorado Belle.
The venue opened with a Reba McEntire concert March 15 and is set to host its next big event when country star Tim McGraw performs on Saturday. Ticket prices for the McGraw concert range from $65-$350, according to the Laughlin Event Center website. The event center has also staged bull riding events.
Before the event center opened, the biggest venues in Laughlin were facilities at Harrah's and Aquarius hotels, where about 3,000 seats were available, Sterbens said.
Big events mean increased revenue at the two Marnell hotels, where occupancy increases 10 percent to 15 percent at the 1,052-room Edgewater and 1,150-room Colorado Belle on event weekends, while revenue shoots up 20 percent to 30 percent, Sterbens said. Normal per capita spending at the hotels is about $120, he noted. Marnell's hotel gaming company financed the venue internally, tapping an existing line of credit, Sterbens said.
MORE EVENTS IN 2015
The Laughlin Event Center is staging a dozen events in 2014 and looking to increase that number to 15 in 2015, Sterbens said.
The site is so close to Laughlin's version of the Strip — Casino Drive — that no parking is available at the event center because fans walk from their hotels or take shuttles from the properties.
For the Toby Keith concert, for example, the site floor was covered with a carpet and 4,000 seats, while another 5,700 seats were available in bleachers behind the floor seats.
The stage is actually two trailers with built-out decking, with Keith's five semis and two buses parked behind the stage.
The site includes three 24-seat suites, part of a bleacher that converts into a party deck with bar and three bathroom trailers.
For rodeos and bull riding competitions, 500 cubic yards of dirt are stored on an upper lot next to the event center site and spread across the site to cover the asphalt. The event center is also considering a motocross event.
Most visitors are from Phoenix, Southern Nevada and Southern California, said M.J. Smith, Laughlin Tourism Commission executive director.
Edgewater and Colorado Belle are among seven local hotels that make up the board of the Laughlin Tourism Commission, which promotes some of the event center acts. The event center is a tourism lure because locals account for about 25 percent of ticket sales, while the balance are out-of-towners, Sterbens said.
COMPETING HOTELS BUY TICKETS
Although Marnell built the event center, other Laughlin hotel-casinos outside of his Edgewater and Colorado Belle properties buy blocks of tickets for events that are sold to guests or part of promotional deals, Smith said.
"You would not see this level of cooperation among competitors," Smith said. "If we didn't have the support going in, we wouldn't be able to attract the artists we do."
The various hotel properties cooperate because events such as the Toby Keith concert generate $4 million to $5 million in visitor spending on lodging, food and gaming in Laughlin, Smith said.
"Everybody was treated equally who wanted to participate," Marnell said.
Marnell's Edgewater Gaming LLC and the Laughlin Tourism Commission have served as promoters of events at the venue, but Sterbens noted negotiations are ongoing with other promoters.
Laughlin receives about $750,000 in annual room tax dollars in Clark County to help produce events at the event center, Smith said.
Marnell said the event center is looking at expanding seating to 11,000 to 12,000. The site can hold a maximum of 22,000, he noted.
Contact reporter Alan Snel at asnel@reviewjournal.com or 702-387-5273. Find him on Twitter: @BicycleManSnel