Major automotive shows ready to roll into Las Vegas
October 30, 2016 - 9:30 pm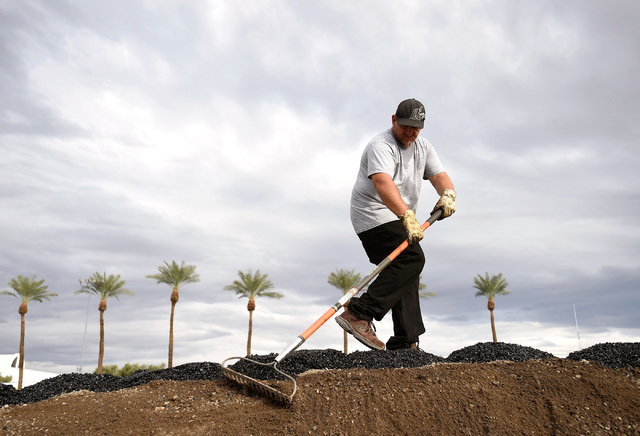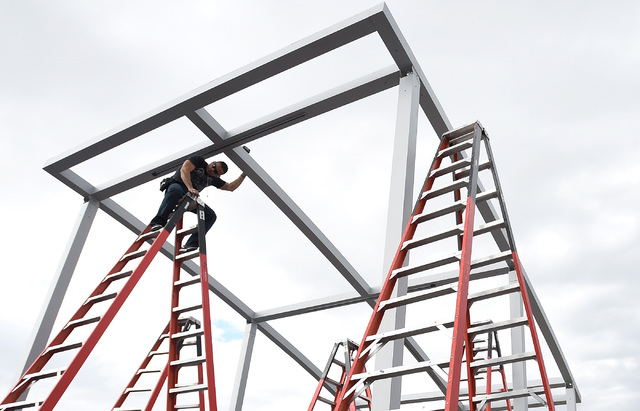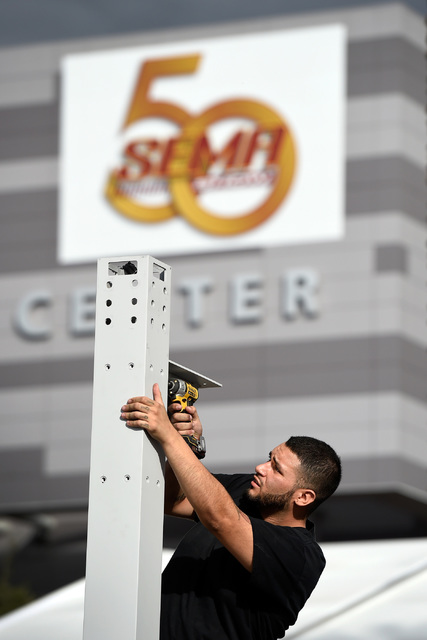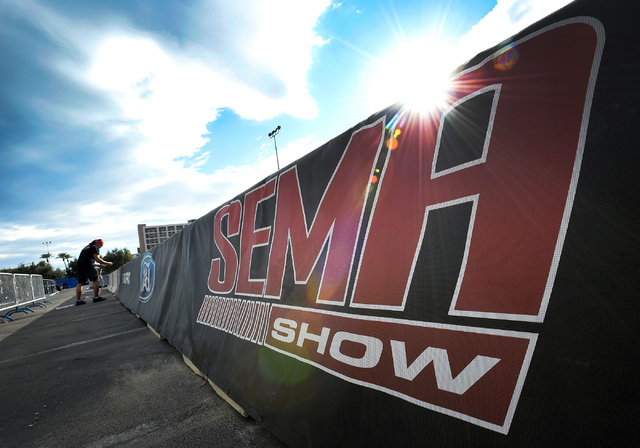 Success comes with a price, and no group is more excited to see Nevada approve a hotel room-tax increase to upgrade the Las Vegas Convention Center than the Specialty Equipment Market Association.
Celebrating its 40th anniversary in Las Vegas and 50th anniversary overall, the SEMA show from Tuesday to Friday at the convention center has 2,400 exhibitors, a 2 percent gain over last year and a record. That growing interest has pushed some exhibitors to display their products in tents outside the convention center rather than in the hall itself.
It's no surprise, then, that SEMA President and CEO Chris Kersting issued a statement earlier this month, before the Legislature voted on increasing the hotel tax to fund the expansion of a convention center he called outdated. SEMA has been turning people away to its show.
"Our customers expect and enjoy a world-class facility to do business in, and so we're excited and optimistic about the future because we want to be able to create an environment that delivers value to our exhibitors," said Peter MacGillivray, vice president of events and communications for SEMA."Right now, we are making do with the temporary structure but looking forward to the day we have something more solid.
If these small businesses can't get access to their industry's annual trade show, that's disappointing to us and them. They want to participate in the marketplace."
As many as 160,000 people are expected in Las Vegas next week for the SEMA show and a companion show, the Automotive Aftermarket Products Expo from Tuesday to Thursday at the Sands Expo and Convention Center.
SEMA says it expects that 70,000 of those attending its show are buyers from more than 100 countries. AAPEX said it has 5,000 booths with 2,200 exhibitors from 140 countries.
The SEMA show is a trade event for companies that manufacture or market accessories that enhance the styling and performance of cars, trucks and SUVs. If it makes an automobile look or perform better, it's at the SEMA show, which targets retail shop owners, MacGillivray said.
"You can modify virtually every aspect of a vehicle, from seats to the steering wheel to the engine, to the exhaust and suspension, wheels and audio systems," MacGillivray said. "Every square inch of a vehicle has a product that can be enhanced, and that's the primary purpose of our stakeholders, taking perfectly good cars and trucks that we see on the showrooms of dealerships across the country and (making) them look better, sound better and … perform better."
The AAPEX show is considered the repair and replacement part of what's referred to as Automotive Aftermarket Industry Week in Las Vegas. National retailers such as AutoZone or O'Reilly Auto Parts, to name a few, have buyers looking at product lines on the market in addition to mechanics and shop owners.
There's a partnership between the two shows, and one badge gets people into both conventions.
"You don't have to go to two different cities to cover the spectrum of the marketplace," MacGillivray said. "You come to Las Vegas and get two shows at a very wide range of exhibiting companies."
Bill Hanvey, president and CEO of the Auto Care Association, which puts on the AAPEX show, said it has 3,000 members from all facets of the industry, from manufacturers, distributors and retailers in 150,000 locations. Business is good in an industry that grows about 3.5 percent a year, he said.
"It grows in the good times and in the bad times. It's even better because people repair their vehicles instead of buying new ones," Hanvey said. "That's something we try to emphasize: what a good and profitable and growing industry we belong to. It should be the envy of other industries."
Both shows are closed to the public but generate a lot of attention, with 3,000 credentialed media, many from auto-related publications and online media. Many auto journalists write about the new product lines during the week, adding to the buzz.
"In a lot of ways, the strength of the industry is reflected in the strength of the show," MacGillivray said. "This will be our biggest show, and while we don't dwell on the size, it is a nice reflection of the vitality of the industry."
Consumers and car enthusiasts will get their chance Friday to see the best of SEMA in the gold lot at the convention center. For $20, the can take in a show that runs from 3 until 10 p.m. and features a rolling car show.
Some 2,000 new products will be unveiled at the SEMA show, and consumers will get to see the best of them as well.
"That's the beauty of this show," MacGillivray said. "There's a diversity of products. If you're into restoration and want a 1974 Datsun to look exactly like it was, there are products that do that. If you want a new Corvette and trick it up and look even better, there are wheels and other styling kits you can purchase from a manufacturer to do that. It's mind-blowing the amount of creativity and options you have from a show like this."