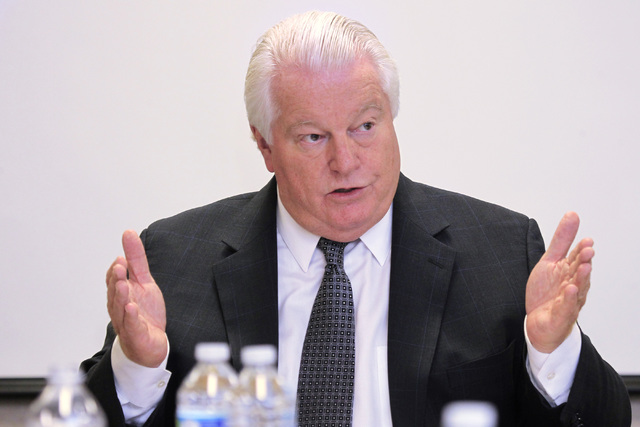 Las Vegas is in the midst of another upheaval with billions of dollars in investment in new facilities that will bring more conventions, the Super Bowl, the NFL draft — and more tourists — to Southern Nevada, experts said at Monday's kickoff of the Nevada Governor's Global Tourism Summit.
More than 250 people from around the world have gathered at the Flamingo for a two-day conference to discuss strategies and issues associated with the growing tourism business that is the lifeblood of the Las Vegas economy.
"Travel is the front door to economic development," Roger Dow, president and CEO of the U.S. Travel Association, said in the summit's opening session. "They know that more in this state than anywhere."
Over the next two days, representatives of attractions across the state will meet with travel officials from several countries to develop relationships to funnel visitors to rural Nevada as well as Las Vegas.
Challenges ahead
Dow said there are many challenges to the tourism industry that must be monitored.
"One of those is infrastructure," he said. "We had the greatest airports in the world in the United States 25 years go. But, we fell asleep."
Now, he said, most of the world's best airports are in other countries.
It's also important for the nation's airports to welcome airlines from other nations to complete and keep fares down. He said "open skies" will continue to be an issue in delivering overseas travelers to the United States.
He also remarked on one of the U.S. Travel Association's newest causes — persuading U.S. workers to take and use all the vacation time they're entitled to. He showed a "guilt video" to the crowd explaining how there will always be work to do in places of employment, but significant personal events like weddings and a child's first steps don't come around very often and should be enjoyed with the time off employers give their workers.
The association says advances in technology have turned employees into "work martyrs" and between 52 percent and 62 percent of workers leave vacation time unused.
Educating the government
Dow, whose association is based in Washington, said much of his time is spent educating government leaders about tourism issues. He said he worked for several years with President Obama after a Feb. 9, 2009, remark he made that left Southern Nevada reeling: "You can't get corporate jets, you can't go take a trip to Las Vegas or go down to the Super Bowl on the taxpayers' dime."
Dow said Obama didn't realize the damage he brought to Las Vegas with the rant, but it gave him the opportunity to meet several times with the president to explain the importance of the tourism industry.
Dow worked throughout that time with Rossi Ralenkotter, president and CEO of the Las Vegas Convention and Visitors Authority, who has served on U.S. Travel Association boards.
Ralenkotter, who also spoke at the opening of the conference, told attendees about the transformation Las Vegas is undergoing with added emphasis on international travelers who spend more time — and more money — when they travel. He noted that professional sports and an expansion of convention facilities is moving that needle.
Knights and Raiders
The Vegas Golden Knights have been an economic success for Las Vegas as the newest team in the National Hockey League, MGM Resorts International will soon formally introduce the name of its new WNBA basketball team and the Oakland Raiders are planning to relocate to Las Vegas in 2020 in a new 65,000-seat domed stadium that is under construction.
Ralenkotter noted that the Raiders and the Las Vegas Stadium Authority are working to bring World Cup soccer matches to Las Vegas in 2026 and he said he met this week with the NFL to bring the league's draft to Las Vegas in 2019.
He noted that the Las Vegas Convention Center will be expanded and renovated in the next three years and the Las Vegas Monorail will be extended to link two major convention centers.
Contact Richard N. Velotta at rvelotta@reviewjournal.com or 702-477-3893. Follow @RickVelotta on Twitter.