McCarran passenger counts begin '16 at near-record levels
February 26, 2016 - 12:05 am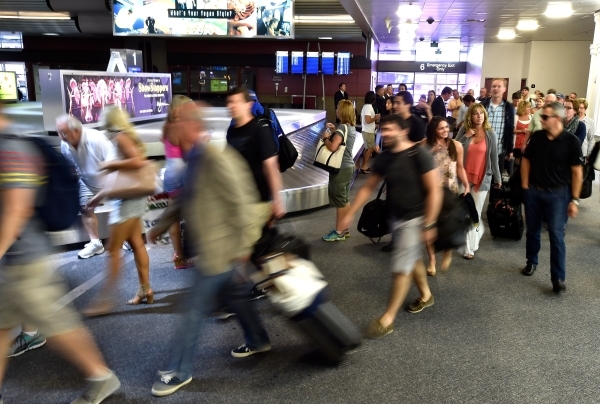 Passenger counts at McCarran International Airport have begun in 2016 the way they left off last year – at near-record levels.
The Clark County Department of Aviation on Friday reported that 3.6 million passengers passed through the gates of the airport serving Las Vegas, a 7.3 percent increase over January 2015.
It was the third-best January count on record and the best year-over-year percentage increase since 2006. McCarran reported slightly higher counts in January 2007 and 2008.
Of the 3.6 million passengers arriving, 3.2 million were on domestic air carriers and 253,141 flew with foreign airlines. Domestic totals were up 7.2 percent while international arrivals inched up 1.1 percent for the month.
The usual big players at McCarran continued to dominate the McCarran counts. Market leader Southwest Airlines reported 1.4 million passengers, 3.9 percent more than it had in January 2015 and No. 2 American was flat at 373,607.
Southwest reported an 11.2 percent increase in the number of connecting passengers through Las Vegas with 178,234 people changing planes at McCarran.
Frontier Airlines, which introduced new routes to the Las Vegas market and has promised more by May, showed the biggest growth _ 122.7 percent to 138,740 passengers. Other big domestic growth airlines included Virgin America, up 33.6 percent to 91,352; JetBlue Airways, up 27.3 percent to 101,067; and Spirit Airlines, up 26.1 percent to 229,667. Each of those carriers have added flights to Las Vegas over the past year.
Las Vegas-based Allegiant Air reported a 3.4 percent increase in passengers to 167,483 passengers.
Among the domestic carriers, Alaska Airlines reported a 9.5 percent decline to 99,911 passengers and No. 4 United was off 5.1 percent to 266,977.
On the international side, Canada-based WestJet Airlines continued to lead the market with 79,286 passengers, a 5.2 percent decline from January 2015 that analysts have attributed to poor currency exchange rates for the Canadian dollar and added competitive pressures from Air Canada's discount subsidiary.
Big percentage increases were reported by Lufthansa-affiliated German discounter Condor, up 35.7 percent to 5,645 passengers; Korean Air, up 35.6 percent to 8,864; and British Airways, up 25.2 percent to 24,261.
The sharpest declines were experienced by Mexican discounters Magnicharters, down 92.2 percent to 158 passengers and Vivaaerobus, off 63.6 percent to 722 passengers; and Panama's Copa Airlines, off 36.3 percent to 7,601.
Contact reporter Richard N. Velotta at rvelotta@reviewjournal.com or 702-477-3893. Find @RickVelotta on Twitter.