Music festivals bring crowds, higher weekend room rates
Updated September 21, 2023 - 3:48 pm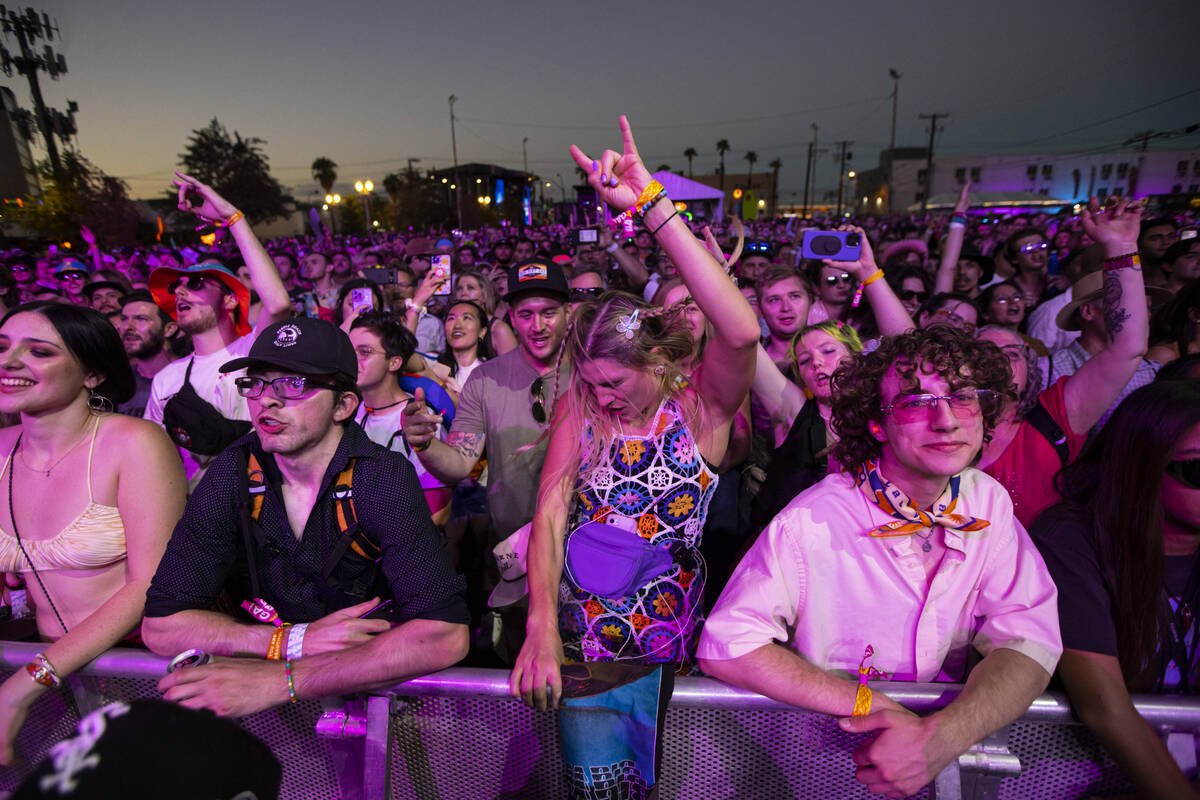 Two major music festivals in Las Vegas are driving up hotel room prices for the remaining inventory as the industry addresses any lingering effects of the MGM Resorts International's cybersecurity breach that took nine days to resolve.
Some hotel rooms are still available at 44 resort properties around the Las Vegas Valley with an average price of $343, according to a survey of Hotels.com on Thursday morning. That's higher than the average daily room rate of roughly $187 for September 2022, according to data from the Las Vegas Convention and Visitors Authority.
Room rates are likely being driven up by concert-goers. In downtown Las Vegas, prepare to see travelers for Life is Beautiful, the multi-genre music festival with headliners of The Killers, Kendrick Lamar and Odesza running Friday through Sunday. On the Strip, the iHeartRadio Music Festival will bring fans to T-Mobile Arena on Friday and Saturday to see the Foo Fighters, Fall Out Boy, Kelly Clarkson, Lil Wayne, Tim McGraw and others.
Josh Swissman, a gaming industry analyst and founding partner of GMA Consulting, said the two events don't cannibalize each other.
"Those two festivals are in different parts of the city and appeal to different types of festival goers, and they've been going on the same weekend for years now," Swissman said. "If it wasn't working, one of them would have figured out that they needed to move to a different date. For the really big music lover, it presents an opportunity to experience both at once."
Industry watchers say the MGM cybersecurity issues — which caused the company to shut down several computer systems beginning Sept. 10 — are not expected to have a large impact on most visitors in town. MGM said Wednesday that all hotels and casinos are once again operating normally, though some employees say there are residual problems.
Amir Eylon, president and CEO of hospitality market research firm Longwoods International, said effects of a cyberattack are typically brand-oriented. Travelers may view it as an isolated incident rather than an industry-wide problem.
"What makes headlines in your community doesn't necessarily make leading headlines in the U.S.," he said, noting some people also do not pay attention to the news.
Travelers still came to Las Vegas last week. Data from market analytics firm CoStar show that the Las Vegas market had an 85.5 percent occupancy rate for the week ending Sept. 16, with an average daily room rate of $200.95. The PACK EXPO, a packaging and processing convention held Sept. 11-13, likely influenced the rates and occupancy, a CoStar spokesperson said.
Mehmet Erdem, a hospitality professor at UNLV, said service disruption failures are bound to happen, but the companies are so service-oriented that they try to keep the guest experience positive regardless.
He points to a study produced one year after the Route 91 Harvest festival shooting, in which Las Vegas visitors were asked what they were worried about when coming to Vegas. A mass shooting was at the bottom of the list of concerns.
"I'm sure it's a concern for some people, but overall, if a mass shooting doesn't move the needle, I don't think this would," he said.
McKenna Ross is a corps member with Report for America, a national service program that places journalists into local newsrooms. Contact her at mross@reviewjournal.com. Follow @mckenna_ross_ on X.