Neon Museum unveils first stage of expansion plans
October 7, 2016 - 11:34 am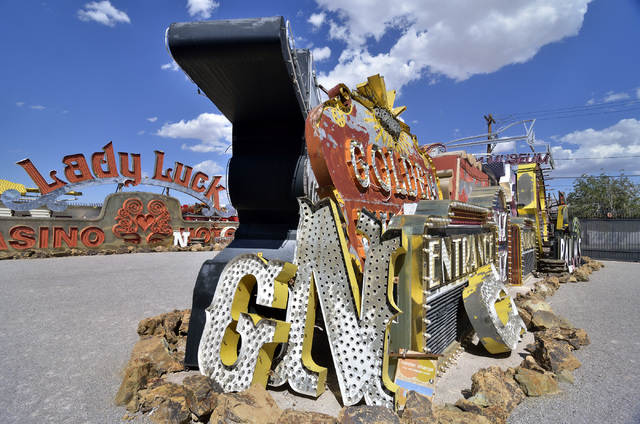 The Neon Museum on Friday unveiled the first stage of its expansion plans that includes a partnership with Las Vegas-based Marshall Retail Group to build a retail store.
The museum announced that starting Nov. 1, construction will begin on converting existing administration office space into a retail. MRG, which has 16 gifts shops in Las Vegas, including at McCarran International Airport, will invest more than $300,000 in the project, said Rob McCoy, president and chief executive officer of the Neon Museum. It's expected to open by the end of the year.
The museum staff will relocate to office space at the old Las Vegas City Hall annex, across from Zappos' headquarters, McCoy said. The museum has outgrown its existing retail and administrative space inside the former La Concha Motel lobby that serves as the museum visitor's center, 770 Las Vegas Blvd. North.
As part of its community partnership initiative, Zappos is funding the cost of lease, which also includes exhibition space that will be co-curated by the Neon Museum, Zappos and the Contemporary Arts Center, McCoy said.
"These strategic partnerships mark the beginning of an exciting time for the Neon Museum as we strive to serve the public in new and greater ways," McCoy said.
Paco Alvarez, art curator and Z'Boutique Buyer for Zappos said, working with the Neon Museum in creating a new art space is exciting and complements Zappos' ongoing commitment to the cultural arts in Downtown Las Vegas.
Following completion of the new store, merchandise will be displayed in the 1,300-square-foot area directly behind the reception area, McCoy said. The new retail area will offer apparel, drinkware, books and souvenirs along with other neon-branded items. Grab-and-go food and beverage with patio seating will also be part of the expanded offerings, he said.
In association with the new retail partnership, MRG will develop Neon Museum merchandise which will also be available at the company's 16 Welcome to Las Vegas stores citywide, which McCoy said would add significantly to the museum's reach and visibility.
Michael Wilkins, chief executive officer of MRG, said the partnership is the first of its kind for the retailer.
"To say we're excited to share in the expansion of the Neon Museum is an understatement," Wilkins said. "It's the perfect fit for us and we're looking forward to a long association."
Museum staff is expected to occupy the temporary administrative space, which has been re-christened NE10, the chemical and atomic number for neon, for one year after which they will move into new permanent museum offices, McCoy said.
Later this year, the museum is expected to announce plans not only for office space but to build indoor gallery where visitors can see a display of documents and other artifacts. That would include a working neon fabrication area where visitors can see how neon is made and fabricated.
"It's a dying art, and lot of folks go to LCDs (liquid crystal displays)," McCoy said. "They're cheaper and more easily and quickly changed, but neon is an art and we're starting to lose that. It's incumbent on us to make sure we do everything we can to preserve it as an art form well into the future."
Last month, the museum announced it expects to set a record and surpass 100,000 visitors a year by the end of June 2017. The museum, which opened in October 2012, recently added a self-guided weekday tour in addition to its regular guided tour.
McCoy said he would like to get local visitations up from its 10 percent mark. It's a local attraction Las Vegas residents need to be a part of, he said, but because they have lived it, they don't see it the same way as visitors do.
"(Tourists) have seen it in film over the last 50 to 60 years," McCoy said. "They know what Las Vegas 40 to 50 to 60 years ago looked like, and they are very much interested in it."
The museum has a collection of more than 500 signs, which includes full signs and parts of signs. About 70 percent of them are from casinos 20 percent from motels and 10 percent from businesses. Many are from the 1940s, 1950s, 1960s, and 1970s.