New Fremont Street Experience CEO going big for St. Patrick's Day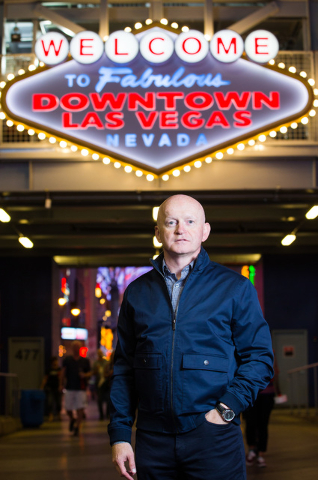 As a bona fide Irishman from Dublin, the new president and CEO of Fremont Street Experience wants to invite you to the biggest St. Patrick's Day celebration west of the Mississippi.
He also wants you to know that there's plenty of free parking.
"I'm counting at least 20 to 25 different acts on each of the three stages in total for that weekend – absolutely nothing like it," said Patrick Hughes, formerly vice president and general manager at the Cannery. "The value of the entertainment proposition I just don't think can be matched."
His new domain, the five-block entertainment district in historic downtown, offers free light shows, via the Viva Vision canopy – the length of multiple football fields, and the largest video screen in the Americas. It's a landscape of zipline action, free entertainment, over-the-top Vegas amenities, eight hotels, and in the recent past, some less-than-stellar Vegas excesses.
Fremont Street Experience is funded by eight downtown destinations – Binion's, the California Hotel, the D Las Vegas, Four Queens, the Fremont, the Golden Gate, the Golden Nugget Las Vegas and Main Street Station. Revenue also comes from the SlotZilla attraction, retail kiosks leased to vendors, and FSE's parking garage, along with the garage's first-floor tenants. Fremont Street Experience spokesman Thomas Bruny declined comment on revenue figures.
On March 1, his second day on the job, Hughes, 46, said he's still focusing on learning the operation, and connecting with community partners, including Las Vegas City Manager Betsy Fretwell, with whom he met the previous day.
"We're on the same page when it comes to partnering on issues and collectively coming up with solutions that work in the area," he said.
Among the more recent issues: rowdy, sometimes bawdy, street performers, and the legal challenges they've posed. An ordinance put into effect in November created 38 zones in which buskers have to stay put between 3 p.m. and 1 a.m.
Hughes said the system seems to work. But FSE still faces issues with panhandlers and leaflet distributors, who aren't affected by the rules.
"Our primary goal is to execute standards of entertainment and to show our city in its best light," he added.
His second day of work was especially fateful. It marked the 20th anniversary of his arrival in Las Vegas for the first time – the start of a two-decade career in gaming, hospitality and entertainment in Las Vegas, at establishments ranging from Boulder Station to New York-New York.
His first glimpse of Las Vegas: Fremont Street Experience, opened only a few months earlier. Hughes spent his first night at a Fremont Street hotel.
He credits his predecessor, Jeff Victor, with "cleaning up the street," and hatching the success of SlotZilla, a zipline thrill that features the "world's largest slot machine," adorned by 35-foot-tall "showgirls," according to the Experience's website. SlotZilla alone cost more than $17 million to design and build, according to Bruny.
But Hughes sees his era as a time to focus on refurbishing the Experience's aging accoutrements – and to supercharge the entertainment side of a deal that, for the moment, can't be beat.
Mark Brandenburg, interim chairman of Fremont Street Experience and former longtime owner of the Golden Gate, said SlotZilla alone has tremendous future potential, when it comes to entertainment.
"We feel that there's an awful lot more we can do with it," he said. "We like having Patrick with us because he has experience in bringing dynamic entertainment into a gaming context, which is important to us downtown."
The biggest Fremont Street issue that his hotel wants Hughes to address, according to Chris Latil, senior vice president and general manager at Golden Nugget Las Vegas: driving tourists in the right direction.
"Golden Nugget counts on this organization to ensure Fremont Street remains vibrant and busy, through programs and attractions," Latil wrote in an e-mail.
By email, Derek Stevens, CEO and owner of the D Las Vegas and Golden Gate, echoed the desire to " continue the growth of Fremont Street, the greatest destination in America."
Hughes is contemplating everything from resurfacing the street to engineering a faster, smoother overall SlotZilla experience. Even Viva Vision, with its 12.5 million LED lights, and 550,000 watt sound system encompassing four blocks, is due for some loving care. Its last upgrade, in 2004, cost $17 million, Bruny said.
Although he hasn't seen an estimate yet of the cost of a new upgrade, Hughes said, "It's going to be in the millions, and we've got to figure out how we're going to pay for that."
It may be time for refurbishment, given the recent upswing of downtown, compared with the Strip. According to the Las Vegas Convention and Visitors Authority, gaming revenue was up from January 2015 to 2016, 8.8 percent, vs. the Strip, down 7.7 percent. Average daily room rate: up 13.1 percent vs. the Strip at 6.7 percent. Downtown revenue per available room: 15.6 percent vs. the Strip at 9.5 percent.
According to the LVCVA's latest Las Vegas Visitor Profile study, 36 percent of all visitors in 2014 ventured downtown. More than half of those said Fremont Street Experience was the draw.
"The competition coming further down the Strip, one thing they can't bring and can't afford to bring, is the value proposition that comes with the Fremont Street Experience," said Hughes, alluding to zipline discounts, free shows and room rates. "We intend to keep it that way."
Not that the "wow" factor doesn't hold its own value. A few months ago, Hughes and his 69-year-old mother jumped from an airplane over Boulder City. Then they flew like super heroes down SlotZilla's Zoomline, which towers over the Zipline at 114 feet above the ground, according to the website.
"SlotZilla was more exhilarating," Hughes insisted. "I'll put my mother on the phone to you right now, and she'll tell you. It's midnight (in Dublin), but still worth a call."