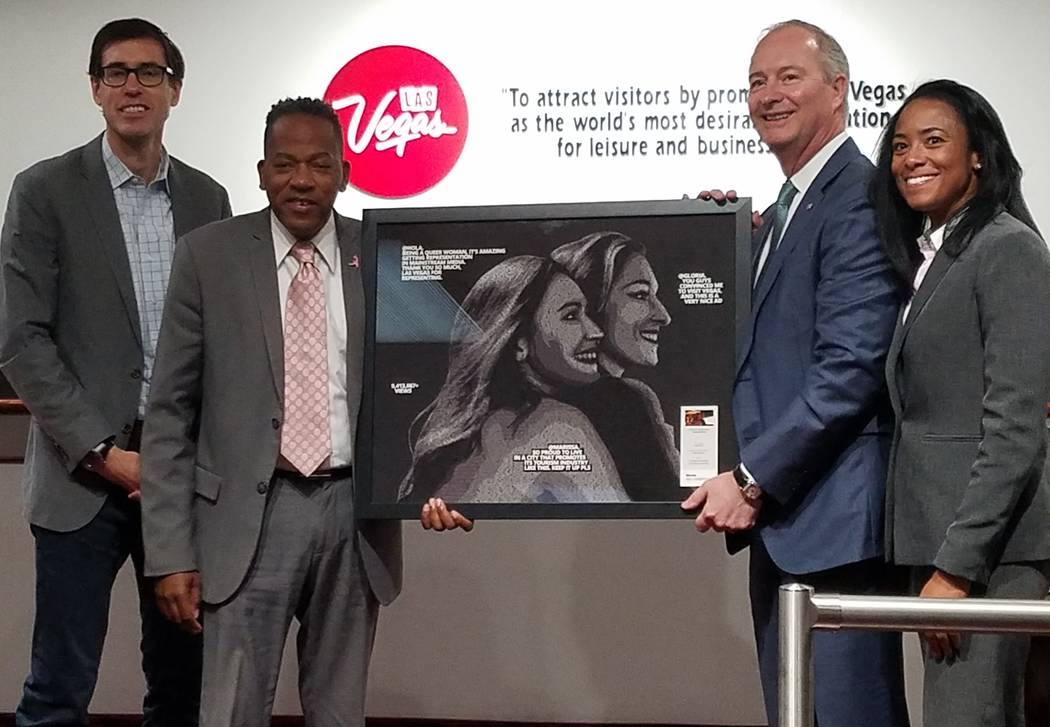 The new head of the Las Vegas Convention and Visitors Authority says he will take a fresh approach at how the organization markets itself and advocates for tourism initiatives with an emphasis on new technology.
Steve Hill, who took over last month as CEO of the LVCVA, said Tuesday he would direct new ways to attract visitors to Southern Nevada and increase convention bookings as part of his list of six goals presented to the organization's board of directors.
"We will continue to work with our digital partners to find new ways to inspire travelers based on their specific interests," he said.
Hill explained that the objective would be to attempt to connect with different travel generations of Las Vegas visitors — Baby Boomers, Gen X'ers, Millennials, and Gen Z'ers — with messages that would appeal to what they want in a getaway.
Some of the technological advancements in marketing the city were underway well before Hill took the authority's helm following the retirement of 46-year tourism veteran Rossi Ralenkotter. R&R Partners, the LVCVA's marketing consultant, on Tuesday also presented some of its 2018 "HyperVegas" efforts that use digital media strategies, virtual reality and new messaging channels.
Hill also plans to focus on access to and within the destination, the LVCVA's advocacy role on issues affecting tourism, the expansion of the Las Vegas Convention Center, and the organization's corporate governance policies.
Placing heads in beds, the core mission of the LVCVA, will be addressed with innovative marketing strategies, Hill said.
Marketing messages will be delivered with edgy advertisements and a variety of social media platforms. A recent ad depicting a same-sex marriage proposal topped YouTube's June leaderboard according to Google executive Kyle Duffy, who made a presentation at Tuesday's board meeting to mark the occasion.
Convention bookings are a key piece of attracting tourists and Hill said he would review how his executives pursue leads on attracting trade shows and examine Las Vegas Convention Center booking policies.
Las Vegas is the nation's leading trade show destination and last year hosted more than 6.6 million conventioneers.
Hill explained that developing destination access not only involves recruiting airlines to fly routes to McCarran International Airport, but lobbying for funds to improve local highways — the ones most important to repeat visitors and impulse buyers.
Hill also plans a trip later this month to visit Brightline, the private rail company with an operating line in Florida that has acquired the assets of XpressWest, the proposal for high-speed rail between Southern California and Las Vegas. Hill also is continuing to monitor mobility within Southern Nevada.
Hill also plans to focus on the organization's corporate governance policies.
LVCVA policies under Ralenkotter's leadership have been the subject of Review-Journal investigations over the past year.
Hill said his review would include the organizational and compensation structure, the revision of all job descriptions and the performance management process and to evaluate and, if necessary, adjust all existing policies. Hill also said the process would include identifying future leaders for the organization.
Contact Richard N. Velotta at rvelotta@reviewjournal.com or 702-477-3893. Follow @RickVelotta on Twitter.
HyperVegas
R&R Partners, the LVCVA's marketing consultant, updated the board of directors Tuesday on its broad 2018 digital media campaign.
R&R has produced a campaign — "Offers worth getting excited about" — directed at close-in visitors from Los Angeles, San Diego and Phoenix and built around special deals offered by local resort properties.
A new TV and social media campaign called "Cure your inner rant" spurs attention with rants about situations that bother people that lead to the cure — getting out of town to Las Vegas.
Other statistics from the HyperVegas campaign:
-100 new social media videos were created.
-Campaigns had 23.5 million story views, 2.2 million newsfeed engagements and 141,000 new followers on Instagram.
-Engagement on Twitter increased by 37 percent.
-The LVCVA's "Now and Then" video on a same-sex marriage proposal had 11 million YouTube views and was atop YouTube's leaderboard in June.
-11 new spots received a 91 percent advertising favorability ranking.
-Earned media, the value of news stories if using traditional advertising rates, was worth $986 million in U.S. publications and $44 million in Canadian publications.