NHRA's success fueled by blend of racial groups, ethnicities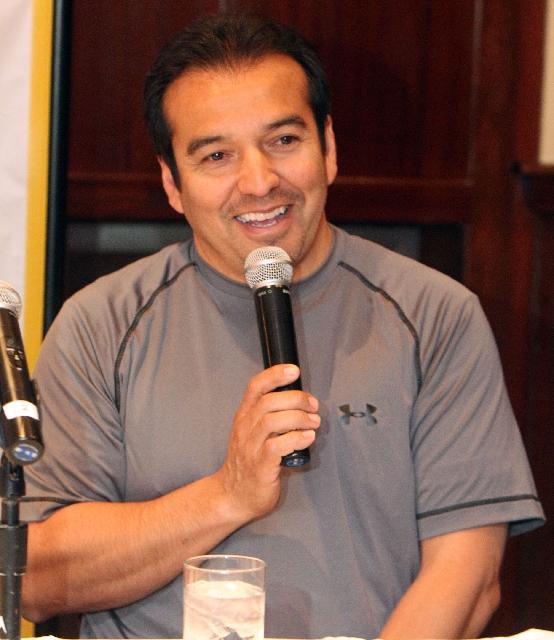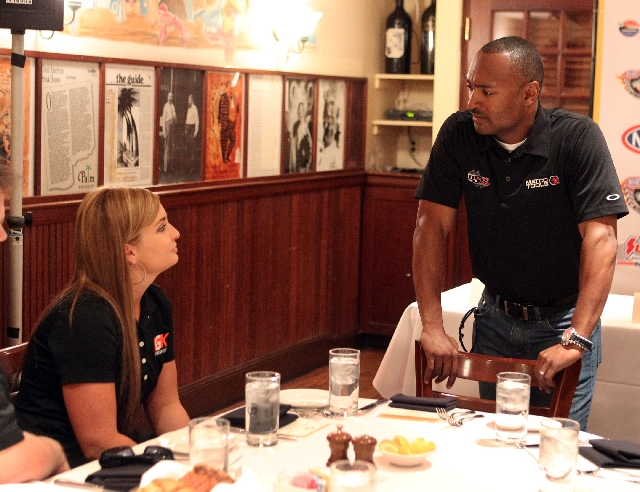 NASCAR, the headliner brand of the motor sports universe, struggles with attracting diverse racers and fans. No surprise there. It's been an issue for years.
But for the major-league drag racers who have descended on Las Vegas for this weekend's National Hot Rod Association Mello Yello Drag Racing Series event, there's no clamor for a "diversity program." The diverse backgrounds of the NHRA competitors serve as an organic feature of the drag racing's premier circuit to be deployed for marketing, ticket sales and media exposure.
A black man, Antron Brown, is NHRA's defending world champion in the top fuel category, which features those narrow racing cars that appeal to casual fans. Brown set a record by traveling a 1,000-foot-long track in 3.7 seconds — or 328 mph.
"NHRA never had a problem with diversity. What makes the sport so rich is its diversity," said Brown, 37, a 16-year drag-racing pro who grew up outside Trenton, N.J., and is known for his friendly personality and fast-talking style.
"It was easier to do drag racing. They took the racing from the streets and put (it) on drag strips. It was very affordable with simple rules," he said. "You can race your mom's station wagon. You can race a moped, or a motorcycle or a Yugo."
There are two Mexican-American brothers from Southern California — Cruz and Tony Pedregon — who are strong performers in the drag racing league's funny car category. Their father, Flamin' Frank Pedregon, was a legendary West Coast drag racer dating back to the mid-1960s. NHRA's 24-race circuit makes pit stops in seven of the eight most populated Hispanic markets in the United States.
Tony Pedregon, 48, said diversity in professional drag racing traces back to the sport's roots in Southern California, which is populated by a blend of racial groups and ethnicities. Pedregon compared that to NASCAR's roots, which he said dates back to rural North Carolina's hills where there was mostly a white population.
"Drag racing evolved in Southern California, where you have one of the most diverse demographics in the country," Pedregon said.
During Thursday's luncheon for this weekend's 14th annual Summitracing.com NHRA Nationals event, Pedregon was a late addition to the racer panel. He elicited laughter when he told the luncheon group, "They needed a Mexican at the press conference."
NHRA also has no fewer than nine women on the circuit — five in cars and four on motorcycles. The NHRA's reigning rookie of the year, Courtney Force, is a top competitor in the funny car category, finishing fifth in that group. Another woman, Erica Enders-Stevens, in 2012 became the first female to win an NHRA pro stock race. She started in the sport as an 8-year-old.
Enders-Stevens said the sport's egalitarian culture of allowing amateurs to race with the seasoned pros offers venues and platforms for both male and female drivers to compete.
"The diversity is based on the available opportunity" to compete, she said.
Drag racers said two factors — affordability to compete and access to tracks — drive their sport's diversity.
The most expensive racing teams on the NHRA spend $3 million to $5 million a year — a fraction of the costs for a NASCAR team, said Jerry Archambeault, vice president of public relations and communications for Glendora, Calif.-based NHRA, which was born in 1951.
"NHRA provides an affordable 'cost of entry' unlike any other form of motor sports," Archambeault said.
He noted the league has three "feeder" series that many racers — of all ethnicities and genders — compete in: NHRA Summit Racing Junior Drag Racing League for kids 8 to 17; the NHRA Summit Racing Series; and the NHRA Lucas Oil Drag Racing Series.
Enders-Stevens started in the Junior Drag Racing program, as did J.R .Todd, a black motorcycle racer, Archambeault said.
"It's a very participatory type of sport. It's not uncommon, depending where the local track is, that people will take their street car to the track and race it," Archambeault said. "It's a very inclusive sport. If you're a good racer, you can race."
Cruz Pedregon, 49, said entry-level racers can compete on a shoestring budget.
"You can get a souped-up car, buy some accessories and go to a Wednesday night race. Just change the exhaust system or take your dad's Corvette," he said. "It's minimal costs. It's probably less than 50 bucks to get into those entry races."
NHRA's current crop of diverse racers are a generation removed from minority and female drivers breaking the barrier.
Brown recalled his father and uncle on the drag racing circuit in the early 1970s. While growing up in New Jersey, he recalled visiting five different racetracks within a 90-minute drive.
Brown said NASCAR recruited him around 2000, when former National Football League star Reggie White contacted him. White, who had worked with former Washington Redskins coach and racing team owner Joe Gibbs on trying to draw more minority drivers to NASCAR, died in 2004. And Brown said he never heard back from NASCAR.
The women's barrier was broken more than a quarter-century ago when Shirley Muldowney was a household name in the sport in the 1970s and '80s. Current female drivers such as Enders-Stevens said they looked up to female racing pioneers such as Muldowney and Shelley Anderson-Payne.
"I remember when I was little and seeking those autographs," Enders-Stevens said.
Racer John Force, who competes in the funny car category, has two daughters competing on the circuit — Courtney and Brittany Force. Another daughter, Ashley Force Hood, raced for nine seasons but is having children now, so she's doing drag racing video production.
And Hispanic racers date back 50 years ago when Flamin' Frank Pedregon was a drag racing legend in Southern California. Frank was 41 when he died in a plane crash in 1981. He has a third son, also named Frank, who raced, too.
"We tout our diversity to potential sponsors looking to reach a diverse audience," Archambeault said. "We tailor our advertising around events based on the population makeup in a given market.
"For example," he added, "when we are in cities with a large Hispanic base, we will advertise with Hispanic media, conduct publicity campaigns with Hispanic media utilizing our drivers."
NHRA also draws more diverse fans than NASCAR. Its races are held in major metropolitan areas across the country from south of New York City in the East to Atlanta; Charlotte, N.C.; Houston; and Dallas in the South to St. Louis; Chicago; and Kansas City, Mo.; in the Midwest to Denver, Phoenix, Los Angeles and Seattle in the West.
So, NHRA is tapping into the diverse demographics of urban regions across the country. The racing organization tries to grow its sport through its diversity while giving unprecedented access to fans so that they can get face time with all drivers during race events.
"Our pits are also open," Archambeault said. "Racers interact with fans all day."
Brown noted, "What makes drag racing so diverse is that it's more accessible. It's close to the cities. Drag racing is all across the country."
Contact reporter Alan Snel at asnel@reviewjournal.com or 702-387-5273.