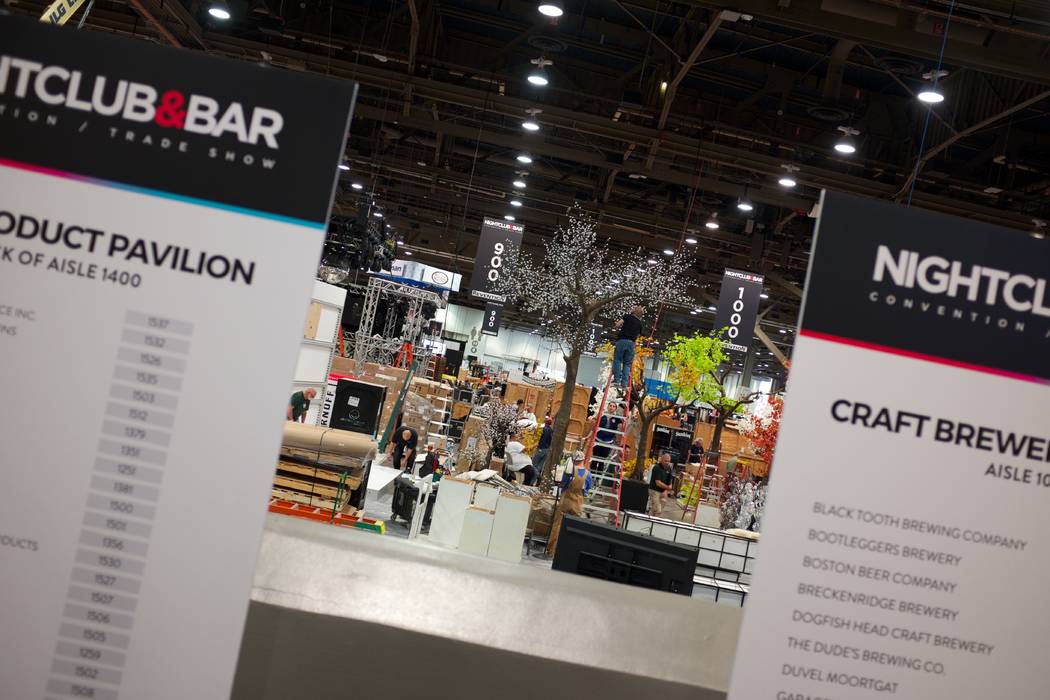 Bar owners better know their parsley from chervil as well as they know barley from wheat.
Creative menus are becoming an ever more important factor in getting people out of their homes and into establishments for a night out and thus are a major theme at this year's Nightclub & Bar Convention and Trade Show.
"Food is crossing over in a big way in the bar industry," said Thom Greco, chairman of the advisory board for the show. "If you want people to come out, you have to entertain them, and food is part of the show. The real growth is going with food as the face of the business."
For the first time in its 32-year history, the show will feature the F&B Innovation Center, an area dedicated to food and food service equipment.
The Nightclub & Bar Show, which kicked off Sunday with a pool party at Wet Republic at the MGM Grand, brings 36,000 people from around the U.S. and nearly 50 countries to the Las Vegas Convention Center for three days of lectures, workshops, hospitality tours, taste-testing, networking and partying.
The event generates about $36 million in direct visitor spending for the city, according to Las Vegas Convention and Visitors Authority. It concludes Wednesday with a party at Surrender with a performance by RL Grime.
HUNDREDS OF EXHIBITORS
More than 600 exhibitors will present their products ranging from beer to glasswear, food, lighting and social media applications. TriviaMatic will come to show off its trivia app for bars.
The expo floor will feature four pavilions this year, including one dedicated to craft beer. Lagunitas and The Dudes' Brewing Co. will be among the 12 craft exhibitors.
"Handcraft beer is taking our industry by storm," said Greco, who has been attending the show since the 1980s. "Owners have to understand how to integrate craft beer into their menus."
Nearly 60 percent of attendees represent single-unit businesses such as local pubs. And nearly 60 percent are owners or chief executive officers, according to last year's data.
The 2017 conference program will feature over 70 educational sessions on a wide range of issues such as LGBTQ nightlife trends, monetizing cannabis, how to catch fake IDs and how to use Snapchat to promote business.
The show will also feature six in-depth workshops, "back-of-house tours" of Wynn Resorts and Caesars Palace, whiskey and wine tasting as well as mixology training.
The Nightclub and Bar Show's roots go back to the University of Mississippi. Ed Meek, a publisher and assistant vice chancellor for public relations at the university, bought Nightclub and Bar magazine from a fellow alumni.
To drum up interest in the magazine, he hosted a trade show in 1983 in Atlantic City. Meek sold the show to Questex about eight years ago. The show was first held in casino ballrooms in Las Vegas for about 5,000 people and switched to the Las Vegas Convention Center as it grew, Greco said.
While the industry is experiencing a period of solid growth, it will have to navigate changes created by legislation and demographics.
The bar, tavern and nightclub industry boosted revenue about 10 percent last year to $19.9 billion. That has helped lift the number of bartenders to nearly 700,000. The crackdown on immigration may impact industry employment and drive up wages, Greco said.
With millennials set to generate a larger share of the bar and nightclub revenue pie, Greco expects to sees esports and fantasy sports playing a bigger role in the industry. They may even be represented at next year's show.
"Esports is huge and we want to be able to embrace it in our nightclubs and venues," Greco said.
Contact Todd Prince at tprince@reviewjournal.com or 702-383-0386. Follow @toddprincetv on Twitter.