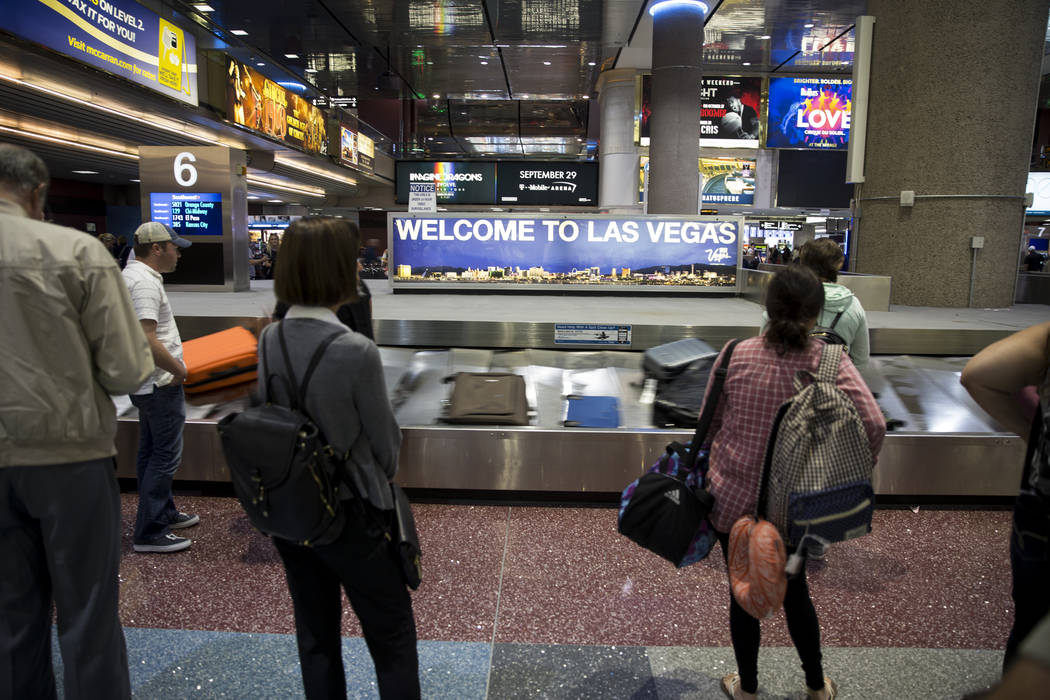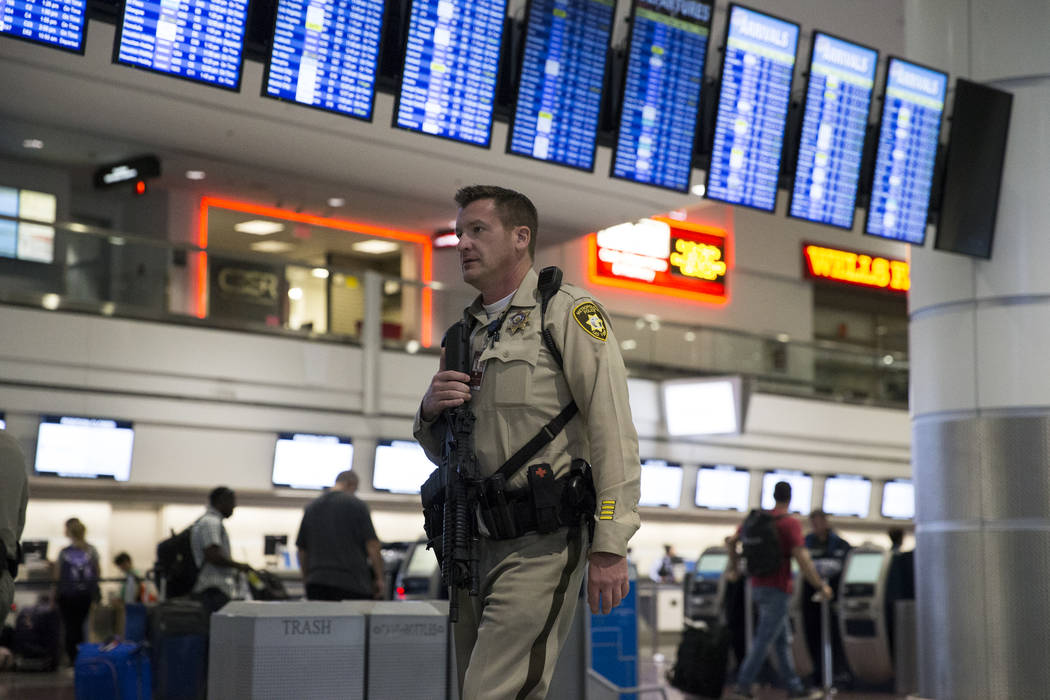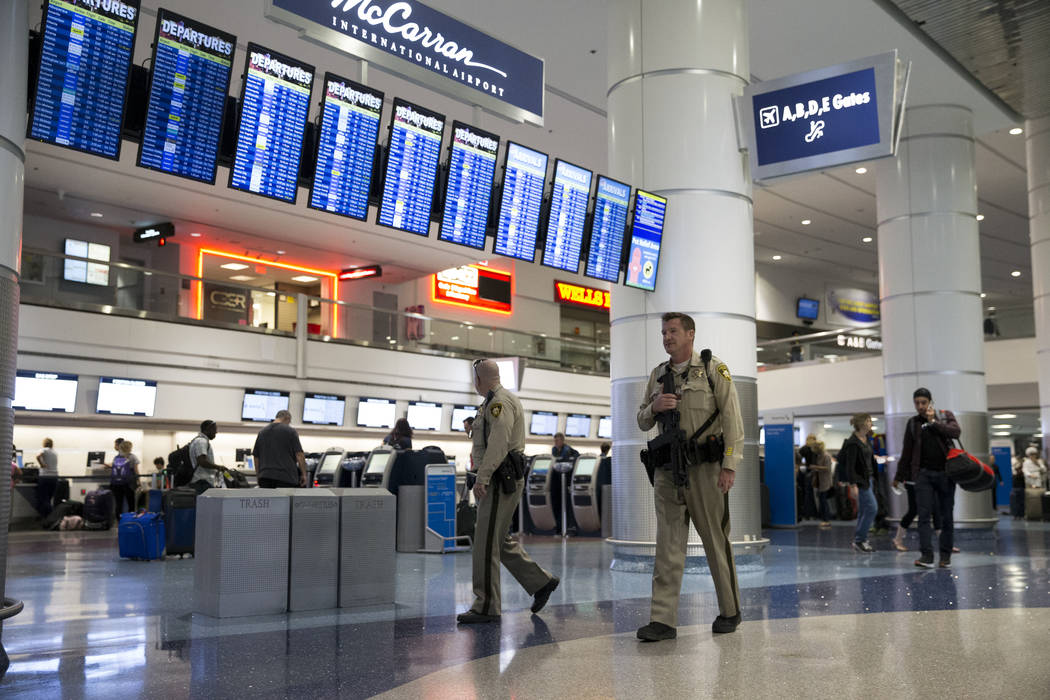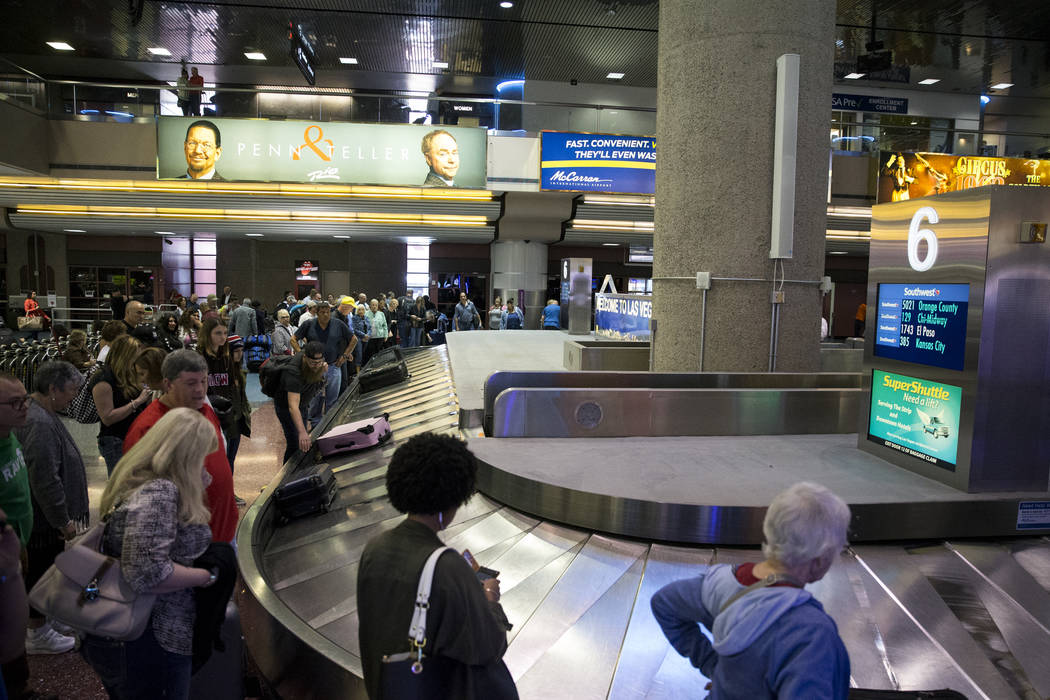 Laughter and excited conversation usually echo across the cavernous baggage claim area at McCarran International Airport, filled with travelers looking forward to their Las Vegas vacation.
But the baggage claim was unusually quiet Monday as somber airline passengers waited to grab their luggage from the revolving carousels. The mass shooting at Mandalay Bay cast a pall at the nation's eighth-busiest airport, but tourists were still determined to get on with their trips.
"I suppose these instances happen in this country quite a lot," Shane Roberts, of New Zealand, said after an American Airlines flight to Las Vegas. "It won't really change what we're doing because we're here for a wedding, so I think we're safe now."
Annemette Praestegaard, of Copenhagen, Denmark, said she called her travel insurance company early Monday before catching a flight from Orange County, California, to Las Vegas. After some reassurance, she decided it was best to continue her multi-city tour of the United States.
"With all the terror we have in Europe at the moment, we believe you have to continue living your life, or the people who do things like this are the ones who win," Praestegaard said.
P.J. Sturdy, of Huntsville, Alabama, said she had no qualms Monday morning and was more focused about promoting her bridal business at the Wedding Pro Convention, being held this week at the Las Vegas Convention Center.
"We were kind of worried this morning, but I feel like we're in a safe place now," Sturdy said. "It's a sad tragedy, but that's just the way of our world right now. We do happy things in our business, and we're trying to focus on that."
Airline traffic was briefly suspended after the mass shooting but resumed early Monday, airport spokeswoman Christine Crews said.
More than 20 flights Sunday were diverted from Las Vegas to airports in Phoenix; Los Angeles; Ontario, California; Salt Lake City and Denver, according to flightradar24.com.
Contact Art Marroquin at amarroquin@reviewjournal.com or 702-383-0336. Follow @AMarroquin_LV on Twitter.
Free flights, change fees
Allegiant Air is providing free flights to family members of people who were fatally shot or wounded during the mass shooting at Mandalay Bay, an airline spokeswoman said Monday.
Passengers who want assistance should send an email to communications@allegiantair.com.
Additionally both Allegiant and American Airlines will not charge extra fees to Las Vegas travelers wanting to change their flight plans this week.