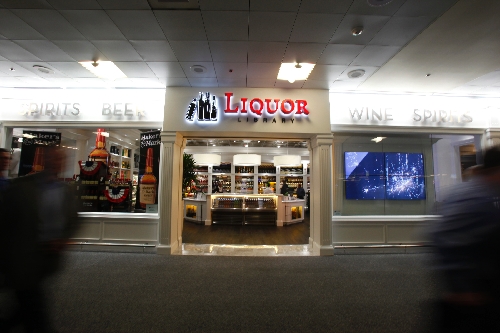 As he dealt with the always-growing list of details that comes with opening a new store, Christian Haase let slip the one confession that no one wants to hear in an airport.
"We're totally flying blind here," said Haase, co-owner of the Liquor Library, which quietly opened its doors in McCarran International Airport on Monday evening. "With no package liquor store in a bag claim area in a U.S. airport, we really have no measuring sticks to go by. It's definitely a leap of faith."
In fact, many airports don't bother putting any concessions in baggage claim since most travelers just want to grab their suitcases and head for the exit.
But being the party town Las Vegas is, Haase thinks this is one place where an airport liquor store, at the south end of Terminal 1's baggage claim, can hold its own.
"We can't offer prices like Costco," Haase said. "We think the convenience of it will make it successful."
Bill Lester, upon arriving from Fort Myers, Fla., for a few days of golfing and gambling, started his holiday by picking up a bottle of Johnny Walker Black. "It's nice because now I don't have to tell the cabbie to stop some place," he said.
"I like it," added Bill Lanning of Boise, Idaho, who left Liquor Library with a bottle of Sauvignon blanc and Dewar's. "There aren't that many places you can buy this on the Strip."
Driver suggests marketing strategy
But the Liquor Library will face the challenge of getting passengers to notice it as they descend the escalators from Concourses C and D that flank it. Passengers coming on Concourses A and B will have to go out of their way to find the store with its white classical-style columns and large display windows.
"I think it might have been a better location if it had been in the middle of baggage claim," driver Kevin Bell of Lucky Limo said.
He also suggested it would help if their marketing was "driver friendly."
To illustrate the point, LVT driver Alejandro Questa pulled from his coat pocket a card from another group of local liquor stores with 10 blank squares on the back. Each time a driver brings in a paying client, the store stamps one of the boxes; when all 10 are filled, the driver gets a $50 rebate.
"I think (Liquor Library) is very nice, I would like to bring my customers here," he said. "But I hope (Liquor Library) will take care of us, too."
Marketing director Diane Boyle said plans for this are under way, as well as signs in different parts of the baggage claim area and promotional tie-ins with major events and on-going attractions such as resort pool parties.
Further, she hopes drivers will come to realize the value of stopping at Liquor Library first rather than waiting outside a shop on the Strip. Her research showed that places considered unlikely elsewhere, such as CVS or Walgreens, generate strong liquor sales at their the Strip locations.
Liquor Library, named for a librarylike design that includes a ladder running along a rail to reach the upper shelves, carries about 350 brands of wine, beer and spirits and about 800 different products. McCarran management estimates it will collect $300,000 to $400,000 in annual rent based on charging 15 percent of sales estimated to run at least $2 million.
Lee's chain won original right to build
McCarran officials conceived the idea about three years ago as a unique way to raise more revenues and hold down the fees and rents charged to the all-important airlines. For decades, liquor has been sold at airports in duty-free shops inside security but not in the areas open to anyone.
Lee's Discount Liquor initially won the right to build the store in early 2010, but ran into financing problems. That led to the selection of the partnership of Haase and Richard Worthington early this year.
Both have backgrounds in commercial real estate, Haase as a principal at Burnett Haase Construction and Worthington as the president and chief operating officer of the Molasky Group of Cos., and have known each other for years. Haase also has a liquor license as the owner of a pair of 24/7 Xpress convenience stores.
That led Worthington to propose that they should team up.
"I have collected wine since I was old enough to drink," he said. "I have always dreamed of owning my own wine and spirits store."
Between the two companies, they also did the construction work inhouse, with the total bill running about $700,000, Haase said.
Most of the bottles and cans run under $30, but the Macallan 25-year Scotch is priced at $1,000 and displayed on one of the shelves that can only be reached by ladder. Under its lease with McCarran, Liquor Library has to hold its prices to those charged at stores on the Strip.
"People think airport means they are going to get killed on the price," said general manager Mel Hutchinson. "We're a little high but fair for the convenience."
Contact reporter Tim O'Reiley at
toreiley@reviewjournal.com or 702-387-5290.