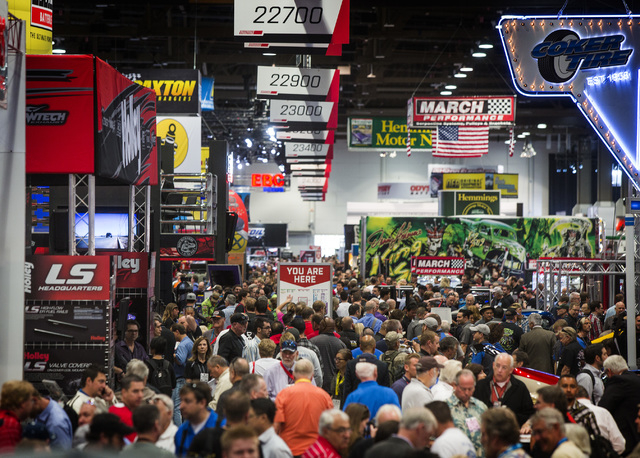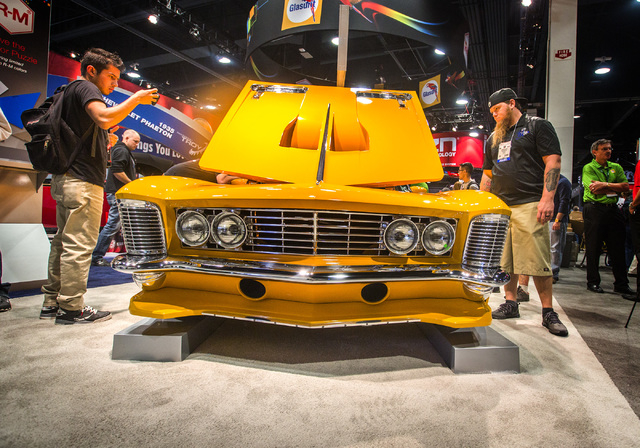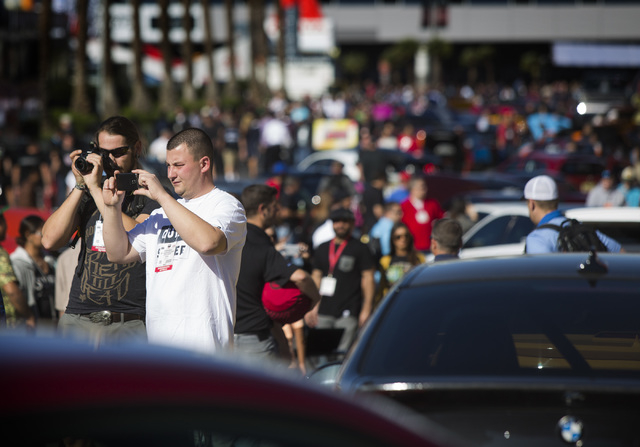 Two companies exhibiting at this year's Specialty Equipment Market Association trade show figure there's still some mileage left on tires well after they've been removed from their cars.
Singapore-based Omni United, which manufactures tires retailed at Sears department stores, and Timberland, a popular outdoor clothing retailer that also manufactures shoes and boots, announced an unusual collaboration built around recycling and sustainability at the beginning of the four-day SEMA show that opened Tuesday at the Las Vegas Convention Center.
SEMA is a part of Automotive Aftermarket Week, which incorporates the Automotive Aftermarket Products Expo that also runs through Friday at the Sands Expo Center.
An estimated 140,000 attendees — the second-largest convention and trade show in Southern Nevada behind the Consumer Electronics Show — are in the city for the event that has been a staple on the city's convention calendar since 1977.
The Las Vegas Convention and Visitors Authority estimates the show is producing $184 million in nongaming economic impact for Southern Nevada.
More than 2,500 exhibitors, 60,000 buyers and 3,000 representatives of the news media are perusing 1 million square feet of attractions on the trade-show floor and 1.5 million square feet outside the convention center and in common-use areas throughout the facility.
There are nearly 2,000 new products on display.
While 13 major automakers and a number of aftermarket manufacturers are exhibiting at the show, SEMA is primarily geared to small businesses owned and operated by car enthusiasts who know and love their vehicles.
The show is open only to professionals involved in the $33.4 billion automotive aftermarket industry and not to the general public. However, for the first time this year, SEMA Ignited, a free public event featuring a display of customized vehicles and new products is scheduled Friday from 4-10 p.m. at the Linq.
Because SEMA is all about cars, an estimated 1,500 vehicles are on display at the show, from old classics to muscle cars to racers that broke land speed records at Utah's Bonneville Salt Flats.
Because much of the Convention Center's open space is dedicated car displays and one parking lot has been converted to a demonstration track, parking around the facility is at a premium and traffic around the center was heavy at the opening and closing of the show Tuesday.
Lines were long at Las Vegas Monorail stations prior to the show's opening as attendees found creative ways to commute to the Convention Center.
About a quarter of the people attending this week's show have come from 130 foreign countries looking to expand in the United States or collaborate with American companies — which is how Omni and Timberland got together.
G.S. Sareen, founder and CEO of Omni, and Stewart Whitney, president of Timberland, have explored sustainability and recycling strategies for years leading up to the joint announcement of Omni introducing a Timberland-branded tire in April.
Once tires reach the end of their road life, they'll be moved to a network of tire recycling plants operated by Pittsburgh-based Liberty Tire Recycling.
Liberty shreds tires into crumb rubber pieces that are further ground into a finer rubber substance that is treated and repurposed into rubber sheets that are used to manufacture soles for Timberland shoes and work boots.
"Tire materials have always been used for what we call low-value recycling products, repaving roads and for playground surfaces,"Sareen said. "When we got together with Timberland, we were looking to develop higher level products."
Phoenix Industries in North Las Vegas recycles tires for road and playground surface products.
Omni has grown in the United States by 45 percent over the past 10 years. Timberland, which had $1.6 billion revenue in 2013 and is based in Stratham, N.H., has 1,000 stores in Europe and 500 in Asia.
Whitney said the two companies would continue to explore ways to expand the use of recycled materials in the fashion industry beyond shoe products.
Contact reporter Richard N. Velotta at rvelotta@reviewjournal.com or 702-477-3893. Follow @RickVelotta on Twitter.