Resort leaders concur: F1 was best Las Vegas event in history
Updated November 20, 2023 - 7:25 am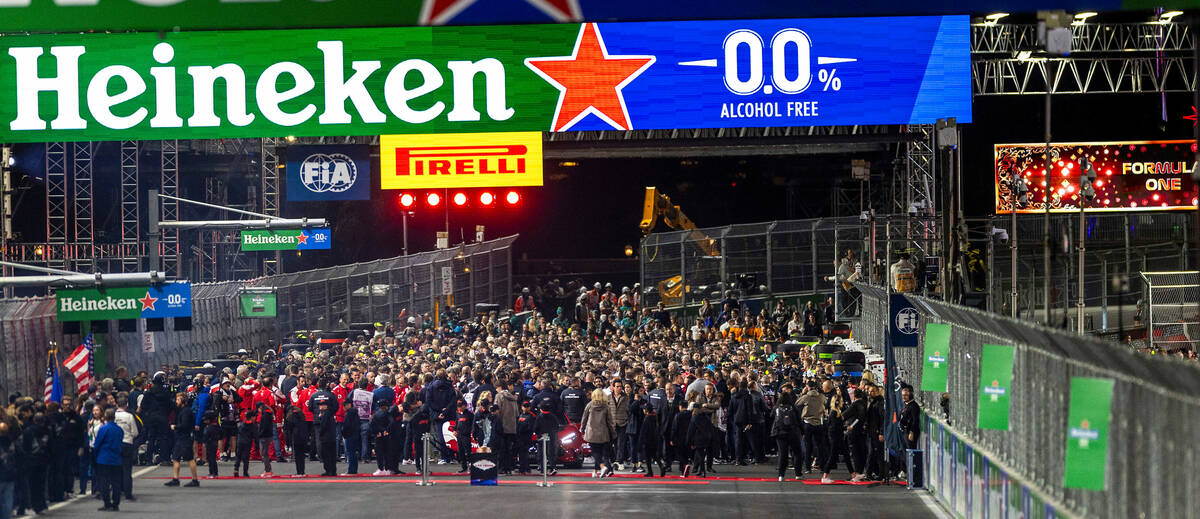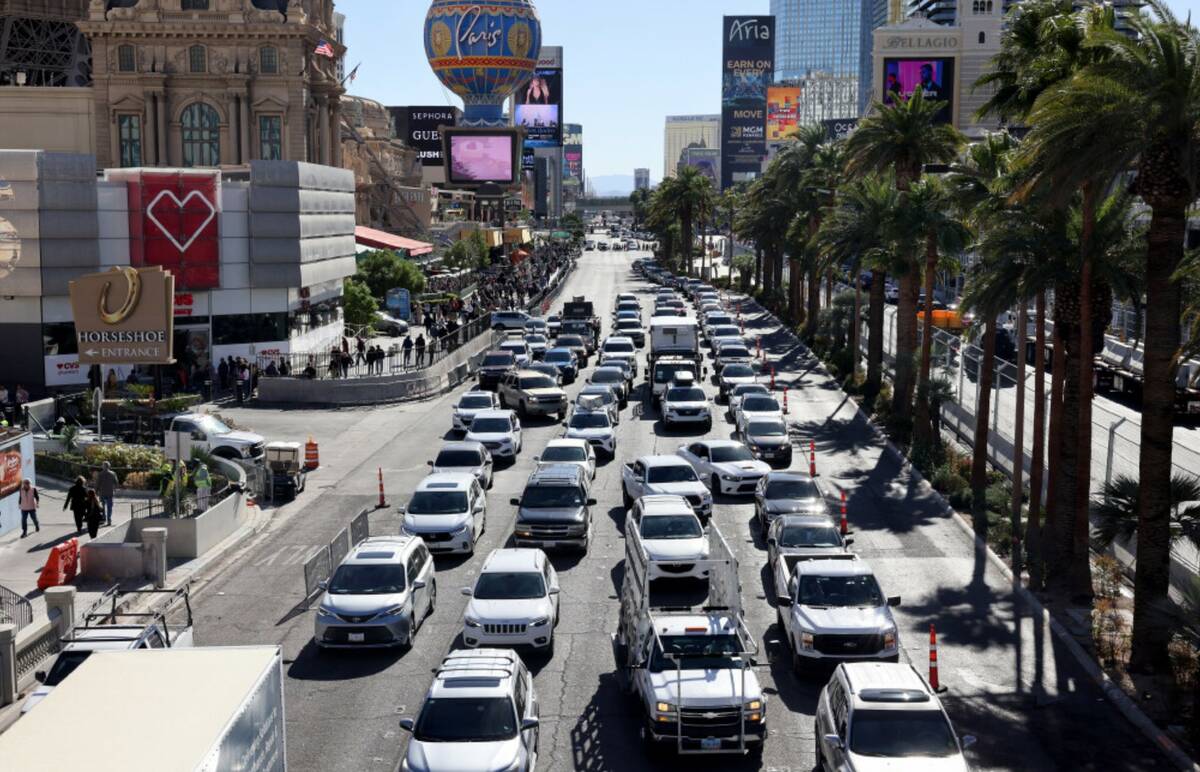 As the Strip got back to its usual bumper-to-bumper traffic Sunday, hours after cars were racing on it at 200 mph, resort executives affirmed what they had predicted all along — that Southern Nevada appears to have had the best week financially in its history, thanks to the Formula One Las Vegas Grand Prix.
Executives among the estimated 315,000 people who attended the Saturday night spectacle said the event went better than they had hoped, that hotels and casinos were filled on a week that traditionally is one of the worst on the calendar and that they can't wait to do it all again next year.
"The upside of this I thought was clear from the beginning, and that's what we experienced over the last number of days," Las Vegas Convention and Visitors Authority President and CEO Steve Hill said Sunday. "It's going to be a record weekend for Las Vegas from an economic standpoint. It's going to generate a lot of tax revenue and properties around the circuit did exceptionally well."
Officials won't be able to quantify exactly how big the economic bonanza will be for several weeks. The LVCVA's November report revealing visitor volume, hotel occupancy rates and the average daily room rate paid by F1 visitors won't be revealed until late December. That's also when the Nevada Gaming Control Board publishes November's casino gaming win for the month with tax revenue reports trailing that by a few more weeks.
Individual companies are expected to have more precise numbers when they report their fourth-quarter earnings in late January and early February.
Visitation
But anecdotally, visitation was off the charts Wednesday through Sunday, when visitors began their exodus.
Representatives of the city's largest resorts said because of the visitor profile of the average F1 guest, the city's luxury resorts — MGM Resorts International's Bellagio, Cosmopolitan of Las Vegas and Aria properties; Caesars Entertainment Inc.'s Caesars Palace and Paris-Las Vegas; and both Wynn Resorts Ltd.'s properties — did the best.
"We were completely full," said Sean McBurney, regional president for Caesars Entertainment.
"Our properties in particular were within the heart of the circuit, and there are a lot of logistical complications as a result of that," McBurney said. "How do team members get in, how do vendors get in, how do guests get around? But it was unbelievably smooth. And I spent four days at the race and talking to a lot of customers. I don't know if I've been to an event where the feedback was so unanimously positive. For an event this complicated in year one, it was incredible. Absolutely incredible."
Andrew Lanzino, MGM Resorts' vice president of citywide events strategy, said the company had record performance at Aria, Cosmopolitan, MGM Grand and Park MGM.
"I think, regardless of where the properties were located, whether it was near the track or not, performed as if it was New Year's Eve," said Lanzino, who spent much of his time at the Bellagio Fountain Club.
Bill Hornbuckle, president and CEO of MGM, told CNBC that the club, a specially built grandstand and luxury boxes were the centerpiece of what the company offered high-end customers.
"We built this thing for the uber experience," he said. "Tickets for the seats were $10,000 a piece. So we've been able to package that with guest rooms. The average rate this weekend at Bellagio was $2,200. And so that's not for everyone, candidly. But it does give us a chance between here, Aria, Cosmopolitan, kind of the epicenter of our Las Vegas hub, to bring a very unique international crowd to see an event that they enjoy all over the world and now they can see it in Las Vegas."
'No small feat'
Wynn Resorts indicated in its third-quarter earnings call with investors that it was able to maintain occupancy and room rates when other companies said they had to reduce rates as the race date grew closer.
"The Las Vegas Grand Prix has achieved much in its inaugural year," Wynn CEO Craig Billings said in an emailed statement. "Standing up an event of this scale is no small feat. Wynn Las Vegas was proud to partner with F1, a number of teams, manufacturers and drivers on numerous events during the week, and the reception from our patrons was exceptional. The Las Vegas Grand Prix achieved a level of spectacle that can only happen in Las Vegas."
Hill said establishing the ability to be more inclusive of Las Vegas residents in future races is a goal they'll strive for next year.
"The one thing I think everybody involved would like to see is a better opportunity for locals to be involved," Hill said. "We were going to have the Fan Fest around the circuit this year, and we backed off of that because we just didn't want to overload our public safety officials.
"We just weren't sure if adding another 20,000 people, most of whom would have been local and driven, was going to hold up. But we'll take a look at what those logistics would have looked like now with the information that everybody involved has."
International exposure
Another positive that came out of the race was that people who had never seen Las Vegas got a chance to see it up close with Saturday night's broadcast of the race.
"I think the best thing overall probably was the kind of exposure that this event brought to Las Vegas on an international level," said Virginia Valentine, president and CEO of the Nevada Resort Association. "People all over the world are seeing the skyline that we see every day and maybe take for granted. But when you see it lit up at night like that, it's pretty impressive."
Gaming industry analysts also found numerous positives with F1 and said they anticipate the event to get even better over time.
"We proved that Vegas is a town that can host anything and everything and why it's become the sports of entertainment capital of the world," said Brendan Bussmann, a gaming industry analyst with Las Vegas-based B Global.
"Very few towns can do what we do not just on a daily basis but be able to host major events like F1, like the Super Bowl, like a CES, all those different things that are different events."
Josh Swissman, founding partner of the Las Vegas-based Strategy Organization, said he thinks F1 will have better results than the Super Bowl, scheduled at Allegiant Stadium in February.
"I think this was unlike the other sort of big sporting events," Swissman said. "This one took a lot of effort and you know even if you think that the initial estimates of the economic impact were a bit high this is still something that is ultimately going to be bigger from a financial impact standpoint than the Super Bowl will be."
He said F1 could be even bigger as Americans learn more about the sport.
Matthew Chilton, founding partner of Las Vegas-based GMA Consulting, said the results of the racing week were even better than anticipated because the race itself was competitive, exciting and created considerable buzz among fans.
Because of the combination of a good race, a new and exciting venue and resort employees who created a perfect atmosphere, fans will take note of Las Vegas and make an effort to come in future years.
Formula One officials already have begun taking deposits for tickets for the 2024 event, which is scheduled Nov. 21-23.
Contact Richard N. Velotta at rvelotta@reviewjournal.com or 702-477-3893. Follow @RickVelotta on X.