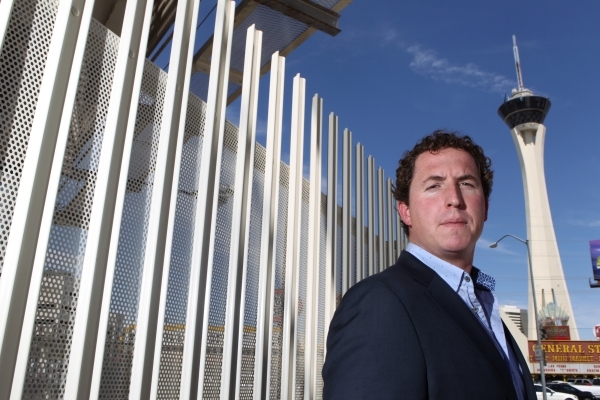 The electronics industry can come together to showcase its products at the Consumer Electronics Show and draw 170,000 visitors to Las Vegas every January. So maybe the endurance and fitness industries can do the same in Sin City in the autumn as the weather turns pleasant.
Josh Furlow, president of the Rock 'n' Roll Marathon Series, was thinking just that while visiting Las Vegas this week to prepare logistics for Las Vegas' biggest outdoor fitness event — the Rock 'n' Roll Las Vegas Marathon, which is set for Nov. 12-15. Last year, the event drew 61,416 visitors, including 34,745 runners, and generated direct spending of $84.5 million for the Las Vegas economy. This year, 51,000 runners are expected for the 5K, 10K, half-marathon and marathon races, with the number of visitors expected to top 100,000.
Furlow said Southern Nevada's growing profile as an outdoor recreational and fitness tourism draw could motivate bicycle, crossfit, running, triathlon, hiking and rock-climbing industry promoters to work on a "two-week blitz" in Las Vegas to tap a demographic of 30 million active lifestyle residents in the U.S.
"What will drive revenue will be volume" of visitors, Furlow said. "We can cross-pollinate our databases. … You can assemble an endurance lifestyle play."
Las Vegas has an impressive lineup of major fitness and endurance events in the next few months that can be drivers in assembling a fitness tourism multi-day or multi-week super-show.
For example, an international cyclocross bicycle race called "CrossVegas" is being staged at Desert Breeze Park on Sept. 16. Some 10,000 fans are expected to watch the race, including many bicycle industry visitors in Las Vegas at the time for the Interbike national bicycle trade show at Mandalay Bay Convention Center Sept. 16-18. About 25,000 Interbike visitors are expected to spend about $31.5 million in the Las Vegas economy, according to Interbike.
Cyclocross bike races involve courses featuring unpaved surfaces, steep hills and obstacles that bicyclists have to sometimes dismount and carry their bikes over before resuming riding. The world's best cyclocross athletes will compete in the first World Cup cyclocross race in the U.S.
Furlow has contacts in the bicycle industry from working for the Tour of California bicycle race, which is owned by Los Angeles-based Anschutz Entertainment Group. AEG is also partnering with MGM Resorts International on the $375 million arena that is scheduled to open on the Strip in April.
On Oct. 4, the Ironman 70.3 Silverman triathlon comes to the Lake Mead National Recreation Area and Henderson. It follows the same swim, bike and run course as the Ironman 70.3 World Championship route held annually 2011-13. More than 1,300 registered athletes will do the 1.2-mile swim, 56-mile bike route and 13.1-mile run. They come from 27 countries and 40 states.
Markets typically like triathlons because this endurance event draws affluent participants who have money to travel, stay in hotels, eat at local restaurants and buy high-end equipment.
Henderson has been active in trying to market the city as a destination for triathlons, with neighboring Lake Mead National Recreation Area providing a scenic setting and challenging course for the event's three legs.
In 2010, the Silverman triathlon had an economic impact of $5.2 million in the city of Henderson on items such as hotel rooms and restaurant dining, the city said. In 2011-2013, when the event was a world championship triathlon, it had an estimated annual economic impact of $15 million.
While the Strip receives most of the pop culture attention, Las Vegas can be an attractive lure for outdoor and fitness tourists because scenery at places such Red Rock Canyon National Conservation Area, Mount Charleston and Valley of Fire State Park is inspiring. Even the River Mountains Loop Trail, a 35-mile paved, hilly trail that goes through the cities of Boulder City and Henderson and the Lake Mead national site, has been written up in the New York Times travel section.
"You have elevation, water on the outskirts and flat courses" in the city, Furlow said.
Outdoor tourists can hike, run or bike outside Las Vegas by day, and visit the Strip to enjoy top-flight restaurants and entertainment options.
"The Las Vegas area and Southern Nevada are perfectly poised to be an outdoor destination for fitness tourism. We have great topography to run, climb, bike, hike and kayak," said Mauricia Baca, executive director of the Outside Las Vegas Foundation, a nonprofit organization that promotes people connecting with the region's outdoor resources.
The Nevada Department of Tourism also recognizes the state's outdoor resources as tourist bait, which is why its website is packed with landscape photos that try to appeal to adventure travellers, said Bethany Drysdale, a Tourism Department spokeswoman.
The problem is that neither Baca nor Drysdale could identify any economic spending data connected with the fitness tourism industry.
For now, the Rock 'n' Roll Marathon is Las Vegas' money-making outdoor giant. Las Vegas Events helps promote the event, and the runners stay at hotels owned by most hotel companies in Las Vegas, Furlow said. About 90 percent of the Rock 'n' Roll runners come from outside Nevada, he said.
Even the Strip is recognizing the value of the great outdoors. MGM Resorts International has built two festival sites in the Strip for multi-day music, sports and food events, while Caesars Entertainment has its Linq district.
Reporter Alan Snel could be reached at asnel@reviewjournal.com. Find him on Twitter: @BicycleManSnel