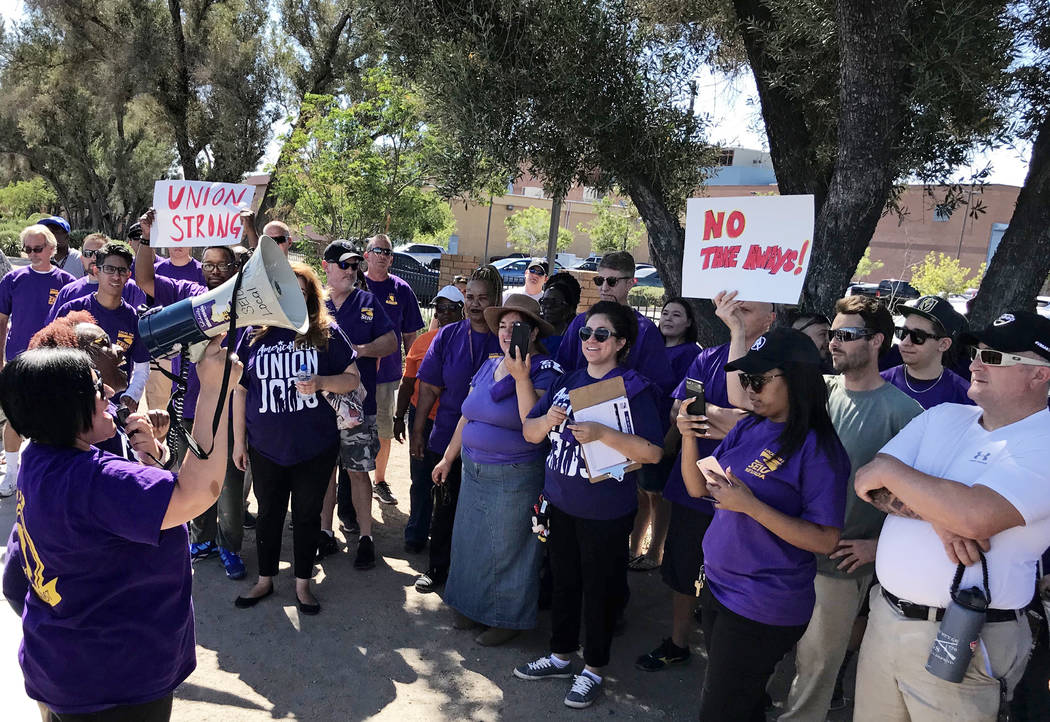 The Service Employees International Union has reached a tentative five-year contract agreement with the Las Vegas Convention and Visitors Authority, a union representative said Thursday.
Brian Shepherd, deputy trustee for SEIU Nevada Local 1107, said the union's bargaining team would recommend approval of the agreement that will come to a vote of about 300 union workers by mid-July.
Shepherd did not explain terms of the tentative agreement and said they would be detailed to voting members in the next two weeks.
If approved, the contract would likely be retroactive to July 1, the day after the current contract ends.
The authority, which markets Southern Nevada and operates the city's largest convention center, also was happy with the outcome.
"The LVCVA and our union partners, the SEIU, finalized a five-year labor contract," a representative of the LVCVA said in an emailed statement. "We are delighted to continue our work together to help make Las Vegas happen."
It wasn't as smooth earlier.
Union Local 1107 staged a one-hour informational picket in front of the offices of the Las Vegas Review-Journal on June 19.
At that time, workers said they were seeking higher wages in the form of 2 percent to 3 percent pay increases in the first three years of the five-year deal with negotiable increases in the fourth and fifth years. They also pushed back on contract "takeaways" of requiring employees to pay a portion of their own health-care benefits.
LVCVA custodial and service employee pay ranges from $13 an hour to start to a maximum of $21 an hour after 10 years. Security officers start at around $18 an hour, hitting the maximum $30 an hour after 10 years.
SEIU employees have made frequent appearances before the LVCVA board of directors encouraging a new agreement.
Representatives of the union and LVCVA management have met for about seven months to draft a collective bargaining agreement.
Union members, as public employees, are forbidden from striking and can't picket at traditional tourism centers such as the Las Vegas Strip and the Las Vegas Convention Center.
They chose to picket the Review-Journal office because they appreciate the scrutiny LVCVA executives have received in a series of investigative stories about the agency's history of routinely violating its own expense policies with lavish spending on high-end entertainment, gifts for employees and first-class trips overseas for board members.
Contact Richard N. Velotta at rvelotta@reviewjournal.com or 702-477-3893. Follow @RickVelotta on Twitter.