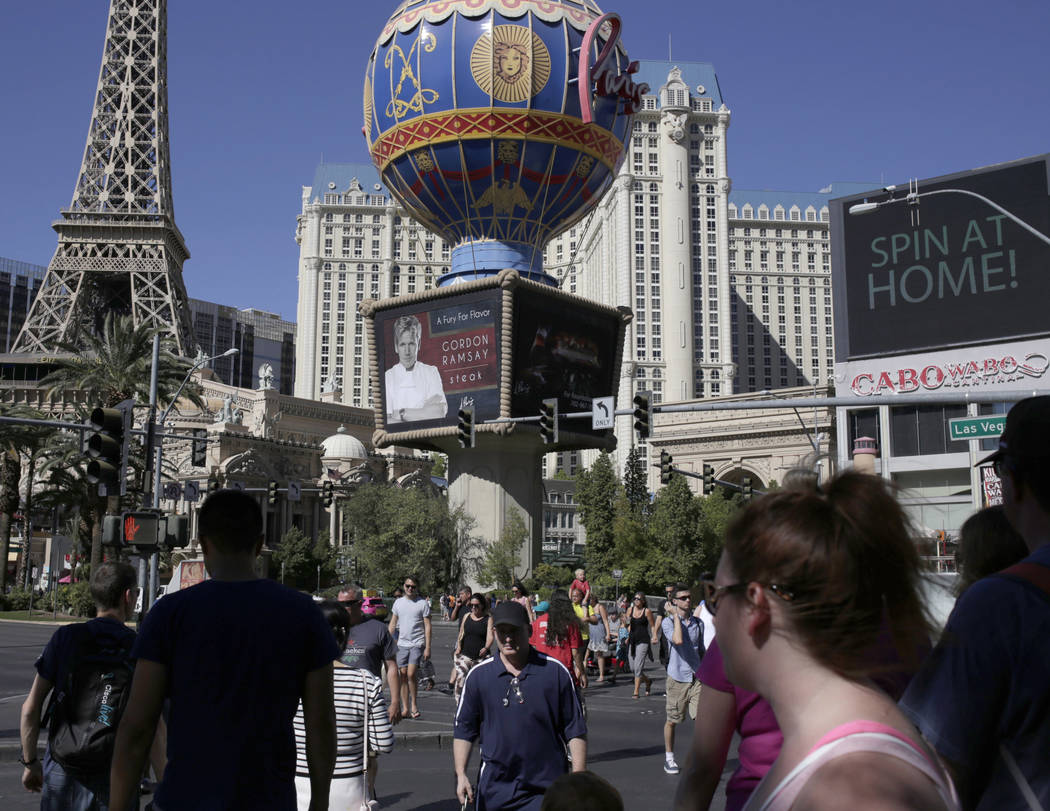 Fireworks, triple-digit temperatures and thousands of tourists will bring some extra sizzle to Las Vegas for Independence Day.
Roughly 323,000 people are expected to visit Las Vegas from Friday to Wednesday, making it the ninth-most popular destination during the extended holiday weekend, according to AAA and the Las Vegas Convention and Visitors Authority.
About 200,000 of those visitors will drive to Las Vegas — a significant jump from the 104,000 vehicles that typically travel on Southern Nevada's streets and highways on an average day, said Tony Illia, a spokesman for the Nevada Transportation Department.
"We anticipate heavy traffic along Interstate 15, U.S. Highway 95 and the resort corridor during the Independence Day holiday," Illia said. "Motorists should budget additional travel time and remain alert to impaired drivers."
An estimated 765,000 airline passengers will depart or arrive from McCarran International Airport during the holiday weekend, with Friday expected to be the busiest day, airport spokeswoman Christine Crews said.
Out-of-town travelers are expected to spend about $217.7 million on food, hotels and gambling during the Fourth of July weekend, a relatively flat 0.1 percent increase from the same time last year, the Las Vegas Convention and Visitors Authority said.
Of the 149,351 total available hotel rooms in the region, 95.3 percent will be occupied for the weekend, the authority said.
Law enforcement agencies across the region will increase patrols for drunken drivers over the next two weeks, Nevada Highway Patrol trooper Jason Buratczuk said, adding that motorists should designate a sober driver or call a taxi or ride-hailing company.
"Don't make the poor, selfish decision to get behind the wheel if you're impaired," Buratczuk said. "It could have deadly consequences."
Buses across the region will operate on a Saturday schedule on the Fourth of July, said Catherine Lu, a spokeswoman for the Regional Transportation Commission of Southern Nevada. Lu recommended that locals and tourists, rather than driving, should catch a bus to fireworks shows and parades this weekend.
Nationally, AAA forecasts a record 44.2 million people will journey 50 miles or more away from home this weekend — a 3 percent jump from last year and potentially the most traveled holiday weekend ever, said Mike Blasky, a spokesman for AAA Nevada.
About 37.5 million of those travelers will drive to their destinations this year as gasoline prices, nationally, are a few cents cheaper than last year and "remain historically low for the summer travel season," Blasky said. But the opposite is true in the Las Vegas Valley, where the average price for a gallon of gasoline was $2.60 on Wednesday, up 10 cents from a year ago.
Another 3.4 million travelers will catch a plane as airfares, car rentals and hotels are lower than this time last year, AAA officials said, adding that the average round-trip airline ticket will cost $186 this weekend. Another 3.3 million people will take a cruise, or catch a train or bus to their destinations.
"The current economic landscape including strong employment, rising incomes and consumer confidence is helping to boost the number of planned getaways over the second three-day weekend of the summer," Blasky said.
Contact Art Marroquin at amarroquin@reviewjournal.com or 702-383-0336. Follow @AMarroquin_LV on Twitter.
Bus routes to Independence Day events
Plaza Hotel and Casino, fireworks show at 9 p.m. Saturday: Strip and Downtown Express and Routes 106, 207, 208 and 214
Caesar's Palace, fireworks show at 9 p.m. Sunday: Deuce, Strip and Downtown Express and Route 202
Summerlin Council Patriotic Parade at 9 a.m. Tuesday: Route 210
Boulder City Damboree Celebration, 9 a.m. Tuesday: Henderson and Downtown Express
Henderson's 4th of July celebration at Heritage Park, 6 to 9 p.m. Tuesday: Route 217
Green Valley Ranch hotel and casino, fireworks show at 9 p.m. Tuesday: Routes 111 and 122
Red Rock hotel and casino, fireworks show at 9 p.m. Tuesday: Sahara Express and Route 206
*Buses will run on a Saturday schedule on the 4th of July.
Source: Regional Transportation Commission of Southern Nevada