Southwest Airlines more than triples fourth-quarter earnings
January 25, 2018 - 9:21 am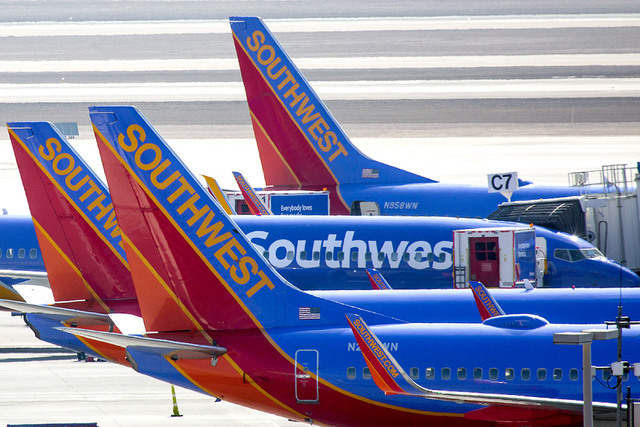 Dallas-based Southwest Airlines, the busiest commercial air carrier serving McCarran International Airport, more than tripled fourth-quarter earnings, thanks to reformed federal tax laws, the company reported Thursday.
The airline, which announced last year that it would begin flights to the Hawaiian islands in 2018, surpassed analysts' expectations for the quarter that ended Dec. 31.
The quarterly performance pushed Southwest to record net income and earnings per share of $3.5 billion and $5.79 a share, respectively, for 2017.
With the special fourth-quarter tax provision, Southwest reported earnings of $1.89 billion, $3.18 per share, on revenue of $5.27 billion, compared with earnings of $522 million, 84 cents per share, on revenue of $5.08 billion in the same quarter in 2016.
The average of 13 Wall Street analysts had projected revenue of $5.25 billion and 18 had estimated earnings per share of 77 cents, the amount that would have been reported without the special tax provision.
Company performance was up dramatically despite lower traffic from the aftermath of hurricanes Harvey and Irma.
In a release reporting earnings, Southwest Chairman and CEO Gary Kelly noted that Southwest in 2017 retired the last of its Boeing 737-300 jets and launched the more fuel efficient 737 Max 7 and Max 8 jets, variants of the airline's 737-700 and 737-800 series planes.
Southwest, which has been flying to Las Vegas since 1982, is the company's third-busiest station with 219 daily departures to 57 airports. In 2017, Southwest flew 18 million passengers to and from McCarran — 37.1 percent of the passengers who used the airport.
Southwest has not announced when it would begin selling tickets for Hawaii flights, when the service would begin and destination cities on the islands and the mainland.
The airline has has stated that Hawaii flights would originate in California, but has not indicated whether nonstop flights to and from Las Vegas would be considered.
Hawaii is one of Southern Nevada's strongest distant markets, particularly for Boyd Gaming and downtown Las Vegas, with the city sometimes referred to as "Hawaii's eighth island." The University of Hawaii football team plays in the Mountain West Conference, the same as UNLV.
Southwest noted on an earnings conference call later Thursday that it will add a West Coast destination, Everett, Washington's Paine Field, supplementing operations at Seattle's Sea-Tac International Airport with five daily flights.
In 2017, the company also added service to Cincinnati, Grand Cayman and Turks and Caicos.
Chief Financial Officer Tammy Romo said on the call that the tax reform package enabled Southwest to offer $1,000 bonuses to every employee. Romo also said Southwest generated $100 million in fourth-quarter revenue from the airline's "Early Bird Check-In" seat selection program in which passengers pay $15 to check in 36 hours before most passengers to get a higher place in line when using Southwest's open seat policy.
Southwest stock on Thursday closed down $2.02 a share, 3.25 percent, to $60.19 a share on volume of more than twice the average. In afterhours trading, shares rebounded slightly, up 6 cents, 0.1 percent, to $60.25.
Contact Richard N. Velotta at rvelotta@reviewjournal.com or 702-477-3893. Follow @RickVelotta on Twitter.
Southwest Airlines
Fourth-quarter revenue and earnings for Dallas-based Southwest Airlines Co. (New York Stock Exchange: LUV).
4Q 2017 compared to 4Q 2016
Revenue $5.27 billion, $5.08 billion, +3.9%
Earnings $1.89 billion, $522 million, +261.7%
Earnings per share $3.18, 84 cents, +278.6%