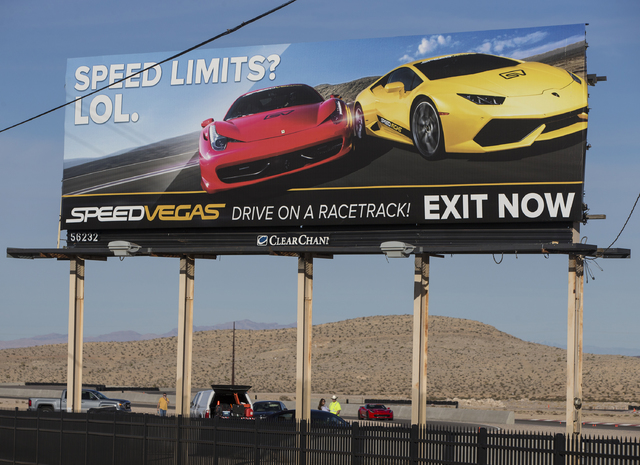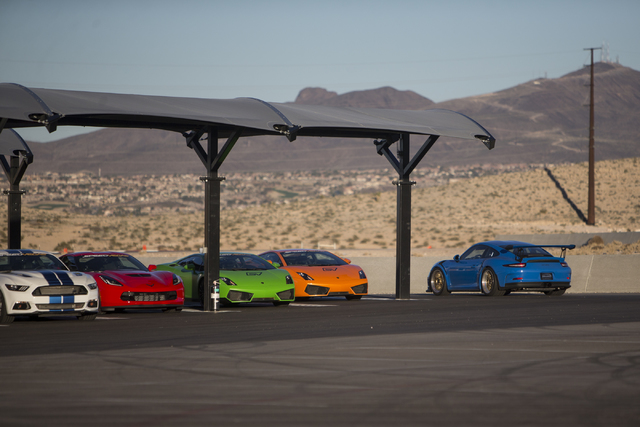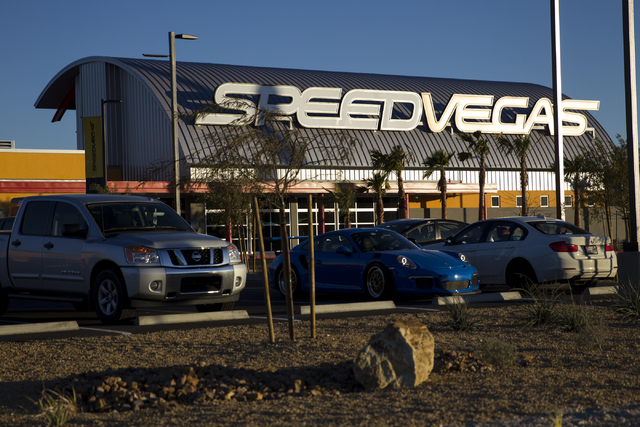 Attorneys for the SpeedVegas track south of Las Vegas have filed a response to a lawsuit, maintaining that the track is safe for customers and that the driving instructor who filed the lawsuit hasn't exhausted his administrative remedies.
Las Vegas attorneys David Chesnoff, Richard Schonfeld and Robert Schumacher filed the response late Tuesday in Clark County District Court. The response concludes that SpeedVegas is a safe workplace environment and that the plaintiff, driving instructor Francisco Durban, has not been terminated and shouldn't be allowed to seek a restraining order to close the track.
One of Durban's attorneys, Dominic Gentile, said Tuesday he had not seen the response and couldn't comment on it.
A hearing on a restraining order to close the track is scheduled Thursday before District Court Judge Joe Hardy.
The SpeedVegas response also says Durban has not exhausted his administrative remedies — he filed a complaint with the Nevada Office of Safety and Health Administration that has not been resolved.
The 30-page response that has 23 exhibits also notes that Durban's attorneys also represent Gil Ben-Kely, a SpeedVegas driving instructor who was killed in an accident Feb. 12. The response says that representation is a conflict of interest and while SpeedVegas is not seeking to disqualify the attorneys, it wants the court to address the issue.
The response cited three experts, track designer Robert Barnard, Aaron Weiss, owner of AMW Motorsports Consulting, and Ben Wilshire, managing director of Driven International, in affidavits supporting the safety of the track.
The document said SpeedVegas has had 30,000 guests who have driven about 100,000 laps on the track with no injuries prior to the crash that killed Ben-Kely and Canadian tourist Craig Sherwood. The response says the track, facilities and safety protocols "exceed industry standards."
The response also introduced evidence suggesting that a medical episode led to the fatal crash.
The response also criticized expert testimony provided on behalf of Durban.
"It also should be noted that SpeedVegas' competitor, Exotics Racing, provided an affidavit in support of the motion for temporary restraining order, but failed to inform the court of the multiple accidents at their facility …" and the history of litigation between the two companies.
The response says the case is not appropriate for injunctive relief, but if an injunction is granted, SpeedVegas' attorneys have asked the court to require the plaintiff to post a bond to cover the economic harm that would occur if the facility is closed.
Contact Richard N. Velotta at rvelotta@reviewjournal.com or 702-477-3893. Follow @RickVelotta on Twitter.
SpeedVegas Lawsuit by Las Vegas Review-Journal on Scribd