Sphere fans dodge traffic, find parking for best light show views — PHOTOS
Updated September 23, 2023 - 6:31 pm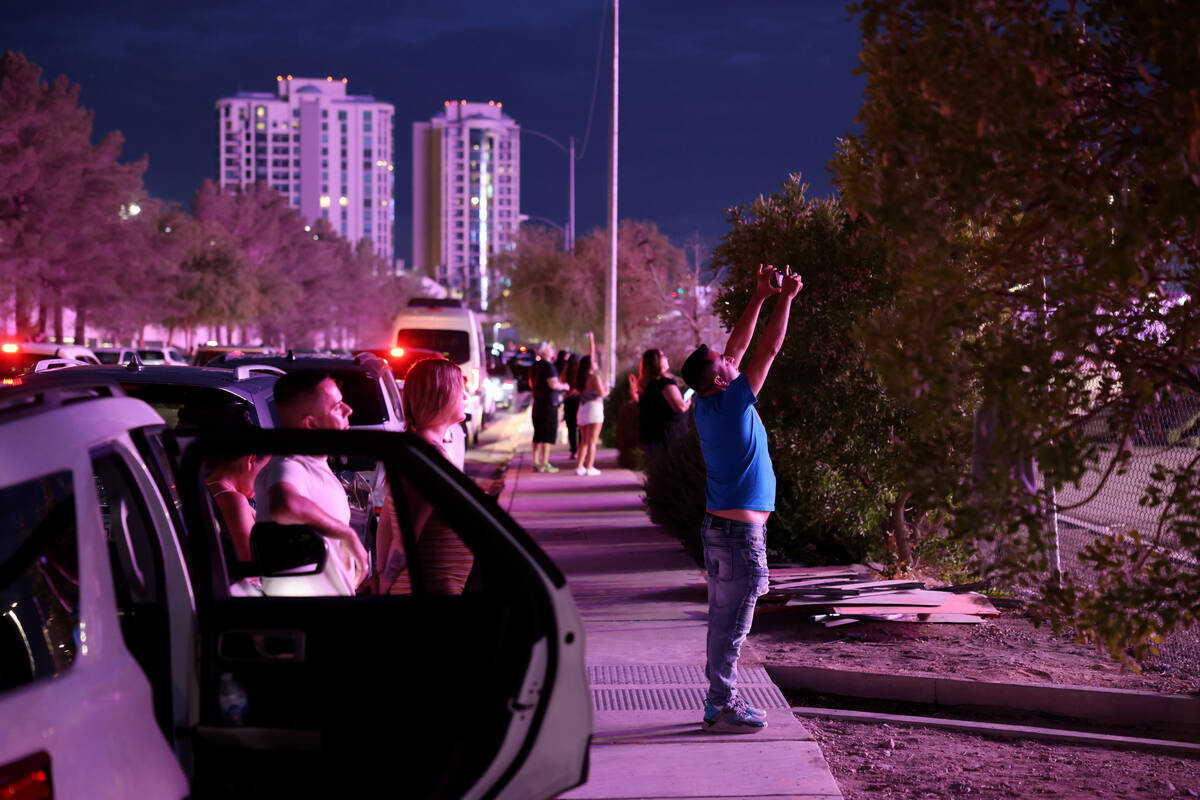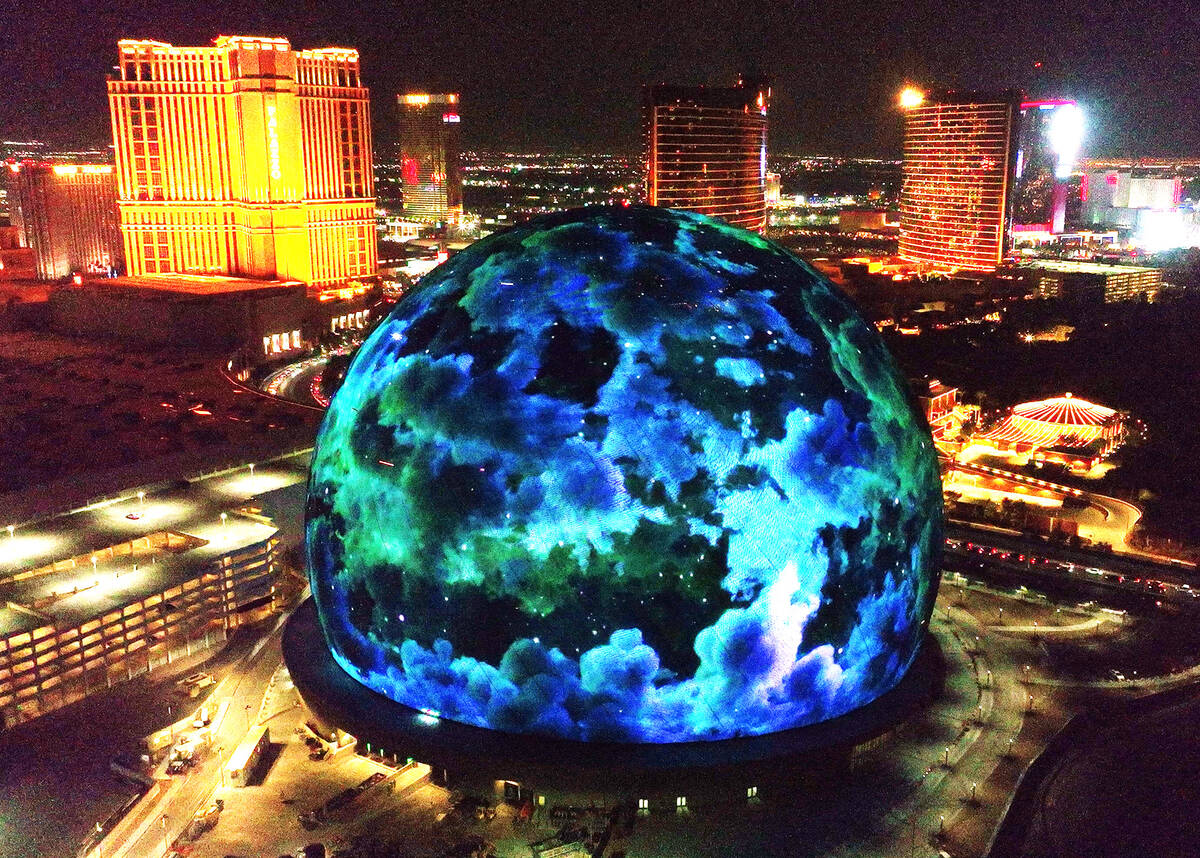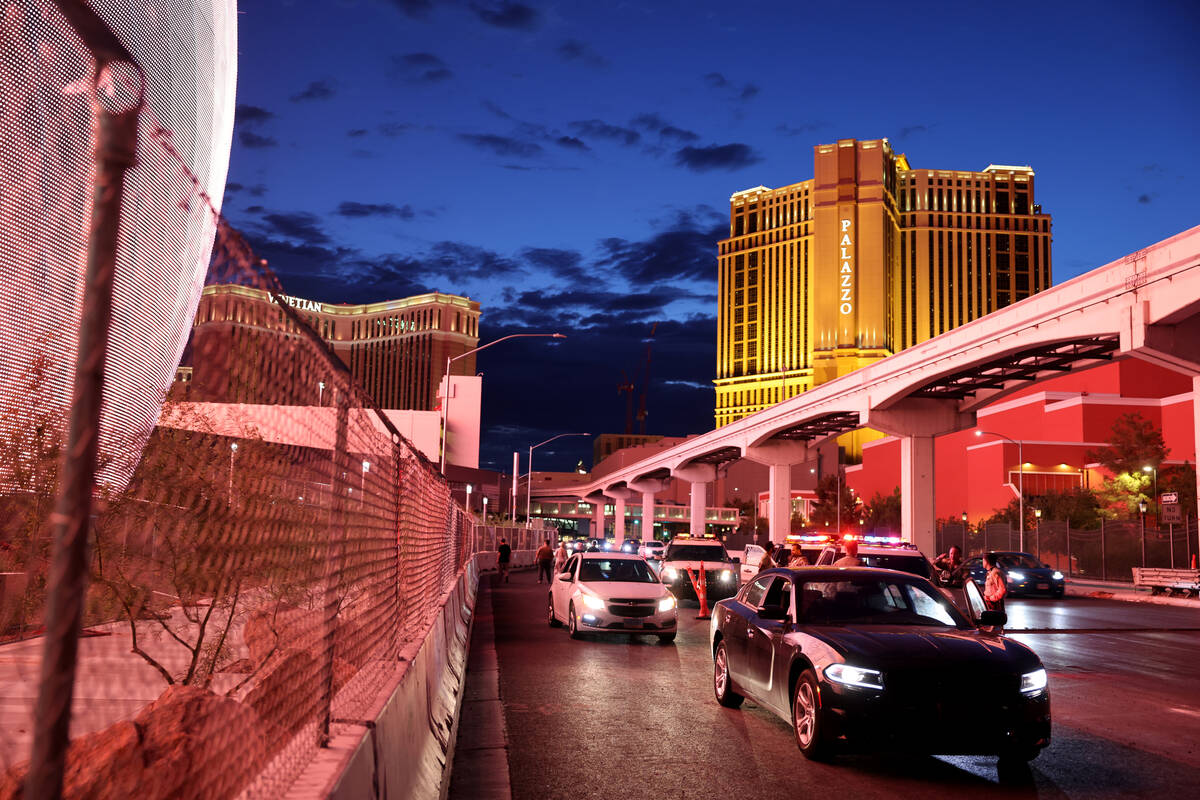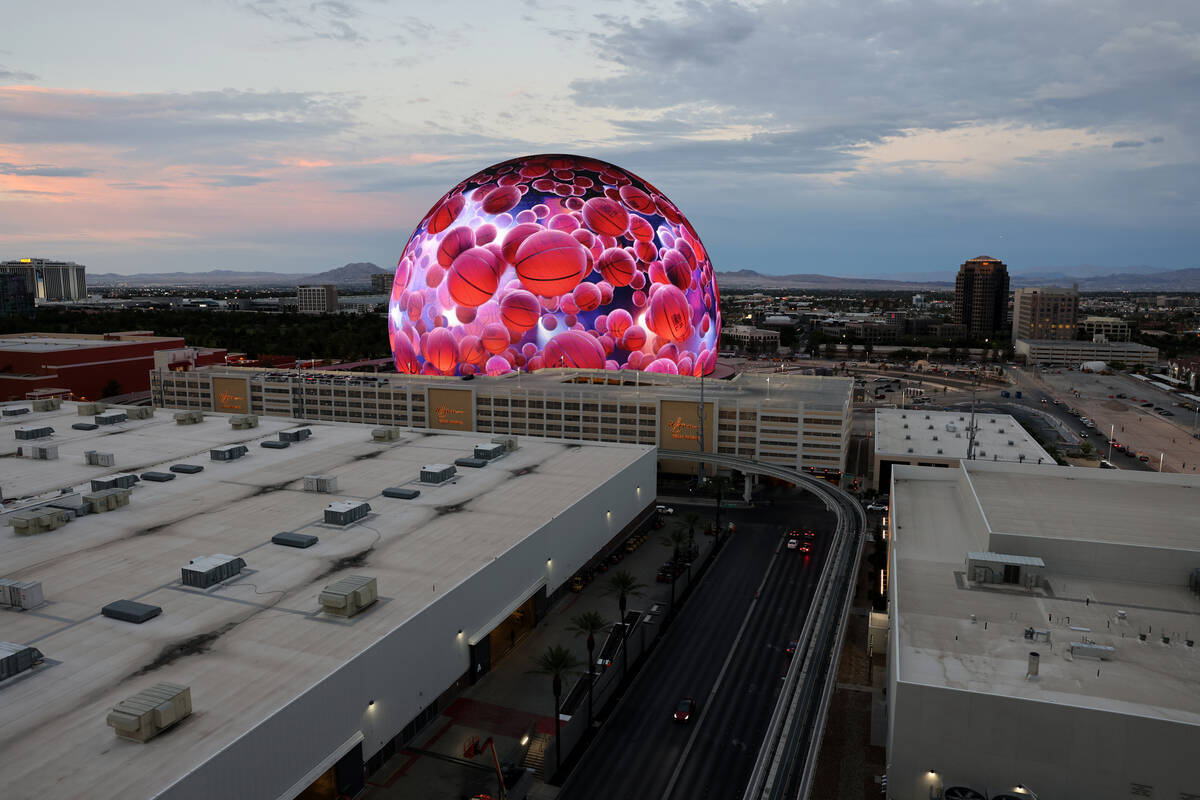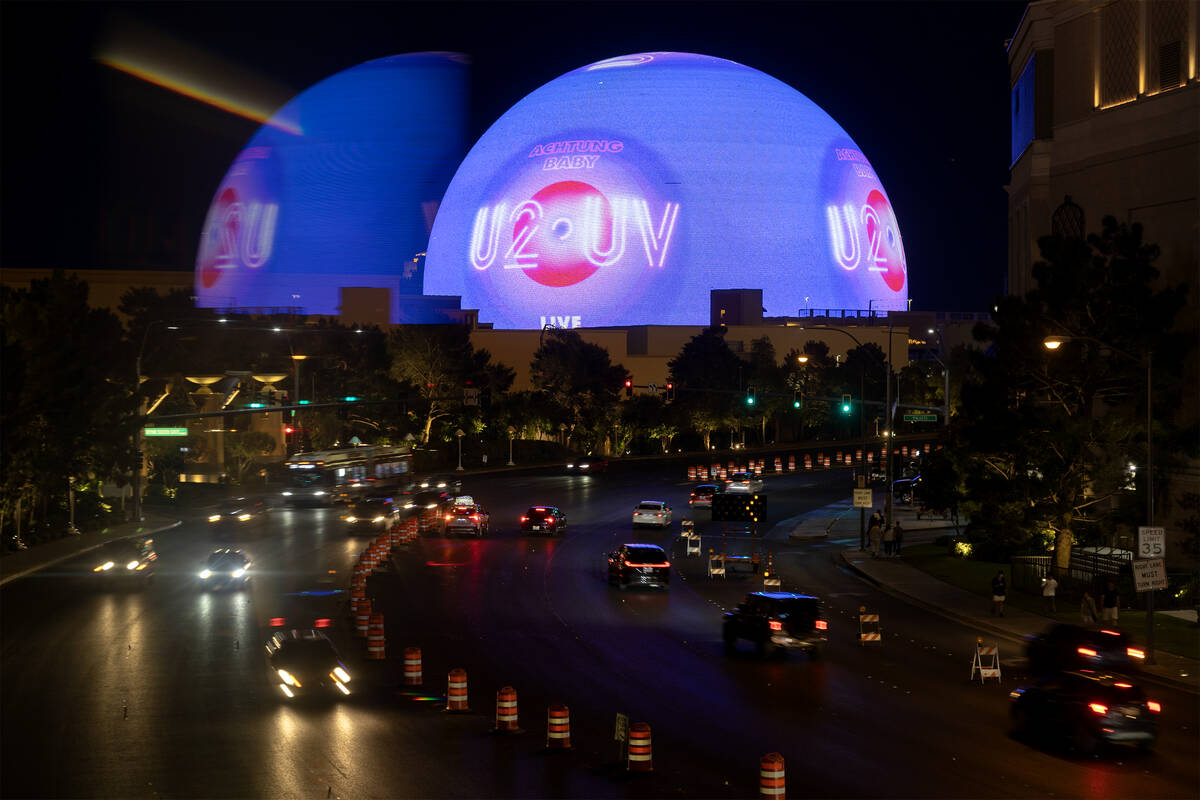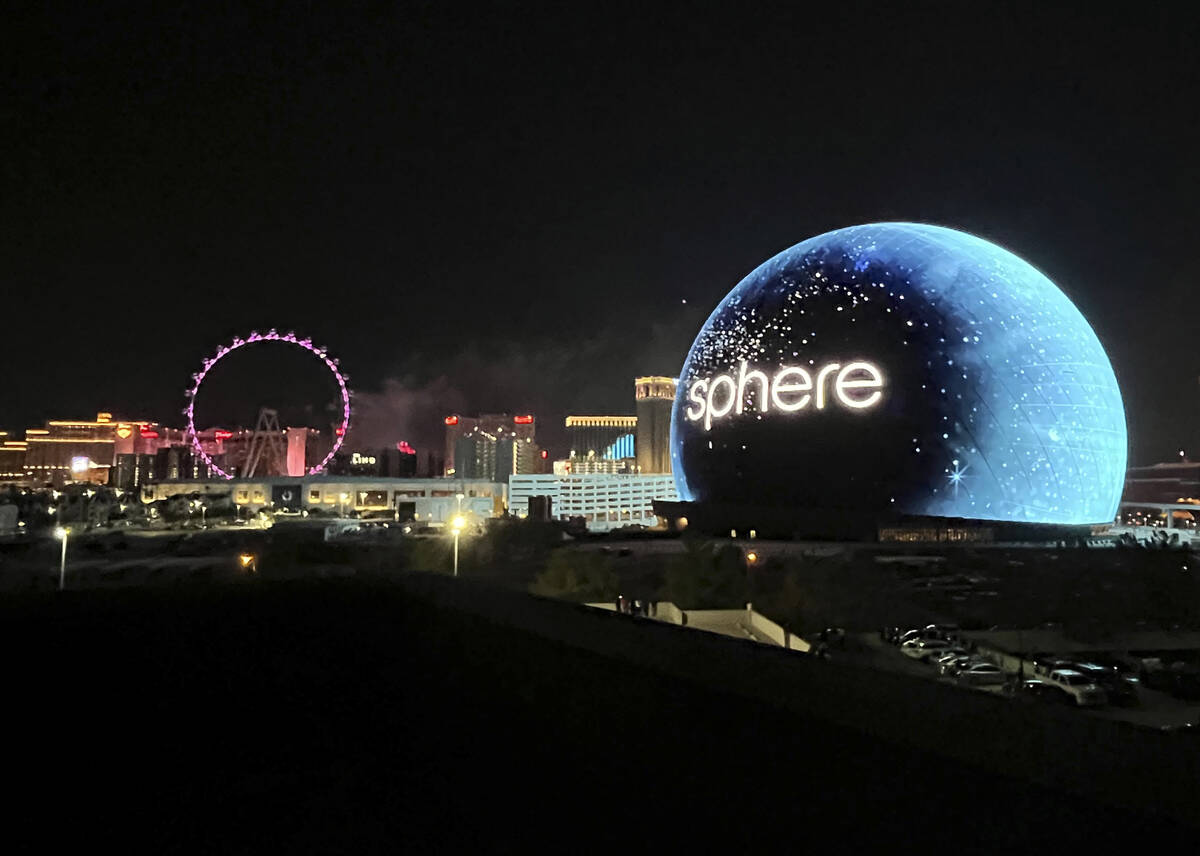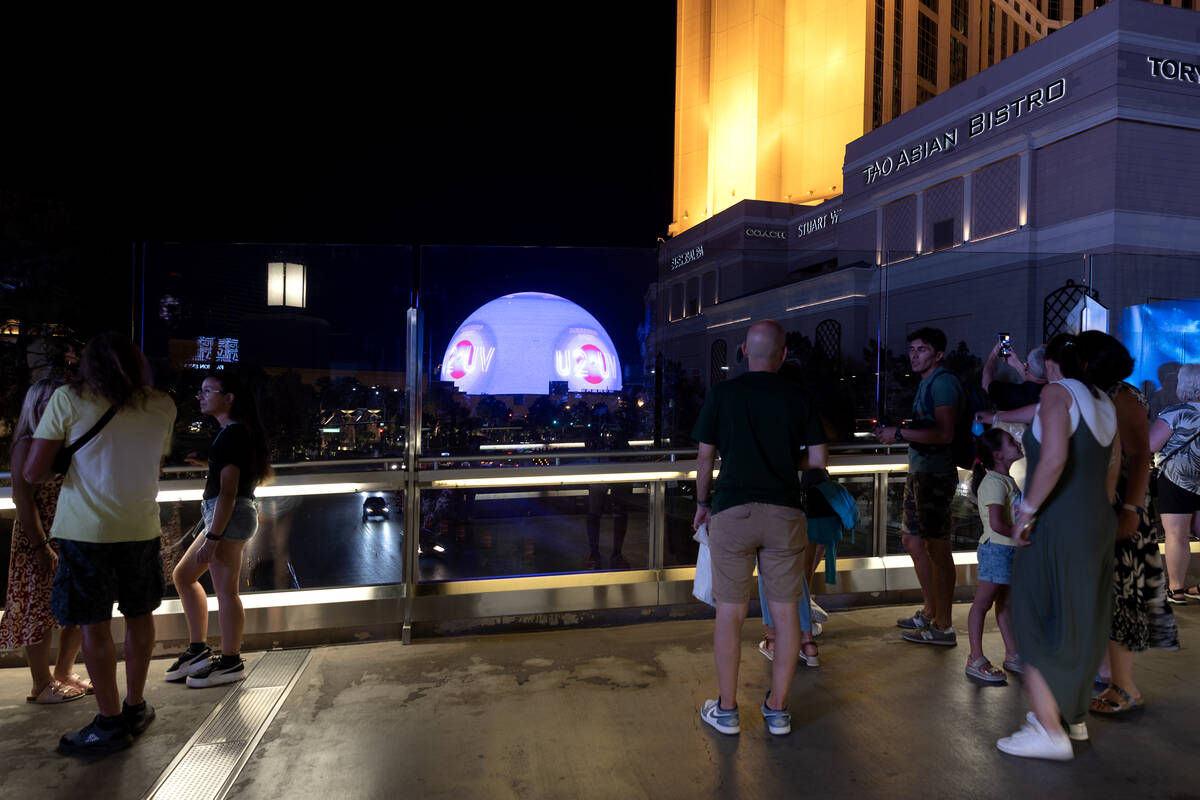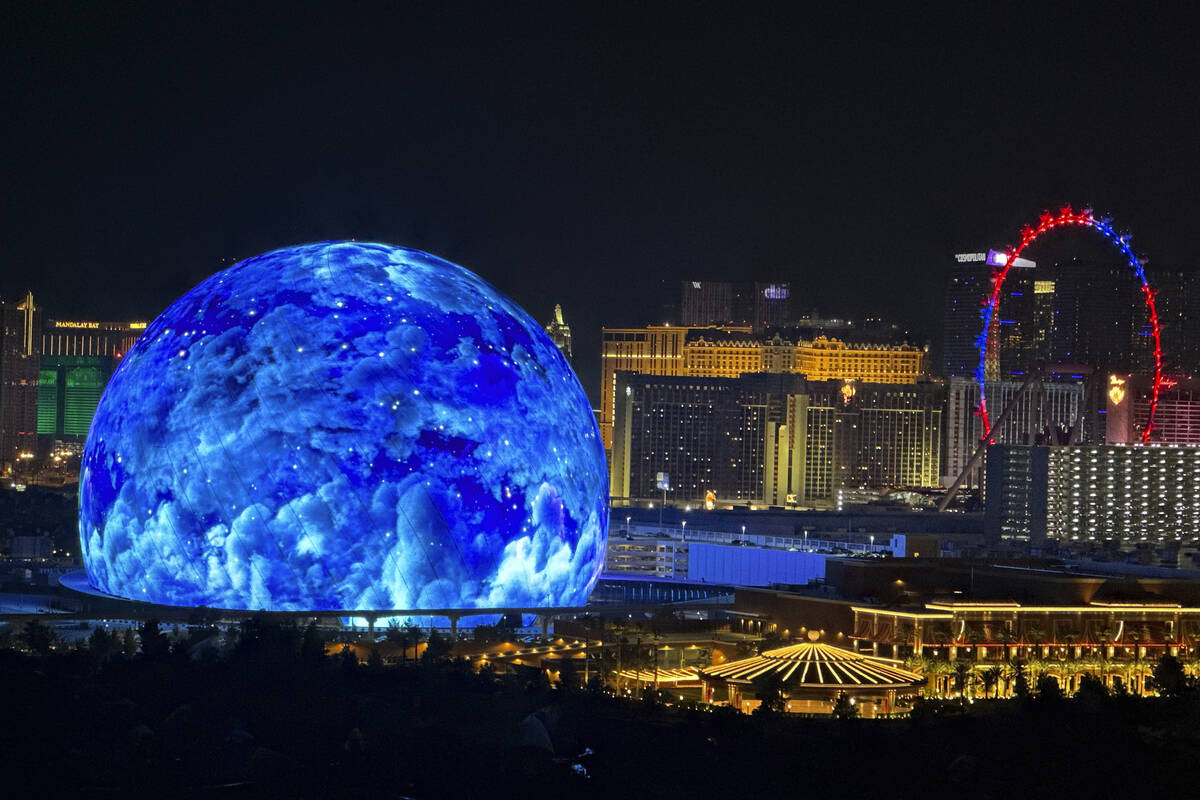 Little Abraham Torres was distracted between kicking rocks, tour helicopters circling overhead and the huge colorful ball that was glowing a few hundred feet away from him.
"What's in that ball?" he asked, pointing to Las Vegas' newest attraction, the Sphere.
"It's like a stadium in there," replied his dad, Marty Torres, who was in Las Vegas from Iowa, visiting family, but decided to come out on a warm summer evening to get a closer look at the building that is fascinating visitors and locals alike.
Abraham then asked the kind of question only preschoolers could come up with: "Does it cost $76 to get in there?"
His parents laughed when a reporter told him he was pretty close to guessing the cost of admission to the Sphere once it opens.
Abraham then turned to his mother and asked, "Can I have $76?" Everybody laughed.
"Sorry buddy," his dad said. "It's not open yet."
And so it was for another Sphere fan itching to get inside the $2.3 billion performance venue built by the Madison Square Garden Entertainment Co. under the watchful eye of its chairman and CEO, James Dolan, just east of The Venetian.
Since the exosphere — the massive exterior digital screen of the 366-foot-tall Sphere — was first activated July 4, curious locals and tourists have been finding ways to get closer for a better look.
On this perfect windless evening a little after the sun went down, a woman perched atop her SUV parked on Manhattan Street taking photos.
Joanne Hernandez, a Doordash driver who just made a delivery in the neighborhood, was taken in by the new patterns being displayed and made her second stop to watch from behind a chain-link fence on the edge of the Sphere construction area.
"I love it," she said. "But I like a lot of touristy stuff."
She said she enjoys it enough that she plans to come out again with her children and grandchildren.
And then, there was the Torres family.
'It seemed surreal'
"We saw it from whatever highway that is (Interstate 15) and looking at it from far away, it seemed surreal," Marty Torres said. "I can't imagine the amount of work that went into building it."
When he learned that the price for tickets for "Postcard from Earth," the Darren Aronofsky film debuting at Sphere Oct. 6, starts at $49, Torres vowed to make a return trip to Las Vegas to check it out.
"It's like an Imax Theater times 20," he said. "That's awesome."
Even though the doors to the venue don't open until Friday with the first of 25 U2 concerts, people can't get enough of the Sphere.
In the short time since the building began showing dazzling images and animations on its exterior screen on July 4, there have been traffic issues, the planned arrival of new paid parking at Strip resorts, the formation of a Facebook fan page with more than 92,000 members and at least one new business that plans to profit from the Sphere's nightly shows.
Sphere fans are sharing with each other the best locations to get pictures and videos of the building — some of them good, some of them problematic — and two resorts are carefully monitoring their parking garages to chase away people who are just there to get a better view of the light shows that occur nightly.
The Sphere officially opens Friday with the first of 25 performances through December by U2 for the band's "U2 UV: Achtung Baby" shows. Sphere Entertainment Co. said that there are still tickets available for some shows.
The hour-long film by Oscar-nominated director Aronofsky opens Oct. 6 with multiple shows running twice or three times a day several days a week.
Traffic problems
While Sphere fans say they can't wait to see the venue's interior, they aren't wasting any time figuring out how to get the best vantage point for an unobstructed view when the lights begin to dance. But that's causing some traffic problems.
There have been 27 crashes, according to Metropolitan Police Department traffic data, on the roads near the Sphere in about the first month since it was lit. Crashes occurred most often at Koval Lane and Flamingo Road.
By comparison, there were 37 crashes in the two months prior, something Metro can't explain.
According to the data, traffic citations were up in that same time period compared to the two months prior to July 4 at most intersections in the area.
At five intersections, there were fewer crashes after the Sphere was lit, most notably at Flamingo and Las Vegas Boulevard where there were eight fewer accidents.
Traffic citations dropped at the same intersection from 80 in the two months before the lighting to 49 in the month after it was lit.
Citations also dipped at Flamingo and Paradise Road.
Las Vegas police declined to comment on the impact of the Sphere on traffic.
Parking near Sphere
Finding a place to park to get a view is also an issue and, in some cases, will cost you something.
Because the Sphere hasn't opened yet, its 304 onsite parking spaces are not accessible. A Sphere Entertainment spokesman said the company has agreements with nearby resorts to accommodate guests parking for shows at Sphere, but he didn't say with which properties it has agreements or what financial arrangements they have with them.
Brand-new paid parking at The Venetian and Palazzo began Sept. 5.
Non-hotel guest rates begin at $15 for up to four hours then $18 for up to 24 hours, Monday through Thursday, and $23 per day Friday through Sunday, according to the new policy. Valet parking is still $35 daily.
"After evaluating operations and business demand, The Venetian Resort Las Vegas, which includes The Venetian, The Palazzo and The Venetian Convention and Expo Center, will begin charging for self-parking soon," a spokesperson for the company said in an emailed statement prior to starting to charge.
"Grazie Rewards Premier (Venetian's loyalty program) members and above will receive complimentary self-parking. Grazie Rewards Elite members and above will receive complimentary valet parking. Nevada residents will receive three hours complimentary self-parking. Further information regarding self-parking rates will be communicated in the near future."
Venetian officials said they plan to keep their garages available just to guests as a safety measure.
"The Venetian self-park garage is for resort guests," a statement said. "For the safety of our guests, we do not permit loitering and have security officers frequently monitoring all levels of the guest garage."
At Wynn Las Vegas and Encore Las Vegas, paid parking returns Wednesday, but the first four hours of parking is free. The company said the daily parking fee would be $20 per day in the two self-parking lots. Valet parking will be $40 per day.
Wynn at one time charged guests a fee to park, but later abandoned the plan. Now, it's coming back.
Hughes Center, just east of the Sphere, has parking garages along the development's perimeter. Hughes Center's management office said when shows begin at Sphere it will offer paid event parking. In the meantime, while management discourages people from loitering in its parking garages, attendants have been taking $20 per car for people who want to look at Sphere from its garage.
Facebook fan club
Sphere fans commenting on the Facebook fan page say they get great views from the top floors of the parking garages at The Venetian, Encore Las Vegas and the Hughes Center. But beware: Security patrols at the resorts don't want Sphere gawkers parking in their garages just to get a view.
So where is the best safe place to take pictures of what has become an attractive nuisance?
Fan club members have ideas and have posted some of them on the Facebook fan page along with some of the pictures they've taken.
The streets surrounding the Sphere have limited parking. There's no parking on Sands Avenue and Koval Lane and stopping in the middle of the street, even to take a snapshot, is unsafe.
In the first month since the Sphere was lit, there were 14 traffic citations at that intersection including failure to pay attention to driving and disobeying traffic control devices, Metro data shows.
Manhattan Street and Westchester Drive, which border the Sphere grounds, are narrow and have limited parking available.
Google Maps earlier this summer had locations identified as "Observation Point" and "Secret Sphere Viewing Place" on property owned by Hughes Center. Those labels have since been removed.
Pedestrian views
Pedestrians walking the neighborhoods near the Sphere can easily see it between tall buildings. One popular viewing location is the pedestrian bridge over Sands Avenue at Las Vegas Boulevard linking the corners where Palazzo and Wynn Las Vegas stand.
Some fans say they like the view from the High Roller observation wheel attraction, which costs about $35 to ride when the Sphere is doing its thing.
Others swear by the Strat Observation Deck, which takes a $30 investment.
The Venetian is looking to offer suites with a view of the Sphere as a guest option.
Another drive-by experience with close-up views of the building are available on the Las Vegas Monorail, which floats past the Sphere along Sands Avenue. Monorail tickets can be purchased online for $5.50 a ride or $1 with a Nevada ID. The elevated train cruises by the Sphere between the Las Vegas Convention Center and Harrah's-Linq stops.
Monorail officials once considered a stop at the Sphere and The Venetian Expo Center, but those plans have been abandoned as too costly.
A new Las Vegas attraction, Extraordinary Vegas Experiences, began its "Sphere Sensation Celebration: A Vegas Happy Hour," on Aug. 24. For 90 minutes on various days during the week from 7-8:30 p.m. or 7:30-9, the company sells a package that includes a view of the Sphere from a hotel suite balcony at Embassy Suites by Hilton on Paradise Road, across from the Wynn Golf Club.
"It's a very beautiful vantage point," said Executive Director Marco Ritzo, who added that a host with knowledge of the Sphere will share information along with premium champagne, select wines and a gourmet charcuterie spread from Cured and Whey.
Ritzo said the group experience is limited to 16 people at a sitting with tickets at $98 per person available at the company's website.
Contact Richard N. Velotta at rvelotta@reviewjournal.com or 702-477-3893. Follow @RickVelotta on X, formerly known as Twitter.