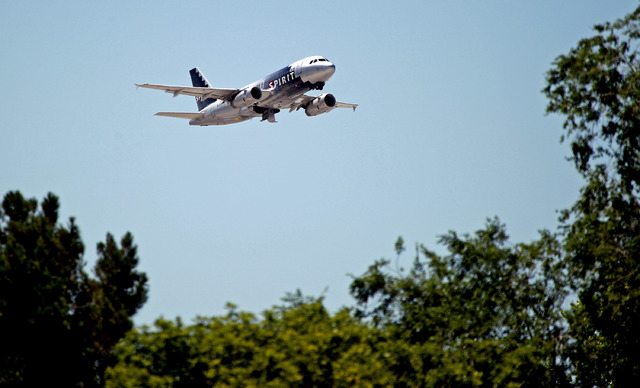 Discounter Spirit Airlines, one of the fastest growing commercial air carriers at McCarran International Airport over the past two years, is adding a red-eye route to and from Kansas City.
The Miramar, Fla.-based airline announced on Thursday that it will begin flights between McCarran and Kansas City International Airport on Aug. 7.
Flights will arrive from Kansas City daily at 10:55 p.m., and depart on the return trip at 1 a.m. the next day.
The new flights are part of Spirit's rollout of Kansas City as a new market for the airline best known for offering low fares and a high number of a la carte fees for everything from baggage, including carry-on luggage to food and drinks on flights. The airline also charges $15 to print a boarding pass at the airport.
Spirit is offering a midweek round-trip base fare of $138 to and from Kansas City in August. It will compete on the route with Southwest Airlines, which has an average four daily round trips to and from Kansas City.
"Spirit Airlines' decision to add Kansas City to its rapidly expanding network is testament to the strength of this region," said Mark VanLoh, director of aviation for the Kansas City Aviation Department in a statement announcing the new service.
"Spirit has selected five key destinations from Kansas City that will benefit both leisure and business customers alike," he said.
Kansas City is the 56th destination on the Spirit route map, concentrating most of its business in the South and Caribbean islands.
In addition to Las Vegas, Spirit will fly nonstop routes between Kansas City and Chicago's O'Hare International Airport, Dallas-Fort Worth International Airport, Houston-Bush Intercontinental Airport and Detroit Metropolitan Wayne County Airport. All the new flights begin Aug. 7 or 8.
Spirit will fly twin-engine Airbus A320 series jets with capacities of 178 or 145 seats on the route.
Spirit started as a Detroit-based charter airline in the late 1980s and had a small presence at McCarran until 2010 when the airline began a western expansion.
Today, Spirit has an average 23 flights a day to 14 destinations to and from Las Vegas, the airline's second-largest station behind Fort Lauderdale, Fla.
It's the sixth busiest commercial carrier at McCarran and has a 5 percent market share of seats to Las Vegas.
Contact reporter Richard N. Velotta at rvelotta@reviewjournal.com or 702-477-3893. Follow him on Twitter @RickVelotta.