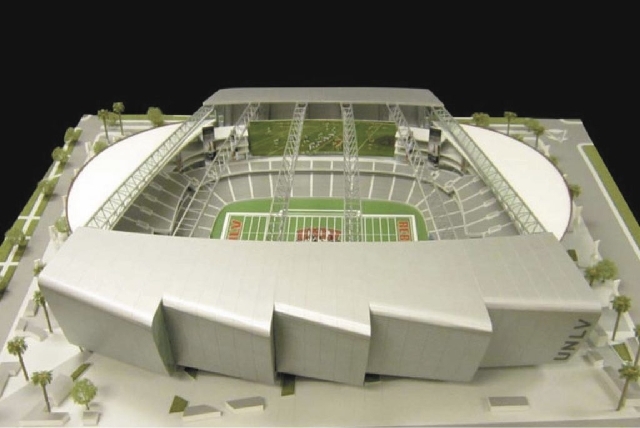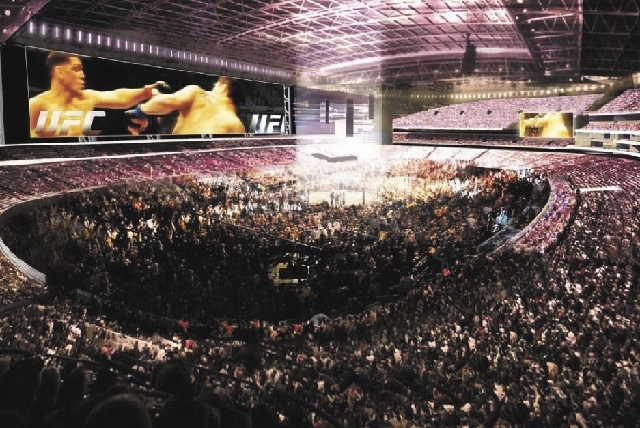 Just two months after UNLV dumped Majestic Realty as a partner in a new stadium, Majestic is pushing an alternative that would bypass the university and instead partner with the state itself.
Craig Cavileer, Majestic's point-man on the project, said his company will commit $385 million toward the $770 million project. In recent weeks he has been quietly lobbying lawmakers and Gov. Brian Sandoval, seeking support for a $1.50 per trip taxi fee in the Las Vegas area that would pay the state's half of construction costs.
The "Southern Nevada Mega Events Center" would be built on 40 acres on East Tropicana Avenue near Koval Lane, an easy walk from the University of Nevada, Las Vegas campus. Cavileer said Majestic can buy the site from Wells Fargo for $55 million.
Cavileer told the Review-Journal Tuesday that UNLV would be offered free use of the stadium for football games.
"A public-private partnership with the State of Nevada eliminates the challenges of developing on the UNLV campus," Cavileer has told lawmakers. "UNLV receives the same benefits of having a campus-centric football stadium." Moving the stadium off-campus would cut project costs previously estimated at $900 million to $770 million because UNLV would not have to move sports facilities and playfields, Cavileer said.
Cavileer said he has spent the past two weeks trying to line up legislative leaders behind the new stadium proposal and taxi fee. He said lawmakers in private meetings have responded positively.
Only Pat Hickey, Assembly Minority Floor Leader, could be reached for comment late Tuesday. He said he spoke with Cavileer about the proposed taxi fee, but "It was too late in the session" to adopt a stadium bill.
The Legislature is scheduled to adjourn next week.
Sandoval's support for the project would be critical. He has threatened to veto most increases.
A representative of the governor said Sandoval is aware of the proposal.
"Mr. Cavileer reached out to the Governor's Chief of Staff last week, sent the proposal and no other discussions have occurred,'' said Sandoval spokeswoman Mary-Sarah Kinner.
A taxi company executive didn't mince words when asked about the proposed $1.50 fee.
"Majestic has obviously taken leave of its senses," Bill Shranko, Yellow Checker Star chief operating officer, told the Review-Journal. "It's getting so carried away that it's ludicrous."
Don Snyder, UNLV's stadium point-man, said he was surprised when Cavileer told him about the concept earlier this month.
"UNLV is not part of this project. When there are multiple efforts, it makes it more confusing," Snyder said. "I was surprised by it. We're focused on doing the project on campus."
UNLV severed ties with Majestic on March 27 after more than two years of planning for a stadium, as well as a student housing and retail project dubbed "UNLVNow."
Majestic is owned by California billionaire Ed Roski, who built the Staples Center in Los Angeles
UNLV officials said they broke off the partnership with Majestic because they want to work directly with the Strip's big hotel-casino companies. Snyder said Majestic's involvement was a hindrance in getting the hotel-casino industry to support the project.
UNLV is now lobbying lawmakers to approve Assembly Bill 335, which would create a public authority to oversee an on-campus stadium. The proposed 11-member authority board would include at least two hotel-casino executives.
Contact reporter Alan Snel at asnel@reviewjournal.com or 702-387-5273.