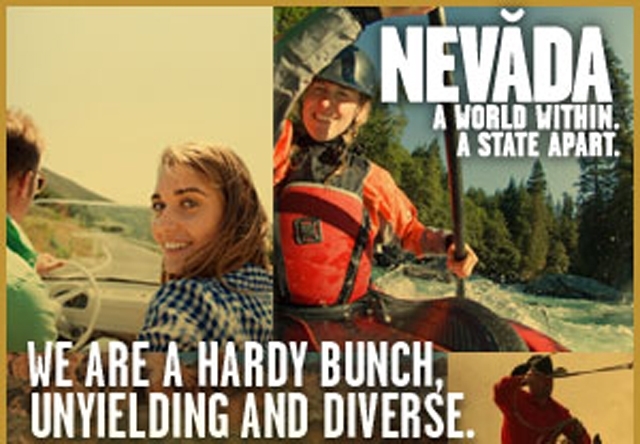 With convention center expansions and new marketing efforts in tourism destinations nationwide, the Nevada Tourism Commission is making sure the state stands out.
In August the commission hired national marketing firm Burson-Marsteller, and since has unveiled a website, targeted new customer demographics and enhanced its effort to strengthen international sales.
On a national level, Nevada Tourism and Cultural Affairs Director Claudia Vecchio said working with the firm has helped to realize opportunities that exist within the commission's target audiences of 30- to 40-year-olds.
"We did a promotion last year that was hugely successful," Vecchio said.
Two journalists from BuzzFeed traveled across the state tweeting and instagramming about the more adventurous side of Nevada, in addition to posting stories on the popular website.
With the help of Burson-Marsteller, the Tourism Commission also has increased its focus on the potential for in-state travel by Nevadans. Last year the "Travel Nevada" campaign offered up information on lesser-known areas complete with itineraries for places such as the Ruby Mountains and Lake Tahoe.
"In many ways it's an educational process for us to show people what's available in their own state," Vecchio said.
The commission does not work with Burson-Marsteller on the international market, as its outreach to that segment has always been strong, Vecchio said. Ten years ago, Nevada was the first state to establish a tourism office in China, and hosts sales missions to that country at least once a year. On July 8, commissioners are set to go there with representatives from the Las Vegas Convention and Visitors Authority, hotel staff and attraction partners.
The Tourism Commission has nine target international markets: Canada, Mexico, the U.K., China, Germany, France, Brazil, South Korea and Australia.
In particular, Vecchio said the state has been successful with the newer markets of Australia and France, as those travelers are looking for "Wild West" experiences in rural areas.
The influx of international journalists to the U.S. Travel Association's trade show in Las Vegas, IPW, also will help Nevada's cause. The commission hosted 140 tour operators and journalists on trips throughout the state to give people an overview of highlights such as Mustang Monument, museums and Highway 50.
"That kind of marketing … is invaluable," Vecchio said.
And the timing was right. Nevada just released its statewide brand April 9 and the commission is trying to spread the word. Its website was unveiled in early June, and is slated to be mostly complete in mid-July.
The Tourism Commission is considering spending $167,000 on a new campaign with Brand USA.
Paul Winkle, senior vice president of global marketing for Miles Media representing Brand USA, pitched his wares to the commission during its June meeting. He spoke about a package that would have four city pages withinthe Nevada page on discoveramerica.com. Within that sphere, there would be 12 feature stories in three languages called native content that tell stories about Nevada and would display photos, videos and text.
"You have unique experiences that you want to promote to those international travelers," Winkle said.
Although his recommendation was a total investment of about $167,000, that figure could change depending on the level of involvement the commission chooses, if it does at all.
"I think it's important for your state, perhaps more so than any other state, because of the international draw you have with Las Vegas," Winkle said.
The commission has to make a decision by September to qualify for Brand USA's incentive pricing, Winkle said.
"The importance of it is really so we're not excluded on the Discover America website and we're part of this overarching campaign," Vecchio said.
Nevada's not the only state pushing for more tourism promotion efforts.
In May, New York Gov. Andrew Cuomo unveiled an almost $60 million tourism promotion effort, which includes a host committee a la the one Las Vegas has, complete with on-site greeters and welcome centers being added to airports. New York City also has been promoting the launch of its "Neighborhood X Neighborhood" effort, and the July 4 reopening of the Statue of Liberty. New international tourism campaigns will focus on "I Love NY Asia" and "I Love NY South America," and the state is creating a sports and special events commission to recruit events. The city's marketing arm, NYC & Co., declined to comment for this story.
Closer to home, Big Bear, Calif., is promoting its Snow Summit Adventure Park with its new side-by-side Flying Squirrel Zipline, a new hiking trail and a lift-served mountain bike park with bike rentals. It is the first time since 2004 that Snow Summit has allowed riders on downhill-specific bikes to ride down the face of the summit.
"By combining these novel experiences to our existing mountain resort, we are able to extend our incredible winter facility into a year-round hot spot," said Chris Riddle, vice president of marketing at Big Bear Mountain Resorts.
The zip line runs 1,050 feet from top to bottom with a 100-foot vertical drop that will allow guests to top speeds at 35 mph.
On discoverlosangeles.com, famous residents offer suggestions for places to see and things to do, such as Magic Johnson's recommendation of Italian restaurant Via Alloro or Aziz Ansari's suggestion of the eatery Animal. The campaign is akin to what Winkle described Nevada's native stories on the Discover America site could look like.
In Las Vegas, the convention authority is pushing its Las Vegas Global Business District plan forward, a decade-long, $2.5 billion project to re-create the Las Vegas Convention Center and the surrounding area. The project calls for aesthetic improvements, technological enhancements, a World Trade Center and overall Las Vegas branding in the areas leading up to and including the convention center at 3150 Paradise Road.
Las Vegas isn't the only city focused on remodeling or updating its convention center to be more competitive.
Cleveland's new, underground convention center, for example, opened June 14 after a two-year construction project. The center's first event, the 2013 National Senior Summer Games, is slated to take place July 19. The $465 million complex includes the adjacent Global Center for Health Innovation with 225,000 square feet of exhibit space.
In Detroit, the Cobo Center is undergoing a $300 million renovation including 23,000 square feet of new exhibit space, food service areas and an all-glass entryway.
Contact reporter Laura Carroll at lcarroll@reviewjournal.
com or 702-380-4588. Follow @lscvegas on Twitter.